IoT market has grown into a mature $5 billion market over the last five years, according to IoT Analytics, a leading provider of market insights and competitive intelligence for the Internet of Things (IoT) and Industry 4.0.
The company provides the insights on a 230-page market report examining the IoT platforms market size & outlook 2021-2026.

The report attributes the growth of the technology with the adoption of large enterprises and increasingly dominated by hyperscalers. As per their estimates, hyperscalers captured over 30% of the total IoT platforms market in 2020.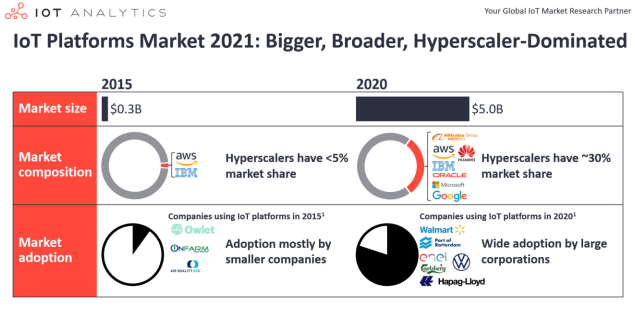 Commenting on the findings of the research Knud Lasse Lueth, CEO at IoT Analytics, said, "5 years ago, no one really knew what an IoT platform was, let alone how big the market would be, which business models would work, how architectures would evolve, and which companies/industries would adopt them. The only thing that was "known" was that the IoT platforms market was a billion-dollar
"blue ocean" opportunity ready to be captured by innovative companies."
Based on their findings the agency lists five things about the IoT platforms market today compared to  their analysis published in early 2016.
The functionality of IoT platforms has expanded
The report states that modern IoT platforms have become more specialized with focus on device management or telco management. It has become more modular  via microservices, and more data-centric by offering data management/enablement components. The 2021 definition of IoT platforms have been divided into 4 segments:
1. Application management / enablement: providing the ability to rapidly develop, test, and
seamlessly manage IoT applications.
2. Data management / enablement: providing the ability to ingest, store, and analyze data
from IoT devices.
3. Telco management : providing telecommunications companies the ability to manage the
connectivity to IoT devices at scale.
4. Device management : providing the ability to remotely configure, monitor, and manage IoT
devices, including over-the-air updates.
Growth has exceeded expectations
The report states that the IoT platforms market grew at a staggering annual growth rate of 48% between 2015 and 2020, significantly higher than the 35% forecasted in 2016.
 "A big portion of the growth in the IoT platforms market can be attributed to rapid revenue growth realized by the cloud hyperscalers (most notably Microsoft and AWS), who were just barely dipping their toes into IoT back in early 2016," says Matthew Wopata, principal analyst at IoT Analytics.
New pricing strategies and revenue streams have emerged
The report states that the entry of hyperscalers in the market gave way to new pricing and revenue strategies for new and existing IoT platform vendors.  Today's IoT platform market provides revenue opportunities through applications, compute infrastructure, services, connectivity and end-to-end solutions, notes the report.
Large enterprises have made their IoT platform decisions
The report points out that large, multinational corporations have selected their platforms, and there are several deployments approaching 1 million endpoints. Companies like Walmart (Azure), Volkswagen (Siemens, AWS, and Azure), and Enel (C3.ai) have all made large investments in one or more IoT Platforms.
Modernized, more modular, and in the cloud
The report states that application architectures for IoT platforms have evolved from monolithic to modular, leveraging modern technologies like containers and server-less computing.
Hosting architectures for IoT platforms, over the last 5 years, have evolved from private on-premises being the most popular deployment type to public cloud being the most popular deployment type.
Hybrid architectures (partly on-premises and partly in the cloud) are catching up to public cloud architectures as end users look to move some capabilities on-premises.
Hyperscalers (AWS and Microsoft) are particularly well-positioned to maintain their market leadership in the market, outlines the report.