In an exclusive five-part series with Twimbit, Telecom Review will deliver insights on the performance of leading cloud service providers during the second quarter of 2023. This report will focus on the performance of Amazon Web Services (AWS) in the past few months and how this will drive their services for the rest of the year.
Read More: Cloud Transformation for the Middle East and Africa Region – AWS Putting the Tools of Innovation Into the Hands of Telecom Operators and Their Customers
Amazon Web Services established itself as the dominant player despite the tough competition in the cloud market in Q2 2023. The company prides itself on its vast worldwide network of data centers, diverse range of services and steady financial success.
AWS recorded a remarkable $22.1 billion in sales in Q2 2023, indicating a year-on-year gain of 12.2%, firmly solidifying its position in the cloud solutions industry. This contributed to about 16.5% of Amazon' AWS Cloud Capabilities
AWS boasts an impressive portfolio of over 200 fully featured services across its data centers around the world. As organizations progressively move their operations to the cloud, AWS has emerged as a dependable partner with its complete suite of solutions, offering a broad choice of tools to meet the demands of different industries.
The AWS Global Cloud Infrastructure demonstrates the company's dedication to offering unrivaled reach and connection. Currently, there are 102 availability zones distributed over 32 geographic areas. Plans for 12 additional availability zones globally and 4 AWS regions in Canada, New Zealand, Malaysia and Thailand are underway.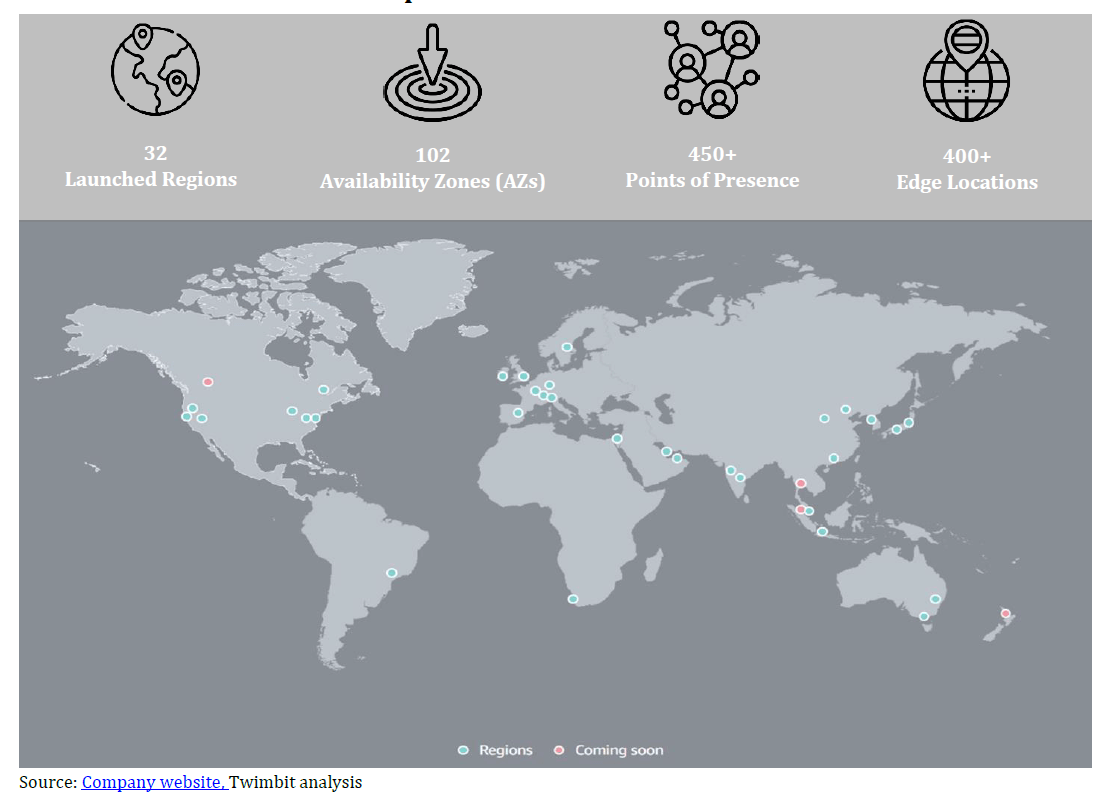 The company's strategic positioning is evident across the globe, with 38 availability zones across 12 unique geographic regions in Asia Pacific and China, supported by 34 edge network locations and 5 regional edge cache locations.
Meanwhile, AWS has 33 availability zones across 11 geographic regions in Europe, the Middle East and Africa. The region also benefits from 39 edge network sites and 2 regional edge cache locations. North America has 25 availability zones, 44 edge network sites and 2 regional edge cache sites. Even South America, with three availability zones, benefits from four edge network sites and one regional edge cache location.
Read More: AWS Cloud Services Selected by Noted Global Energy Company
Read More: AWS Cloud Set for Faster Adoption in UAE's Public Sector, Regulated Industries
Promoting Growth Despite Challenges
AWS's growth also faces several challenges, but the company's approach is still driven by competitive pricing and the preferences of price-sensitive clients. This changing ecosystem has impacted AWS's development trajectory, resulting in a revenue growth plateau compared to previous years. As client needs shift from cost minimization to inventive workload deployment, AWS must strike a balance in order to sustain its current pace.
"While customers have continued to optimize during the second quarter, we've started seeing more customers shift their focus toward driving innovation and bringing new workloads to the cloud," said Andy Jassy, CEO at Amazon.
AWS remains unstoppable in its drive to expand its infrastructure footprint with the recent launch of AWS Local Zones in Auckland, New Zealand and Manila, Philippines, as well as an Amazon CloudFront facility in Nigeria. This shows Amazon's commitment to growing its worldwide presence and meeting increasing customer demand. In May 2023, AWS also announced its plans to invest $12.7 billion in India's cloud infrastructure in the next seven years. This follows its previous investment in India of around $3.7 billion from 2016 to 2022.
Read More: AWS Supports Open Source Launch of UAE's First Language Model
Read More: AWS Expands Further in Central Eastern Europe
Read More: AWS Initiates AWS Local Zones Location in Muscat, Oman
AWS Has More to Offer
AWS continues to offer game-changing technologies that empower different organizations. The company has revealed a series of important product announcements that are set to transform the way enterprises employ technology, demonstrating its commitment to promoting innovation.
In April 2023, AWS updated its threat detection service, Amazon Guard Duty. This service, which is critical for protecting cloud resources, added three new features: EKS Runtime Monitoring, GuardDuty RDS Protection and GuardDuty Lambda Protection. Customers can now protect their containers, databases and serverless operations with remarkable efficiency.
Furthermore, Amazon Security Lake, a service meant to simplify and accelerate security data management across hybrid and multi-cloud systems, was introduced in May 2023. This ground-breaking solution consolidates data from several sources, including AWS environments, SaaS providers, on-premises configurations and cloud sources, into a purpose-built data lake. This comprehensive security strategy provides enterprises with faster insights, improved threat detection and greater data protection across their whole technology environment.
In June 2023, AWS marked a significant milestone with the launch of the AWS Generative AI Innovation Center. This represents a $100 million investment to encourage cooperation among AWS's machine learning and AI professionals, as well as its broad customer base and partners. The primary purpose is to accelerate the development and deployment of cutting-edge, Generative AI solutions across industries.
Generative AI allows machines to produce creative outputs designed to improve industries such as design, art and content production. AWS is not only investing in the future of AI by constructing the Innovation Center, but it is also helping companies take advantage of the capabilities of Generative AI in their operations, promoting new levels of creativity and efficiency.
Read More: AWS Launches AWS AppFabric to Boost Productivity, Security in SaaS Applications
Read More: Building Diverse Global Talents: AWS re/Start MENA Completes First Year
The company also introduced the AWS AppFabric service to address the need for improved efficiency and security. This no-code offering encourages organizations to enhance their investments in Software-as-a-Service (SaaS) applications with improved security, management and productivity features. By streamlining the integration and management of SaaS applications, AWS AppFabric enables businesses to focus on their core operations while ensuring a seamless and secure user experience.
With a large worldwide infrastructure and a diversified variety of services, AWS continues to establish new standards for the cloud computing industry. Its capacity to adjust to market needs while sustaining steady revenue growth demonstrates its flexibility and durability. AWS's investments in new areas, together with its unrelenting commitment to innovation, cement its position as a leader in defining the digital future.
Read Part 1 of this 5-part Series Here: Innovation by the Numbers: Cloud Giants' Revenue Soars in Q2 2023