H.E. Omar Sultan AlOlama, UAE Minister of State for Artificial Intelligence launched "EITC's Idea Hub" at the company's headquarters in Dubai Internet City.
During the launch event hosted by Osman Sultan, CEO of EITC; and attended by Mohamed Al Hussaini, Chairman of EITC, Farid Faraidooni, Deputy CEO, ICT Solutions at EITC, and Fahad Al Hassawi, Deputy CEO, Telco Services, EITC amongst other senior members of the management team.
H.E. Al Olama was briefed on the technologies showcased on display at the Idea Hub from EITC that are set to transform the digital services landscape in the UAE. This hub comes in part as EITC works to provide integrated ICT service, connecting people, knowledge, devices and information in support of the UAE Artificial Intelligence Strategy 2031 - UAE AI strategy 2031.
During the launch ceremony, HE Omar Sultan AlOlama said: "Our focus in the UAE is to create favorable conditions for innovations and positive disruption to take place; it's all about agility and functionality. Innovation comes before legislation here in the UAE; a decision that we took on to shift and accelerate the pace of the development cycle of new technologies, services, or products and allow for new entrants to the innovation ecosystem to take an active and leading role.
He added that "This approach has also been favoring and promoting strategic and collaborative third-party participation and partnerships to create and support innovations across multiple sectors, as we firmly believe this will provide for added value to the innovation ecosystem in terms of new services and products that adopt disruptive technologies and future trends. It also helps speed up the process of innovation and the shift towards a more future-centric society. Today's launch of the Idea hub is a perfect example of this approach and a successful platform for private sector collaboration in the field of future technologies."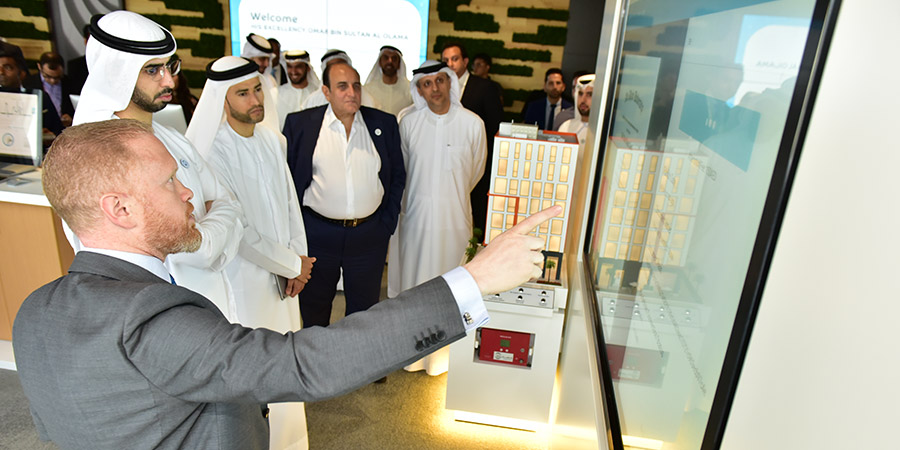 Osman Sultan, Chief Executive Officer, Emirates Integrated Telecommunications Company (EITC), said: "We are delighted to welcome H.E. Omar Sultan AlOlama to our Idea Hub to showcase our commitment to the UAE's digital transformation. We believe that ICT is our biggest opportunity in the future to enhance the UAE's position as a global hub for tourism, commerce, and more importantly, as a happy place to live."
"At EITC, as a strategic partner of the Smart Dubai office, we are heavily invested in leveraging futuristic technologies and platforms, building and deploying the Dubai Pulse platform, and collaborating with a variety of partners to push ahead with smart city use cases, deployments of innovative technologies pushing the boundaries of digital adoption and digital transformation in government entities. The EITC Idea Hub is an intelligent showcase of these efforts."
EITC's ICT solutions division empowers UAE government entities and organisations with cutting-edge, end-to-end ICT services, and leverages latest platforms and technologies such as Internet of Things, Cloud-based services and applications, managed services, Blockchain and AI.