Vodafone has been working on various advancements that foster digital transformation in Europe. These include being the only telecom operator to offer the combination of 5G and multi-access edge computing (MEC) services in the UK and moving forward on the commercial deployment of open radio access network (Open RAN) in the region.
Vodafone and AWS Wavelength
Now, Vodafone business customers in the UK  can leverage MEC services. This has been the result of the Vodafone and Amazon Web Services (AWS) partnership. Delivered with AWS Wavelength, the process of deploying MEC infrastructure is known as moving services closer to the edge of the network.

Anne Sheehan, business director, Vodafone UK, said, "We are taking our business beyond the traditional boundaries of telecoms connectivity services so that we can bring customers amazing new services. Edge Compute and 5G is a combination no other service provider can deliver in Europe, which means we can offer something unique to our customers. We've already seen new services being developed by our trialists – the potential for completely new ideas enabled by this combination is massive."




In partnership with AWS, Vodafone can initially offer MEC services with low latency, as low as 10 milliseconds of Round Trip Time (RTT). Customers in London and the surrounding area, as well as towns and cities including Oxford, Cambridge, Bristol, and Cardiff can use these services. In detail, the RTT can depend on several factors such as the distance between the end-user device and the base station, radio interface, network congestion, and whether the device is using 4G or 5G connectivity.

By 2022, Vodafone plans to deploy AWS Wavelength to customers residing in Scotland and the northern regions of England. Additional advantages beyond the speed and latency capabilities of MEC include minimized cybersecurity incidents, better use of bandwidth, and increased capacity.

George Elissaios, general manager of AWS Wavelength and director of product management, AWS, said, "By combining AWS Wavelength and Vodafone 5G, businesses and applications developers can now leverage the full breadth of AWS cloud services right at the edge of 5G networks. This enables Wavelength customers to explore new business opportunities, build applications and services that were not possible before, and transform user experiences in the UK."

The MEC services launch follows Vodafone trials with companies that support use cases like sports technology, autonomous transport, biometric security, remote virtual reality, and factory automation.

Vodafone's key partners on Open RAN innovation

Vodafone also unveiled its chosen strategic vendors that would be jointly delivering the first commercial deployment of Open RAN in Europe. Pioneered by Vodafone and its partners — Dell, NEC, Samsung Electronics, Wind River, Capgemini Engineering, and Keysight Technologies – Open RAN will drive greater innovation through a diverse and open vendor ecosystem. This will lead to a more cost-effective, secure, energy-efficient, and customer-focused network of the future.

Johan Wibergh, Vodafone chief technology officer, said, "Open RAN provides huge advantages for customers. Our network will become highly programmable and automated meaning we can release new features simultaneously across multiple sites, add or direct capacity more quickly, resolve outages instantly and provide businesses with on-demand connectivity."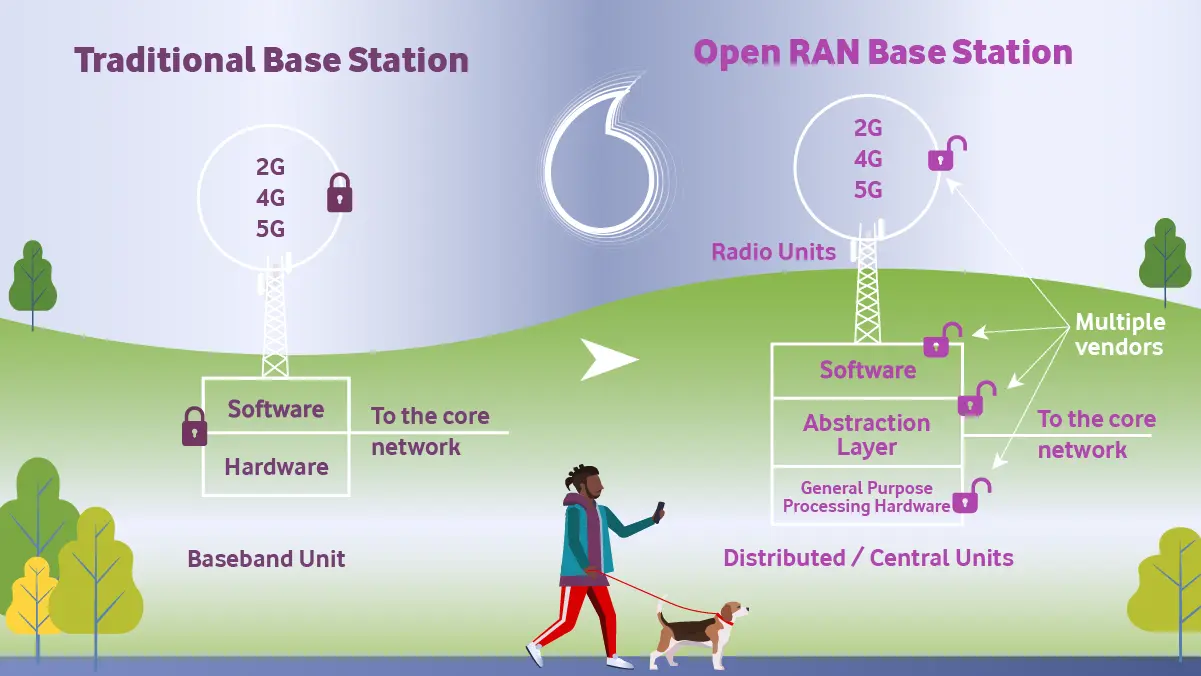 Vodafone and the other major EU telcos who signed the Open RAN MoU believe that this innovation will help build a European ecosystem around novel network architectures and boost the EU's global technology leadership in digital infrastructure.  

Initially, Vodafone's focus will be on 2,500 sites in the UK, emerging as one of the largest Open RAN deployments in the world. Starting this 2021, the vendors will work with Vodafone to extend 4G and 5G coverage to more rural places. This will run across the South West of England and most of Wales.

Enabling an accessible digital society for all, Vodafone is also working to launch Open RAN in other countries within both Europe and Africa. "Open RAN is also reinvigorating our industry. It will boost the digital economy by stimulating greater tech innovation from a wider pool of vendors, bringing much-needed diversity to the supply chain," Johan added.