Hatem Dowidar, group CEO of e&, commented that the company's first quarter results are a testament to the effectiveness of beginning a new chapter of its journey as a global tech and investment conglomerate that digitally empowers societies.
The Q1 2022 key financial highlights of e& show that consolidated revenues increased by 0.8% to AED 13.3 billion; consolidated net profit jumped to AED 2.4 billion, a YoY growth of 3.6%; and consolidated EBITDA reached AED 6.8 billion, with a margin of 51%.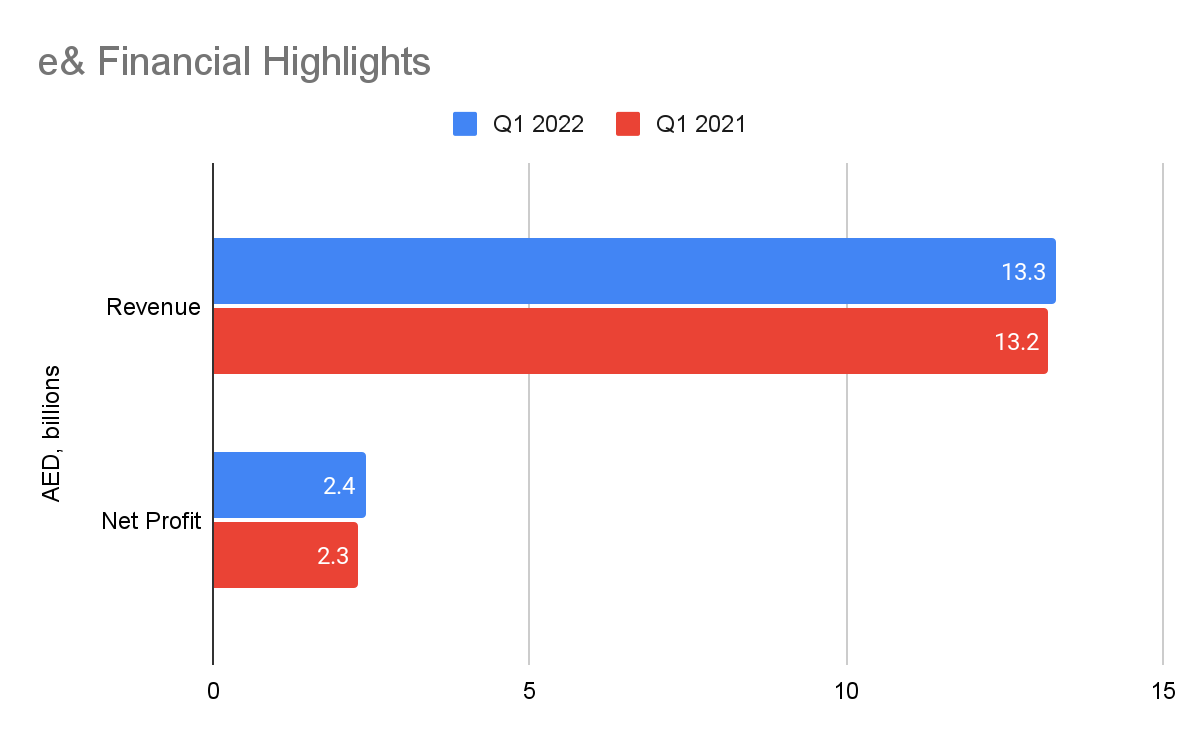 Previously Etisalat Group, e&'s telecommunications business currently continues to be operated by Etisalat UAE in e&'s home market and by its existing subsidiaries for international operations, upholding the Group's rich telecom heritage. The number of Etisalat UAE subscribers reached 13.1 million in Q1 2022, while aggregate group subscribers reached 159 million, representing a YoY increase of 2%.
"e& delivered strong financial performance across all key metrics, driven by higher demand for digital and data services and the Group's ability to leverage superior networks," an excerpt to the company's statement said.
For the year's first quarter, e& has been named the world's strongest telecom brand and completed the acquisition of elGrocer, under the Smiles brand.  
The company also announced discussions with Mobily regarding a potential offer to increase shares and sealed a partnership with Abu Dhabi Digital Authority (ADDA) and Trend Micro to launch Cyber Eye, an initiative designed to strengthen the government entities' cybersecurity capabilities.
Moreover, Etisalat UAE also launched the emirates' first of its kind digital insurance services for auto, health, and travel and expanded collaboration with Amazon Web Services (AWS) to serve key industries and meet the growing demand for digitalization.