Ooredoo Group announced its financial results for the year 2022, with a revenue increase of 4% to QAR 22.7 billion and a net profit surge of 26% at QAR 2.8 billion. The consolidated customer base across Ooredoo's operating markets stands at 56 million. It is worth noting that the normalized Proforma numbers revealed exclude Indosat Ooredoo and major non-recurring items.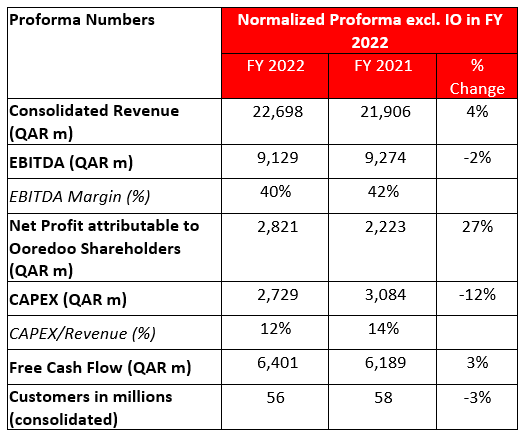 Operational Highlights:
Ooredoo Qatar achieved record-breaking revenue at the conclusion of the FIFA World Cup, a sporting mega-event, cementing its position as a world-leading telecommunications and ICT provider. Additionally, the company has named Sheikh Ali Bin Jabor Al Thani as its new CEO.
In December, Ooredoo Kuwait became the first Kuwaiti telecoms company to integrate Apple Pay within its application, and Ooredoo Maldives received the Gold 100 award, a prestigious recognition given to the leading 100 business entities in the Maldives.
During the Telecom Review Leaders' Summit, Ooredoo Algeria won the Best African Operator and Best African CSR Initiative awards, while Ooredoo Oman received the Best Middle Eastern Digital Customer Experience award.
Commenting on the results, HE Sheikh Faisal Bin Thani Al Thani, chairman of Ooredoo, said: "Ooredoo Group ended the year 2022 with outstanding results, boasting a revenue of QAR 22.7 billion and a remarkable increase in normalised net profit. This success is a testament to our commitment to delivering robust connectivity, exceptional customer experiences, and maximizing shareholder value.
"Furthermore, I am proud to announce that the company's credit rating has been upgraded by S&P Global to A/A-1 with stable outlook. This reflects the company's robust financial position. This upgrade is a testament to our commitment to delivering value to all our stakeholders and is a direct result of our improved free cash generation.
"Driven by our digital transformation strategy, we are effectively capitalizing on market opportunities and are confidently poised for further success. Our ability to remain agile and adapt to the rapidly evolving nature of the markets in which we operate positions us well for continued growth and strong returns.
"Finally, I am pleased to announce that the Board will recommend the distribution of a cash dividend of QAR 0.43 per share at the annual general meeting, taking place on 7 March 2023." 
Also commenting on the results, Aziz Aluthman Fakhroo, managing director of Ooredoo, said: "I am thrilled to report a 27% increase of our normalised Net Profit, reaching QAR 2.8 billion, our best result since 2013. Our Proforma revenues have experienced a remarkable growth of 4% to reach QAR 22.7 billion. Our EBITDA margin remains strong at a robust 40%. This is a testament to the exceptional, challenging work and commitment of each one of our employees. Despite the challenges, we have consistently kept our sights set on delivering exceptional customer experiences — a true reflection of our company's unwavering commitment to excellence."
MEA Operational Review
Ooredoo Qatar, occupying the company's home market, performed exceptionally, achieving record-breaking revenue of QAR 8 billion at the conclusion of the FIFA World Cup, cementing its position as a world-leading telecommunications and ICT provider. Ooredoo Qatar also saw a 14% increase in its customer base, with 460,000 customers activated above the normal rate solely during Q4.
Ooredoo Oman also delivered solid performance in 2022, closing the year with a 5% growth in revenue, driven by growth in postpaid, devices and wholesale revenues. 5G rollout continued, and the company reported almost 600 sites in total at year's end.
Ooredoo Kuwait reported a strong revenue of QAR 2.8 billion in 2022 and increased its customer base by 8% to 2.7 million. Additionally, Ooredoo Kuwait continues to invest in the improvement of its 5G services and has most recently launched 50 sites, improving coverage and experience.
Asiacell's customer base experienced a significant increase of 7% in 2022, as many promotions, such as free data bundles, add-on packages, World Cup roaming bundles as well as bundle cards, were rolled out.
Ooredoo Tunisia revenues stood at QAR 1.5 billion in 2022, and it is becoming increasingly competitive in fiber because of its targeted strategy, which has allowed it to win major projects, particularly in the private sector.
In the face of political and economic difficulties, Ooredoo Palestine displayed robust revenue growth in 2022. The company reported total revenues of QAR 421 million, driven by higher revenue from postpaid services, and added new 3G radio sites alongside network upgrades in the West Bank.
Ooredoo Algeria ended 2022 with a stable EBITDA margin of 35% and has additionally rolled out new 4G sites, offering 16% additional capacity on its 4G network. The OpCo continued to maintain high positions in the Data Network Performance benchmarks.