Huawei, the leading global ICT solutions provider, is transforming its enterprise services strategy with the introduction of several channel services policies and programs at GITEX 2017. The new strategy will focus on constructing a comprehensive cloud-based services ecosystem for its Middle East customers and offering innovative services and solutions. This will help accelerate industries' shift to the cloud, build a corresponding service ecosystem, develop the needed talent in cloud technology, and lead the service channel transformation through a network of multinational service partners.
Firstly, Huawei will be transforming its cloud-based services to provide its Middle East customers with a comprehensive, one-stop experience with ROADS (Real-time, On-demand, All-online, DIY, Social). This new cloud transformation service helps customers during the entire process of their operations, from initial assessment to planning and design, migration, disaster recovery, security and optimization. The new service has been developed based on Huawei's experience building over 400 cloud data centers and over 100 cloud migration projects.
In support of this global digital service platform, Huawei is making significant investments to construct a cloud-based tools platform that will deliver remote automated services. This increasingly comprehensive offering of services and solutions is being developed by utilizing Huawei's extensive partner network, including strategic relationships with regional companies such as the UAE's Enterprise Systems, Saudi Arabia's Gulf Applications, and the pan-GCC Redington Gulf.
Huawei boasts among the most comprehensive services capabilities in the world, with more than 2,400 Certified Service Partners (CSPs) worldwide and more than 60 CSPs in Middle East.  At this month's GITEX, Huawei will introduce the service channel policies and present its successful cooperation with main CSPs in the region.
Huawei is also building labs where deployment methodologies can be verified and improved together with both customers and partners. Every industry scenario has its own unique characteristics, which is why Huawei is developing services that are tailored for specific vertical sectors. Through the utilization of Huawei's new Smart Network Operation Service, customers will be enabled to build their intelligent O&M capabilities.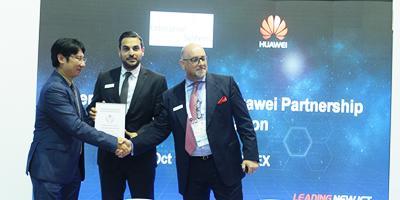 Lastly, Huawei is launching a cloud certification program at GITEX 2017 in order to develop the cloud ecosystem's talent pool in the Middle East. This includes training and certifications that meet the needs of specific industries, with unique, tailored programs for each sector.
"Enterprises and governments are enthusiastically embracing advanced, comprehensive cloud services because of the significant benefits they provide. This includes a one-stop service from initiation to fully operational. To realize the benefits, many decisions need to be made before, during and after the cloud transition begins. Huawei is offering a cloud transformation service that helps our customers in the Middle East throughout the entire process, from initial assessment to planning and design, migration, disaster recovery, security and optimization," said Alaa ElShimy, Vice President and Managing Director, Huawei Enterprise Middle East. "This will ensure a smooth and seamless cloud transition, optimizing time, efficiency, productivity and profitability in unimaginable ways."
Huawei's Enterprise Business Group has been developing its services business over the past six years. Today Huawei serves thousands of customers worldwide, from small and mid-sized businesses to large multinationals in more than 170 countries including the Middle East region. Through an ecosystem of Certified Service Partners Huawei can service more customers, and provide training and certification to more engineers worldwide.