Nokia continued to execute well in the second quarter (Q2) of 2022, showing an 11% year-on-year (YoY) change in net sales and a 31% YoY change in profit for the period. The operating margin also increased to 9.6% while the gross margin slightly declined to 40.2%.
"We have had a strong first half and with our renewed competitiveness, we are well placed to deliver our full year 2022 guidance," commented Pekka Lundmark, President and CEO.
Reported net sales for Q2 2022 reached EUR5.8 billion compared to last year's period of EUR5.3 billion, impacted by positive growth in the mobile networks and network infrastructure business segments. The company's network infrastructure maintained its strong growth momentum with net sales up by 21% YoY, hitting EUR2.1 billion, while its mobile networks' net sales of EUR2.5 billion surged by 9% YoY.
In the Middle East and Africa (MEA) region, broad-based growth across business groups was observed, with particular strength in mobile networks. The leading vendor is known to respond to the shifting traffic trends in MEA and to fulfill the needs of enterprises and operators.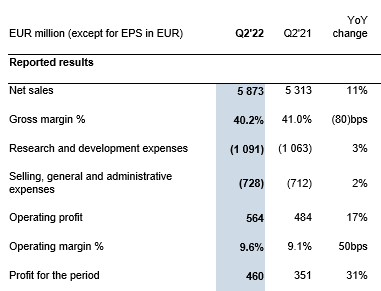 Source: Nokia - Q2 2022 Financial Results
In other business segments, cloud and network services were at a 7% YoY change after recording EUR753 net sales in Q2 2022. Conversely, Nokia Technologies declined by 24% YoY as it became significantly impacted by expired licenses that are in the process of being renewed.
"Since the start of this year, we have been making further investments into private wireless both in R&D and go-to-market to capitalize on our early market leadership. We expect these investments will deliver strong financial returns for us in the mid-term as indicated by double-digit net sales growth in private wireless in the quarter," explained Lundmark.
Looking at the Q2 2022 net sales by customer type, momentum continues to build in enterprises with growing order intake and returns, showing a 15% YoY increase (EUR 404 million). Strong demand from CSPs also continued in the second quarter of this year, driving robust net sales worth EUR2.8 billion, despite existing supply chain constraints. Nokia now has more than 485 customers for its private wireless solutions and added 76 new enterprise customers.
Related: Nokia Q1 2022: Strong profitable start to the year
"While we recognize the increased global macroeconomic uncertainty and currency fluctuations impacting some emerging markets, I am confident we have the right strategy in place to navigate these challenges along with support from structural technology adoption trends in 5G and fiber. However, we will not become complacent; we remain focused on building technology leadership and improving cost-efficiency to deliver on our strategic goals for the years ahead," expressed Lundmark.
In Q2 2022, Nokia's system-on-chip (SOC) based on 5G and powered by ReefShark product portfolio accounted for 91% of shipments and remains on track to reach the target of ~100% of product shipments by the end of 2022.
Furthermore, fixed networks net sales grew by 34% YoY with broad-based strength across most regions, as operators boost their investments on connectivity. Growth was driven by fiber-related products (both home and operator premises) along with fixed wireless access.