Ericsson has reported its first-quarter 2023 earnings results. In summary, net income fell 46% to SEK 1.6 billion in the January-to-March period, while net sales rose 14% but were flat when taking currency exchanges and other parameters into account.
For the net sales segments, adjusted Cloud Software and Services sales increased by 5% YoY, while adjusted Enterprise sales increased by 19% YoY, driven by Enterprise Wireless Solutions.
As per the earnings statement, Ericsson's OPEX increase was driven by investment in Enterprise Wireless Solutions and the consolidation of Vonage. The Vonage sales were valued at SEK 3.9 billion in the quarter.
"We are on a journey to shape the future industry landscape and extend our addressable market by leveraging our 5G capabilities. We continue to execute on our strategy to strengthen our leadership in Mobile Networks, grow our enterprise business, and drive continued cultural transformation," commented President and CEO Börje Ekholm.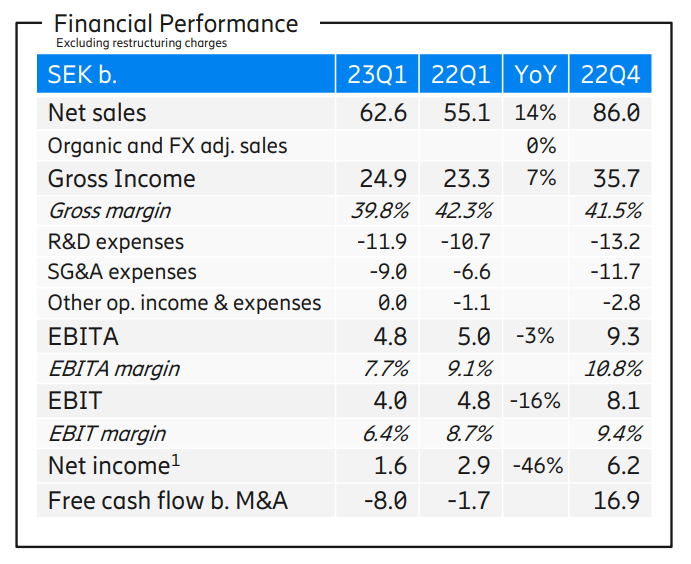 Ericsson Q1 2023 Investor Presentation
Continuing to fine-tune their portfolio to optimize profitability in the Enterprise business, by the end of Q1 2023, Ericsson had completed the divestiture of its IoT platform, which will reduce quarterly losses by about SEK 250 million going forward.
The Swedish telecom giant is also stepping up its cost-cutting program as it expects a "choppy environment" this year after profits fell in the first quarter of 2023.
Ericsson will increase its cost-savings ambition by reducing costs by 11 billion Swedish kronor ($1.1 billion) in 2023. In line with the pervasive layoff trend at tech companies, they announced slashing 8,500 jobs worldwide, or eight percent of their workforce.
Ericsson said it expects customers "to remain cautious" with their investments and continue to adjust their inventories in the second quarter of this year. "We expect the slower growth we saw in Q1 (the first quarter), caused by the slower global economy, to continue in Q2," Ericsson added.
Yet, the company expects a gradual recovery in the second half of 2023, primarily as they "expect the inventory adjustments to be completed and cost reduction activities to start flowing."
According to Ekholm, they are expecting the recovery of the Mobile Networks market by 2024, noting that the vendor's "strategy is paying off" and they are excited by their position to "capitalize on the full value of 5G."
Also Read: Ericsson Mobility Report: Growing Revenue for CSPs in Leading 5G Markets