By Anjian, president of Carrier Networks Business Group, Huawei Middle East
The Middle East is one of the 5G technology pioneers around the world. As expected, operators in the region focused on 5G as a medium to provide high-speed internet access to home users during the initial phase. Over 300,000 households have been connected to this most up-to-date technology, which is a testament of versatility of 5G technology.
We are now at an inflection point in the journey of adopting 5G. In Q4 2020, with multiple high-end 5G phones released, we predict that it will trigger a new wave of 5G deployment and the 5G smartphone penetration in the Middle East.
Unlike home connectivity, a mass mobility adoption from 5G mobility users requires better continuous experience across the length and breadth of cities and better indoor coverage. In addition to considering issues on the network to bring a revolutionary experience to 5G mobile users, 5G commercial issues also need to be considered to drive users to migrate to 5G networks.
Operators will be required to prepare for the super cycle with three-pronged strategy, network readiness, tariff and marketing readiness and services readiness: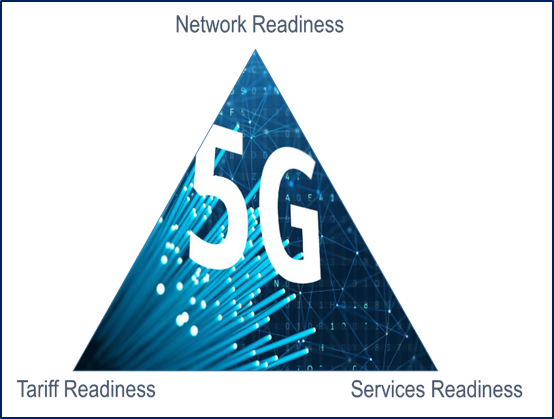 Figure 1: Three Pronged Strategy for 5G Readiness


At this stage of preparing for mass mobility 5G, operators will not have the luxury to pick and choose areas but have to ensure a seamless ubiquitous coverage of 5G especially when it's the high-end users who will be the early adopters. Moreover, mobility experience demands a combination of continuous outdoor coverage and better indoor experience to be delivered at the same time. Ensuring all of this can be a daunting task for operators.
Operators can ensure network readiness for super cycle by firstly building a fundamental coverage layer on C-band 64T64R Massive MIMO (or 2.6GHz, another popular 5G band choice in the region) which can provide a large coverage footprint and then at the same time, using NSA EN-DC technology to enhance 4G-5G cooperation and provide superior experience around cell edges.
A 5G mobile phone supports one C-band 5G carrier to combine with four 4G LTE carriers typically, which enables users to enjoy five carriers aggregation experience. Especially when user is at a cell edge, where C-band signal is weak, but LTE band signal is still good, EN-DC is an effective solution to ensure '5G' experience. Another trend is to add one more 5G band, some operators are considering TDD band, while some are considering FDD. For those who consider one more TDD NR band, for example C-band plus 2.6GHz, they are expecting extremely excellent 5G experience which two TDD carrier aggregation will bring. For those who consider one more FDD NR band, for example C-band plus 2.1GHz, they are expecting improving mobility and indoor experience. We think this will happen for most enterprising operators next year.
At the next stage, we think 5G network will target the ability of having E2E dynamic network slicing per service per user in order to tackle various QoS requirements from speed, latency and massive connections and manage it independently on each slice. This is key to support end users, especially vertical industry applications over the operators' national networks.
Tariff and marketing readiness
5G users are expected to be voracious consumers of data and would be keen to try new data hungry applications. They cannot be satiated with same data allowances as prevalent in the 4G era.  A set of tariffs that incentivize adoption of higher data quota along with 5G may be the right approach in attracting 4G users to migrate to 5G. We saw some operators in South Korea using similar tariff strategies to uplift ARPU by about 36% from selecting user segments which brings more than 10 times data throughput for end users, we call this "more for more" to reach the win-win situation in operators and end users.
5G, with its inherent capabilities, also provide new monetization opportunities to operators. 5G has a vast range of possible speeds which can be used as an additional pricing lever to create new packages. Besides, operators may also differentiate plans by offering inclusive video, music and sports content with the possibility of applying several QoS streaming ranges, where 5G packages includes FHD and UFHD streaming. This opens possibilities to create premium and super premium offerings for high end customers, especially for operators who are currently not charging a premium for 5G connectivity. Operators have been differentiating their premium packages with traditional benefits such as roaming, and now delivering speed up to 10 times of LTE and much better QoS with 5G, it's perhaps time to take speed and QoS as main pricing levers for personal mobility offerings.
It is a proven fact that service bundles have power to uplift ARPUs by a bigger margin than offering just the connectivity. Operators in advanced 5G markets that have put content & service experience in the center of their 5G strategy have seen a positive impact on their revenues as much as 10 times more than those who have not focused on content or services. Operators in the Middle East can start with bundling existing services such as video streaming and move on to newer services such as cloud gaming or VR based services.
5G, with its lightning fast speed and the ultra-low latency E2E capabilities make newer services and experiences possible. 5G has the power to reshape traditional value chain of services, such as gaming. Cloud gaming powered by 5G, puts operators in the center of the value chain. We have already seen many global 5G operators announcing their cloud gaming initiatives and certainly expect a few from within this region. Massive adoption of 5G is expected to produce a strong demand of such newer experience. Consequently, as 5G is adopted in mass by consumers, we will see many industry verticals using the newer data hungry applications to create new services and experiences for their consumer base.


Multiple verticals such as healthcare and education are brimming with new use cases awaiting reliable high-speed connectivity for their users. Operators can proactively work with some of these verticals and facilitate the introduction of these new services to their own user base and create value.


Figure 2: Four Themes of 5G Value Proposition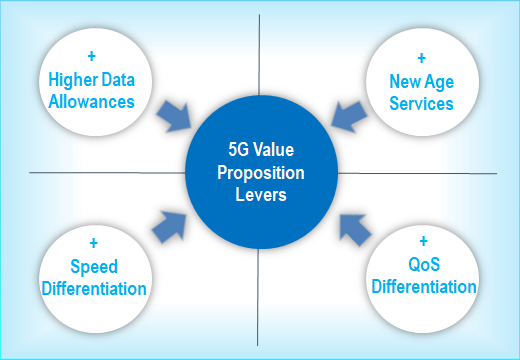 With the large-scale launch of 5G phones, the ubiquitous 5G network will become a rigid demand of users. In conclusion, we can say that an inflection point in 5G adoption is near and combining network readiness with innovative tariffs and newer experiences will be a winning strategy for any operator.