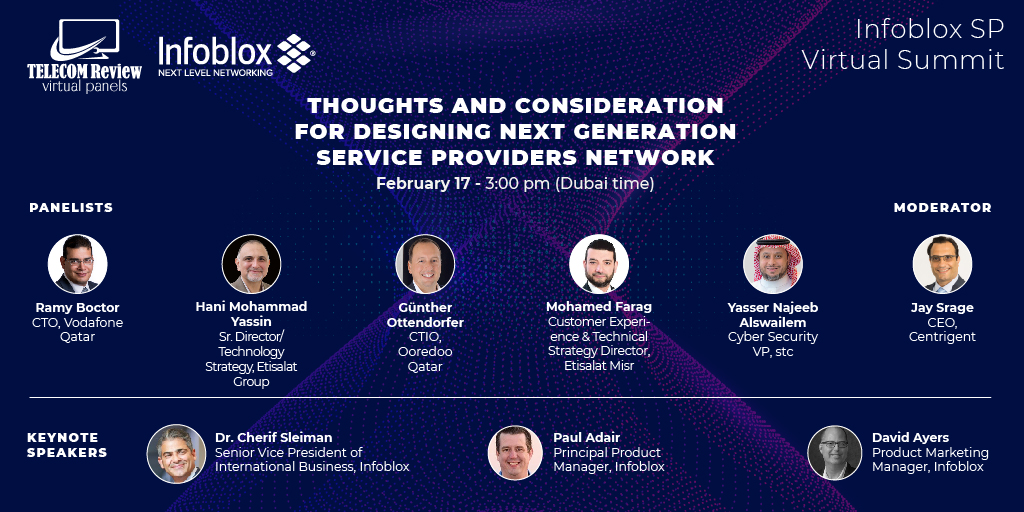 Infoblox SP Virtual Summit by Telecom Review: Designing next generation service providers network
The Infoblox SP Virtual Summit by Telecom Review was held on February 17 and addressed the theme "Thoughts and consideration for designing next generation service providers network". The virtual summit tackled the requirements of next generation SP networks.
The two-hour virtual event featured keynotes and a panel of C-level executives representing leading telecom operators Etisalat UAE, Etisalat Misr, Ooredoo Qatar, stc and Vodafone Qatar.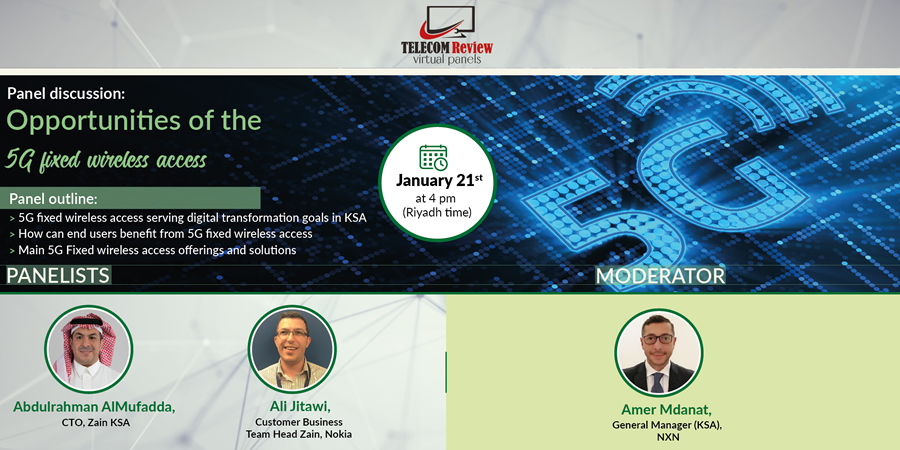 PANEL: Opportunities of the 5G fixed wireless access
Telecom Review organized a virtual panel which saw the participation of 300 registrants, to discuss the opportunities offered by 5G fixed wireless access networks to consumers and mobile operators. Abdulrahman AlMufadda, CTO, Zain KSA and Ali Jitawi, customer business team head Zain, Nokia talked in depth about the importance of this technology. The panel discussion was moderated by Amer Mdanat, general manager (KSA), NXN.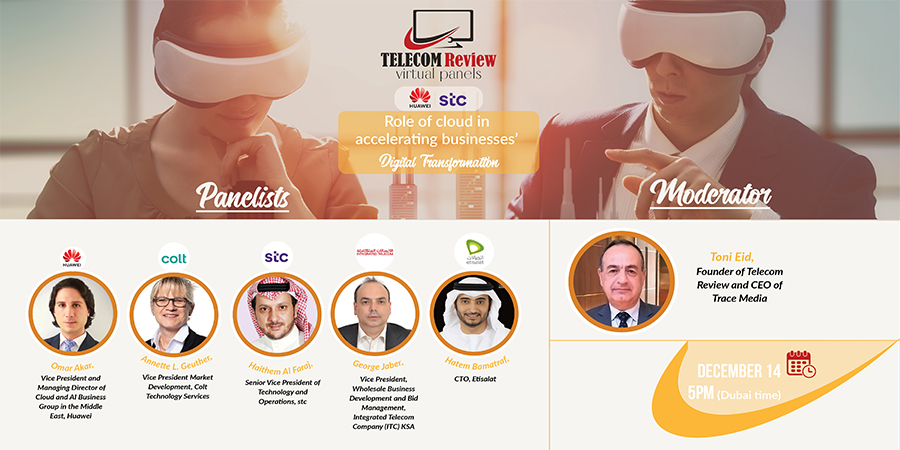 PANEL: Role of cloud in accelerating businesses' digital transformation
Telecom Review, the world's leading telecoms news platform, held a virtual panel, entitled 'Role of cloud in accelerating business' which was attended by hundreds of virtual participants, featuring industry leaders from across the world, to discuss the need for digital transformation in this space.
The panelists were:
-          Omar Akar, Vice President and Managing Director of Cloud and AI Business Group in the Middle East, Huawei
-          Haithem Al Faraj, Senior Vice President of Technology and Operations, stc
-          Hatem Bamatraf, CTO, Etisalat

-          Annette Geuther, Vice President Market Development, Colt Technology Services

-          George Jaber, Vice President, Wholesale Businesss Development and Bid Management, Integrated Telecom Company (ITC) KSA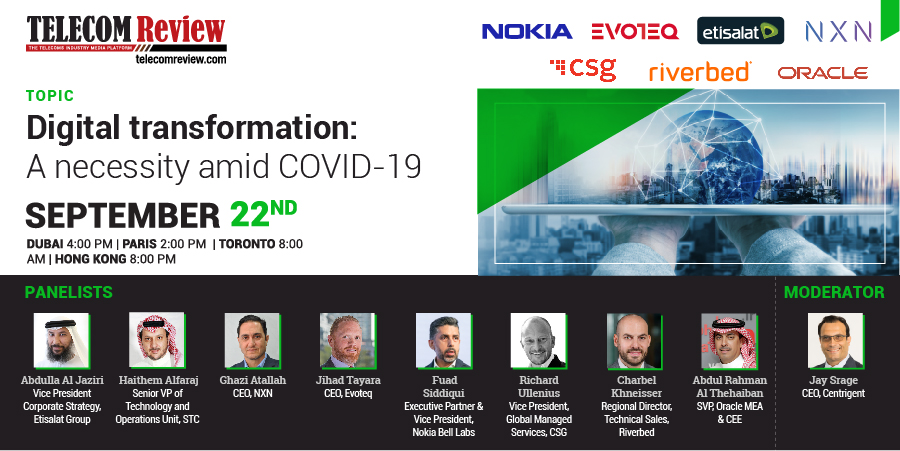 PANEL: Digital transformation: A necessity brought forward by COVID-19
Telecom Review held a virtual panel on September 22, moderated by Jay Srage, CEO of Centrigent. Many attendees were following the live panel discussion where the industry's top figures and respected leaders examined how COVID-19 highlighted the importance of digital transformation, the emerging technologies that led in the response to COVID-19, the gaps existing at the level of access to digital technologies, and end-to-end automated service assurance for telcos and service providers.
The panelists were:
-          Abdulla Al Jaziri, Vice President Corporate Strategy, Etisalat Group
-          Haithem Alfaraj, Senior VP of Technology and Operations Unit, stc
-          Ghazi Atallah, CEO, NXN
-          Jihad Tayara, CEO, Evoteq
-          Fuad Siddiqui, Executive Partner & Vice President, Nokia Bell Labs
-          Richard Ullenius, Vice President, Global Managed Services, CSG
-          Charbel Khneisser, Regional Director, Technical Sales, Riverbed

-          Abdul Rahman Al Thehaiban, Senior Vice President, Oracle MEA & CEE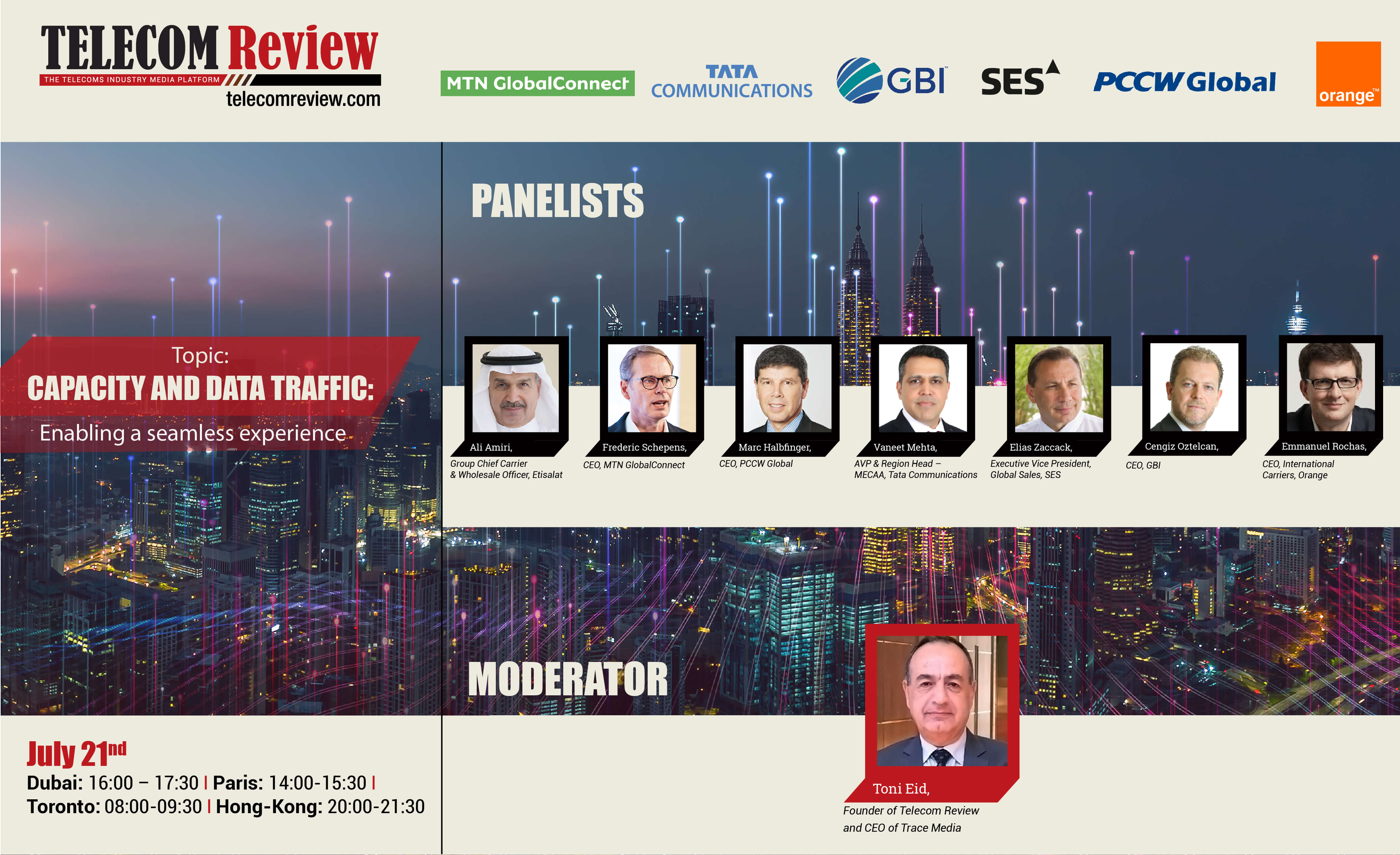 PANEL: Capacity and data traffic: Enabling a seamless experience
Telecom Review held a virtual panel on 21 July, moderated by Toni Eid, CEO of Trace Media International and Founder of Telecom Review. The panel was attended by 346 participants, to discuss the latest and most pressing issues in the wholesale and capacity space.
The panelists were:
-        Marc Halbfinger, CEO, PCCW Global
-        Ali Amiri, Group Chief Carrier & Wholesale Officer, Etisalat
-        Frederic Schepens, CEO, MTN GlobalConnect
-        Emmanuel Rochas, CEO, International Carriers, Orange
-        Cengiz Oztelcan, CEO, GBI
-        Vaneet Mehta, AVP & Region Head – MECAA at Tata Communications
-        Elias Zaccack, Executive Vice President, Global Sales, SES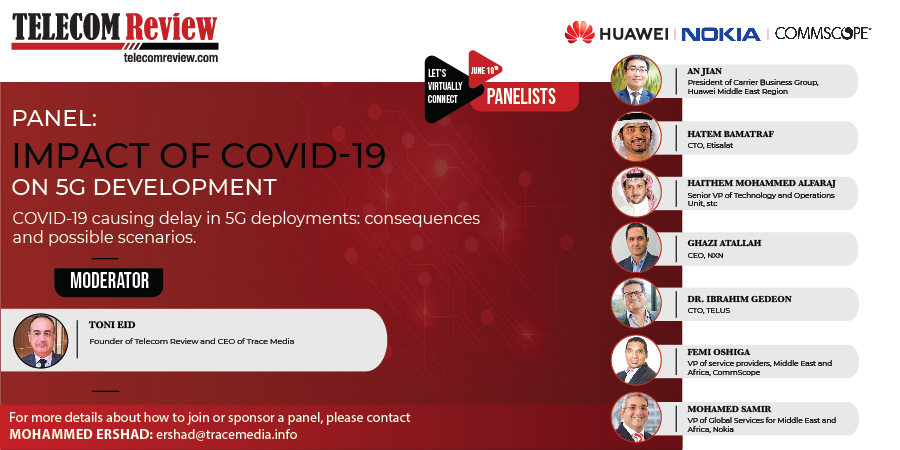 PANEL: Impact of COVID-19 on 5G development
Telecom Review announced that a series of virtual panels will be organized using Zoom application to connect the industry's leading operators, vendors, ICT companies, governmental entities and consultants. The first panel happened on June 18th and discussed the impact of COVID-19 on 5G deployment and was moderated by Mr. Toni Eid, Founder of Telecom Review and CEO of Trace Media.
The panelists were:
-              Hatem Bamatraf, CTO, Etisalat
-              Dr. Ibrahim Gedeon, CTO, TELUS
-              Haithem Mohammed Alfaraj, Senior VP of Technology and Operations Unit, stc
-              An Jian, President of Carrier Business Group, Huawei Middle East Region
-              Femi Oshiga, VP, Service Providers, MEA, CommScope
-              Ghazi Atallah, CEO, NXN
-              Mohamed Samir, VP of Global Services for Middle East and Africa, Nokia