The Digital Natives of today demand that telcos provide the same differentiated and innovative customer experiences that they are used to getting from the Netflixes, Ubers and Amazon Primes of the world. Spurred on by this, telcos are moving towards innovation-led disruptive technologies, insights and processes to enhance customer experiences and operations.
With the rise in emerging technology such as 5G, IoT, IIoT, edge computing, data analytics, machine learning and artificial intelligence, the possible future options for telcos are becoming clearer and the way it can design a disruption in a lot of verticals is more accessible than ever before.

There is no doubt that tomorrow's networks will be software-defined, virtualised, autonomous and offering higher speeds and secure connectivity. Hence, today, telcos have the capability to offer freedom of choice and use, feeling of privilege, care, listen, respond and deliver awesome experience and gain customer advocacy in the process.

Ride the digital wave

Considering the future is going to be driven by digital, telcos must make the shift now from legacy thinking and processes to evolve and adapt. Becoming a digital telco is the answer. Digital telco is a concept of digital evolution that enables telcos to move from a traditional siloed model to a customer-centric, agile and data-driven model, and dTelco is a modern business platform that helps achieve that. Digital telco is a service provider who provides connectivity bundled with innovative offerings and self-service applications. dTelco delights its users (customers and partners) by providing a hyper-personalized digital experience while reducing operational costs.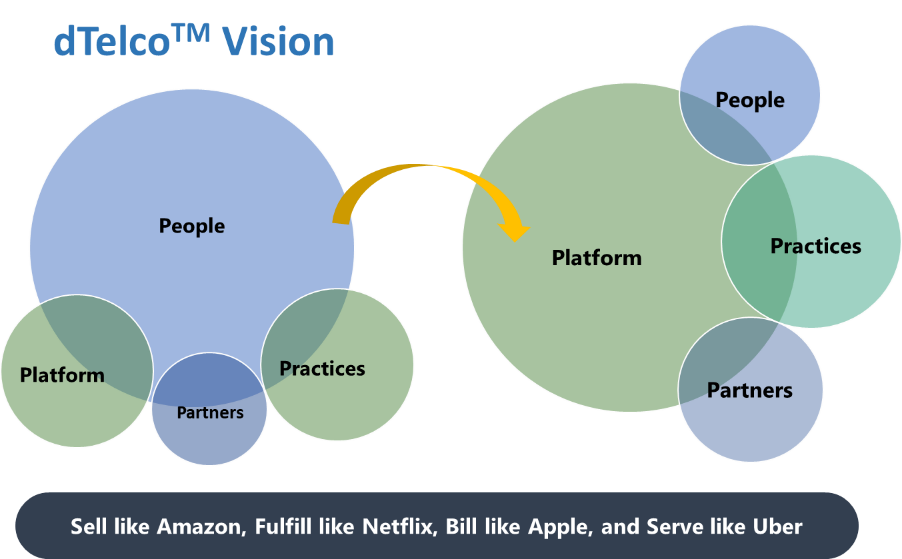 Fig 1: The dTelco Vision

Deliver seamless and intuitive experiences

dTelco opens up avenues for multiple opportunities for telcos to be customer-focused, achieve seamless brand engagement, innovate and rollout offers quickly.

Becoming a dTelco can ensure that you redefine customer obsession every step of the way through insights-driven customer interaction, design thinking-led BizDevOps for concept-to-market and get quick prototypes UX/UI changes and config-driven process changes. You achieve seamless brand engagement and get up to 40 percent reduction in subscriber acquisition time and an improvement of in-click-through ratio by 20 percent.

In addition, dTelco empowers customers, partners and enterprises by offering hyper-personalized experience for purchase/sell anything, anywhere and at anytime, helping telcos achieve an NPS upward of 70.

With dTelco, it becomes easy to innovate with a partnership, marketplace and platforms with umpteen use cases as depicted below: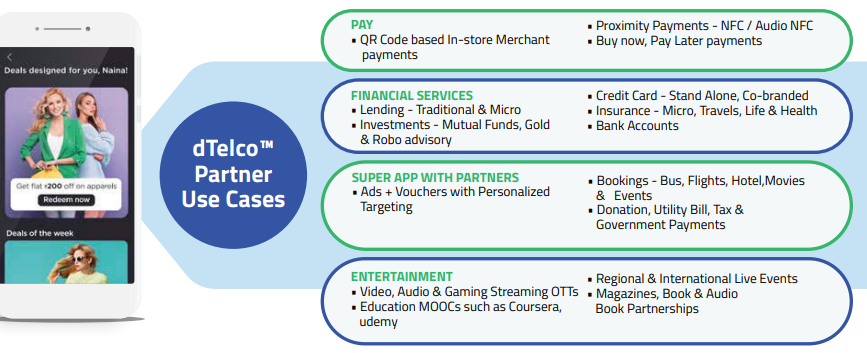 Fig 2: dTelco Partner Use Cases

dTelco also makes it easy for rapid, targeted offer rollouts with higher value customer interactions, better cross-sell and up-sell offer acceptance rates, leading to a better customer experience overall. It enables ultra-fast target offer creation, lightning fast software installation and update and zero-touch digital service delivery. For telcos who wish to innovate and brings products market faster for the Digital Native, it brings a digital first, DevOps-based solution with managed service KPIs, 360 degree accountability with a squad driven structure with a design-thinking led BizDevOps that brings greater business agility.

Winning together in the digital world

It can be highly rewarding for telcos to forge partnerships with diverse players to drive innovation and foster growth, especially in today's fast-changing technological landscape populated by OTT players such as Google, Amazon, Facebook and Apple, who are focused on innovation and offering unsurpassed customer experience day in and day out, across devices.

To thrive in a digital economy, with its superlative seamlessness across multiple channels, telcos would do well to choose their partners well and do it fast. Establishing an effective partner ecosystem involves telcos, current and future partners, customers and internal stakeholders exchanging ideas, products or services. As a consequence, partners may soon evolve into new customers.

A strong partner ecosystem and customer adoption will drive innovation and business growth while opening up new avenues for revenue generation. But, that is just half the battle won.

When it comes to partner on-boarding and management, legacy systems do not augur well. Moving towards a symbiotic partner ecosystem is key as well as having the right systems in place to ensure that partner on-boarding as well as management happens without glitches. A digital partner marketplace solution such as dPartners from STL can make the journey to forging successful partners easier and more effective.




Fig 3: dPartners – Possible Partnership Models

When one makes up for what the other lacks, we see the makings of a strong partnership. In a world that's fast becoming driven by technologies changing moment to moment and by populated by people who are connected and oriented to devices, it is only natural for telcos to be taken in with the flow and gear themselves towards mutually fulfilling partnerships. What can accelerate that process is technology that's robust, seamless and easy to manage.