Ericsson investors decide to drop their stock holdings, bringing the vendor's share closing price to 103.84 Swedish krona (SEK) on July 16. This has been the sudden reaction following the news of its Q2 losses as an impact of a downfall from China's market share.
Accordingly, the Finnish vendor posted its first decline in quarterly revenue in at least three years on Friday as sales and core earnings fell short of expectations. Due to the geopolitical tension influenced by Sweden's move to ban Chinese vendors from supporting 5G networks, the Q2 losses are not something Ericsson anticipates coming back, expressed CEO Börje Ekholm.

"It's very hard to say. We know the geopolitical tension with Sweden, we know what goes on there," Ekholm said during the presentation. "So what we see here is a reduction in the China volumes and we can speculate and we can have hypotheses, but the consequence is very clear on our sales volume."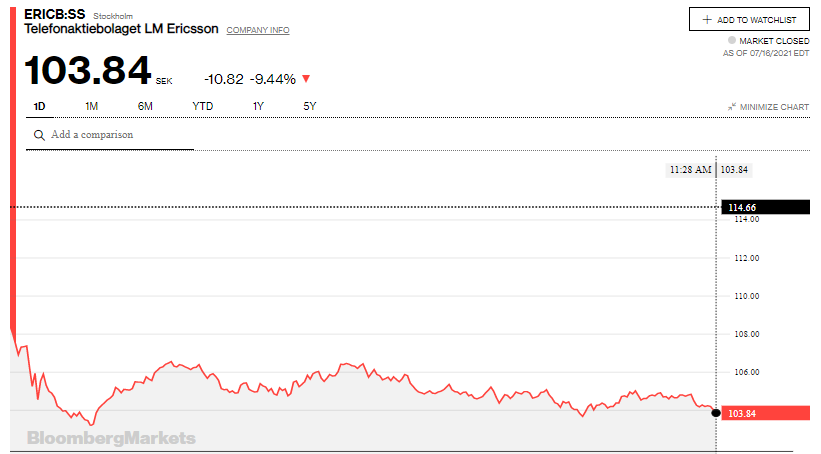 Caption: Ericsson stock price dipped by almost 10%

In Q2, Ericsson wrote off SEK 300 million in its digital services business related to pre-commercial product development for the Chinese market. This is in preparation for competition in terms of 5G opportunities. "We can see that the material loss in market share in China, mainland China, would lead to a delay in reaching the targets in digital services," Ekholm said.

In 2020, 5.4% of Ericsson's digital services sales are derived from China. He further explained, "When we look at the second quarter, we have seen that our sales in mainland China have fallen by about SEK2.5 billion, a 60% reduction compared to Q2 last year. We don't really know the definite outcome of the tenders that are ongoing, but we want to say that it's prudent to now plan for a significant reduction in market share, both in Networks as well as Digital Services."

The dramatic sales slump in China makes quite clear now that geopolitics is having a significant impact on the shape of the market and procurement decisions in multiple markets — with Ericsson suffering collateral damage.

According to Ericsson's latest financial results, total sales reached 54.9 billion SEK ($6.3 billion), a 1% decline from 2020 levels. Ericsson's chief financial officer, Carl Mellander, also mentioned in a statement, "Where we are now is actually a state of uncertainty," noting that a wave of contracts for the next stage in China's 5G rollout is set to be announced. "There is a risk here that we will see an ongoing lower volume in China. Our job then is to compensate with other geographies."

Despite showing a weak position in the Chinese market, all of the company's geographies, except the Middle East and Africa, show strong organic growth as worldwide demand for 5G increased. On another note, Ericsson's release contrasts to Finnish peer Nokia, which earlier announced an expected boost to its full-year outlook.