MEF recently published the industry's first global standard defining an SD-WAN service and its attributes. MEF has emerged as the world's leading communications industry organization shaping the direction and growth of the SD-WAN services market through standardization and upcoming certification of services, technologies and professionals. Telecom Review had the opportunity to interview Pascal Menezes, CTO, MEF, to discuss the standard, its relevance to the market and next steps for driving SD-WAN market innovation.
Why did MEF introduce an SD-WAN standard? 
In late July, MEF published the industry's first SD-WAN standard - SD-WAN Service Attributes and Services (MEF 70) – to help accelerate SD-WAN market growth and facilitate creation of powerful new hybrid networking solutions that are optimized for digital transformation.
MEF SD-WAN Service Overview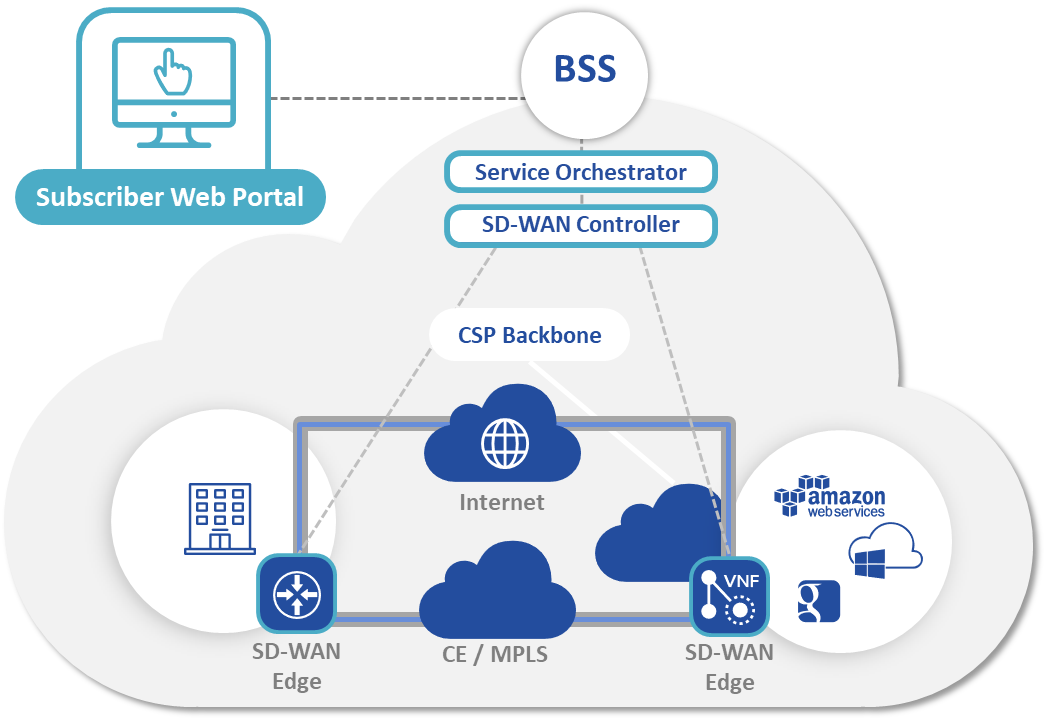 How does your SD-WAN work relate to the broader connectivity and cloud services markets?
SD-WAN service standardization is being conducted within the context of the MEF 3.0 Global Services Framework. It is part of our transformational initiative to define, deliver and certify a family of dynamic carrier ethernet (CE), optical transport, IP, SD-WAN and security services orchestrated across a federation of automated networks using LSO (lifecycle service orchestration) APIs. 
Combining standardized SD-WAN services with dynamic high speed underlay connectivity services will enable service providers to offer MEF 3.0 hybrid networking solutions with unprecedented user and application-directed control over network resources and service capabilities.
Ultimately, what you are going to see, in my view, is the emergence of a global fabric of interconnected, automated, high speed underlay connectivity services that are tied closely to overlay SD-WAN services to deliver the absolute best customer experience with guaranteed service performance, resiliency, and security in an on-demand environment.  Standardized LSO APIs will enable automation of these services across multiple service providers and over multiple technology domains within provider networks. 
Having this interconnected, automated, high performance service fabric will be especially important as the cloud edge becomes more distributed and increasingly moves onto the real estate footprint of service providers, including into carrier PoPs.
What is in the SD-WAN standard?
MEF 70 describes requirements for an application-aware, over-the-top WAN connectivity service that uses policies to determine how application flows are directed over multiple underlay networks irrespective of the underlay technologies or service providers who deliver them.
Among other things, the standard defines service attributes that describe the externally visible behavior of an SD-WAN service as experienced by the subscribe and the rules associated with how traffic is handled. MEF 70 also covers key technical concepts and definitions like an SD-WAN UNI, the SD-WAN Edge, SD-WAN tunnel virtual connections, SD-WAN virtual connection end points and underlay connectivity services.
What are some specific benefits of the SD-WAN standard?
The SD-WAN standardization offers numerous benefits that will help accelerate SD-WAN market growth while improving customer experience with hybrid networking solutions.
First of all, standardization will enable a wide range of ecosystem stakeholders to use the same terminology when buying, selling, assessing, deploying and delivering SD-WAN services. Our research has shown that the lack of a common language has constrained market growth up until now, and we expect that to change going forward. We're essentially unshackling SD-WAN's potential just like we unshackled the carrier ethernet market, which is now worth about $80 billion globally. 
Getting back to the hybrid networking topic, standardization will make it easier to interface policy with intelligent underlay connectivity services to provide a better end-to-end application experience with guaranteed service resiliency.
Standardization also facilitates inclusion of SD-WAN services in standardized LSO architectures, thereby advancing efforts to orchestrate MEF 3.0 SD-WAN services across automated networks.
Finally, our new standard paves the way for creation and implementation of certified MEF 3.0 SD-WAN services, which will give users confidence that a service meets a fundamental set of requirements.
What is next for SD-WAN standardization?
MEF already has begun work on the next phase of SD-WAN standardization – MEF 70.1. This work includes defining service attributes for application flow performance and business importance, SD-WAN service topology and connectivity, and underlay connectivity service parameters.
We also are progressing sister standards projects focused on application security for SD-WAN services, intent-based networking for SD-WAN that will simplify the subscriber-to-service provider interface, and information and data modeling standards that will accelerate LSO API development for SD-WAN services. We look forward to sharing more about this in the coming quarters.
What kind of support have you seen for SD-WAN standardization?
We already have dozens of service provider and technology companies who have voiced support for MEF work and contributed to standards development. This includes players like AT&T, Comcast Business, CenturyLink, Colt, Orange Business Services, Verizon, Fujitsu Network Communications, Nuage Networks, Cisco, Spirent, Amdocs, Silver Peak and other MEF member companies.
When will MEF introduce SD-WAN certification and what will that cover?
MEF remains on track to launch its MEF 3.0 SD-WAN Certification pilot program in Q4 2019. This certification will test a set of service attributes and their behaviors defined in MEF 70 and described in detail in an upcoming MEF 3.0 SD-WAN certification test requirements document.
Any closing thoughts?
Join us at MEF19 this 18-22 November in Los Angeles. The event offers a great opportunity for industry professionals to engage directly with top experts shaping the SD-WAN services market. SD-WAN will be a dominant topic in MEF 3.0 proof of concept showcase demonstrations and conference sessions.