The first half of 2020 has been nothing short of transformational for several industries as businesses everywhere had to adapt in order to survive. Thanks to the ICT sector, many businesses have managed to stay afloat and new solutions were even created in an effort to ease customer business operations and manage consumer expectations.
Telecom Review managed to secure an exclusive interview with Rosenberger's Senior Advisor, Vick Mamlouk, a seasoned industry professional with a vast experience within the telecoms sector. He offered us some insight into Rosenberger's experience throughout the pandemic and his personal opinion on and analysis of the current global ICT landscape.

The whole world was taken by storm due to the pandemic. We witnessed entire industries transform as a means of survival and the telecoms sector's relentless efforts to ensure businesses stayed afloat. What role did Rosenberger play throughout the pandemic?

Rosenberger initially went through the inevitable shock of the crisis like everyone else in the industry but they managed to recover quickly. This is due to Rosenberger's strong relationship with their customers and their ability to manufacture at different locations around the world which essentially caused fewer supply chain issues and enabled them to meet all of their customers' delivery requirements.

At the same time, Rosenberger was one of telecom companies in the world that transferred some of their manufacturing lines and made face shields.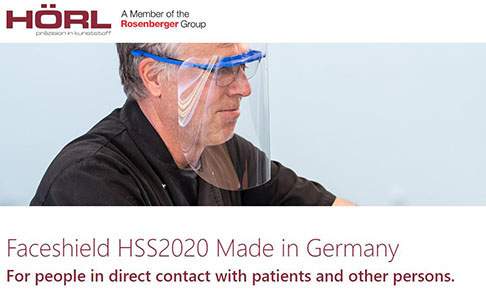 Rosenberger proved to be agile and adaptable throughout the pandemic because, as a global company, they managed to maintain their strong partnerships and ownership across Europe, Asia, and North America.

In fact, I think that in the future there will be fewer requirements for globalization. We might move from centrally controlled companies to more localization of sub-companies that develop their own products and solutions to deal with customer or country-specific requirements

What sort of trends do you foresee coming to light during the second half of 2020?

I am very optimistic about the ICT industry in general and Rosenberger in particular. I see more service providers are demanding more bandwidth, better capacity and more coverage as people become more reliant on communication via all sorts of devices.

In Rosenberger's case, the need for increased bandwidth and capacity come into play as they have a variety of offers spanning from complete fiber infrastructure solutions to data centers and ancillaries required for backbone infrastructure.

In addition to this, Rosenberger offers a complete portfolio of Base Station Antenna, RF combiners, and complete active and passive DAS for the wireless service provider after being provided with access to new bandwidth, coupled with a tremendous increase in customer demands for capacity and coverage.

Some of our most recent work in this space has been in the UAE, Saudi Arabia, South Africa and Nigeria.

What has Rosenberger been working on in the field of 5G recently?

Rosenberger has close to 10% of their total employees working in R&D. We have a complete and unique portfolio of products and solutions that are dealing directly with 5G.

Also, as mobile data usage increases exponentially each year, wireless coverage deployments play a significant role in today's market. Rosenberger's wireless coverage solutions provide customers with indoor wireless coverage systems, outdoor site solutions, BTS coverage expansion, and distributed antenna systems (DAS) deployments. These systems are designed to support various global telecommunication standards, such as GSM, CDMA, WCDMA, LTE, and 5G. 

With our global R&D centers and manufacturing facilities, Rosenberger can provide timely products and solutions to serve our customers worldwide.

For instance, when it comes to BSAs, Rosenberger invested a significant amount of resources in the development of new antenna products responding to the upgrade plans for existing networks, to consolidate existing antennas to make way for MIMO deployments of higher-order across all bands, and to prepare the sites to accommodate to new 5G requirements, particularly in the L-band.

Rosenberger also helps its clients respond to the limitations imposed by increased tower loading with solutions for two or even a single antenna per base station sector.
Multi-Band Solutions

 

 

Currently, over 45% of the FDD antennas that are delivered in the global market have six or more ports. Multi-band and multi-port antennas are expected to be widely acknowledged as mainstream products by 2021. Rosenberger is offering multi-port antennas with up to 24 and 30 ports, covering all sub-2.7 GHz bands with field-exchangeable Remote Electrical Tilt (RET) systems.

 
 
 

 
 

Features & Benefits

Covering all frequency band, expanding network capacity
Supporting various integrated diplexers and duplexers
Embedded RET, Field Exchangeable
Low PIM, high gain, high efficiency, good coverage
Small size, low weight, compact structure, easy installation

 
 
 
 

Could you provide us with a comment on the current global ICT landscape?

I think the global ICT landscape is set to grow considerably. I see that local authorities and governments will open up more bandwidth for local service providers. This is becoming more necessary for our day to day life after what we have been through with the COVID-19 outbreak.

I think there will be less travel, a decreased demand for office needs, more requirements for local manufacturing of solutions, less globalization and more localization. 

All of the above plays into Rosenberger sweet spots. This increase demands for local governments and service providers to invest more in the infrastructure as regular updates/upgrades of their entire fiber back bone will be required along with open the bandwidth pipes due to the increase of on-demand video. Machine/People to machine communication will make Rosenberger's future bright as they can fit and meet all of their customer requirements.