The ICT industry has become the cornerstone of social development. Advanced technologies such as 5G in the post-pandemic era will enable more industries to benefit from the digital economy.
If there were any lingering doubts about the value of 5G rollout brings to society, then events of the past year can prove its business value and social value. COVID-19 demonstrates that reliable connectivity is critical not only to our daily lives, but also to business continuity, public sector accessibility and economic health.
According to An Jian, President of Carrier Networks at Huawei Middle East, the circumstances of 2020 – from lockdown to restrictions on a large number of offline activities, to public protection and social distance - have whet the appetite of businesses and governments to accelerate their progress in becoming more empowered by intelligent solutions. As the most advanced connection technology, 5G together with AI, cloud, and computing will play a more critical role in the post-pandemic era.
Globally, the deployment of 5G had progressed rapidly prior to COVID-19. While the pandemic has slowed down the roll-out, it hasn't dampened the desire for it. "Connectivity has proved more vital than ever since the beginning of 2020," An Jian said. "Millions of people around the world have relied on the internet to keep them connected to loved ones and their jobs during lockdowns. On a larger scale, however, is the realization of how important digitalization is on an industry level – from healthcare to the education sector, manufacturing to telecommunications and everything in between."
In China, hospitals have used 5G networks to enable robots to care for COVID-19 patients and to allow medical personnel to remotely diagnose them safely.
During the pandemic, 5G met the network requirements of 18 COVID-19 field hospitals in UAE, and completed full 5G coverage in 1 to 2 days. The 5G FWA has provided services such as home entertainment, remote office working, and distance education for thousands of families and 500 schools in GCC countries such as Saudi Arabia and Kuwait. In Kuwait, for example, 5G leased lines also enable mobile banking services, helping people handle financial services near their homes for reducing the risk of infection.
The digital journey is accelerating in the entire society, both public and private sectors. The combination of 5G and AI and cloud solutions proves its social value.
Global 5G development accelerates, and 5G business values are initially proved in the Middle East
110 networks, 800,000 base stations, and over 200 million 5G users have been deployed globally.
The 3GPP's freeze of R16 earlier this year defines multiple industry application scenarios, including the requirements of XR services for real-time bandwidth, remote control for high reliability, digital campus management, and IoV industry for high-precision positioning. The 5G ecosystem has truly matured.
More than 440 5G terminals have been launched worldwide. 5G mobile phones account for over 60% of smartphone shipments. A low price of US$150 5G mobile phones has emerged. More than 20 suppliers have released more than 60 5G modules and 140 industry terminals, including 5G AGVs, 5G cameras, 5G drones, and 5G inspection robots.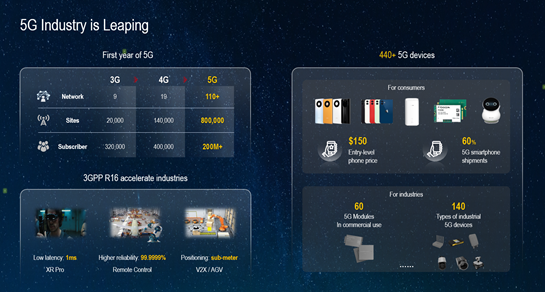 "There is no doubt that the Middle East has been among the world's first-wave 5G markets, with 14 commercial 5G networks deployed, covering 29 million people and more than 50% of the population," An Jian noted. It is worth mentioning that the shipment of 5G CPEs in the Middle East accounts for 60% of the global shipments, supporting the rapid growth of 5G home broadband and enterprise users. It is estimated that the number of 5G FWA home broadband users will reach 400,000 in the Middle East by the end of the year, and that the number of SMEs using 5G leased lines will reach 4,000.
With the features such as high SLA assurance and fast rollout, 5G leased lines enable operators to quickly obtain enterprise users, especially in the underdeveloped optical fiber market. Compared with common 5G FWA services at the same rate, the ARPU increases by 5 to 10 times. More importantly, stable and high-speed 5G leased lines help enterprises improve efficiency, reduce costs, and accelerate enterprise digitalization. In the Middle East, operators such as those in Kuwait and Saudi Arabia have found new opportunities in key industries such as banks, education, and hospitals.
This is just the beginning. According to the latest quarterly financial data of South Korean operators, they have achieved double-digit profit growth in 2020 thanks to the continued investment in 5G by South Korean operators in the last two years. We believe that South Korea's achievements are a forecast for the GCC's 5G pioneers and what they will realise in the near future.
Accelerate 5G development and continuously achieve business success in the 2C and 2B fields
Based on the global and regional trends of 5G, it is estimated that the number of 5G users in the Middle East will exceed 8 million by 2021, and that the user penetration rate will reach 20%. According to Rogers's Diffusion of Innovation Theory, the penetration rate of new things will reach such a threshold.
An Jian added, "To achieve this goal, three aspects must be concluded. First, quickly attracting 5G users through innovative services to increase the user penetration rate to 20%. In South Korea, for example, carriers launched service innovations such as VR and AR to attract a large number of young users. The second priority is to monetize 5G attributes like latency for gaming, uploading bandwidth for live shows, and so on. This will in turn will increase ARPU by 20%. The third is to build the absolute best 5G networks which achieve ubiquitous coverage and optimal user experience, maximizing the network's value. By the end of Q3, South Korea's 5G population coverage exceeded 95%, and the number of users exceeded 9 million, which provided a powerful driving force for their profit growth."
Meanwhile, there is no doubt that the consumer market is not the ultimate goal of 5G. With the continuous advancement of 3GPP standards, 5G has opened the door for operators to enter vertical industries as5G technologies help enterprises achieve digitalization.
"By September this year, more than 5,000 5G business innovation projects have been implemented in more than 20 industries," said An Jian. "Carriers have obtained more than 1,000 commercial contracts. In the oil and gas industry, 5G provides ubiquitous and reliable connections. Experienced experts can remotely guide onsite operations based on real-time feedback, improving onsite personnel's work efficiency by over 30%. In ports, 5G enables workers to remotely control cranes to load and unload containers. One person can control four cranes, improving efficiency by 20%. Operators are also actively exploring new 5G business models to enable all industries. For example, the BAF business model launched by China Mobile is an important step forward."
"Differentiated capabilities and deterministic experience, including connectivity, AI, cloud, and application development and integration, are required to meet the service requirements of various industries in the future. In addition to focusing on connections, carriers can expand their market share through cross-industry ecosystem cooperation leveraging cloud and integration capabilities. Huawei is firmly committed to working with global carriers, continuously investing in 5G ecosystem construction and industry application incubation, and openly cooperating with other platforms such as 5G OpenLab, to meet these industry requirements."
With a new year ahead of us and the hope for better things to come, with other advanced technologies such as AI, cloud, computing, 5G may be just what society needs to remain buoyant as we work together to end the pandemic.
"5G will be essential to societal development during the pandemic, as well as post-pandemic economic recovery," concluded An Jian. "We would like to work together with Middle East operators to unleash the 5G network's values both for both consumers and industry, harvesting more remarkable achievements in business and social values."
Given its potential to create new revenue streams as well as entirely new sectors, while keeping the world connected during these difficult times, 5G will no doubt pave the way to a brighter future for us all.