MEA economies can unlock new value and growth, but it requires local industries and enterprises to be hyper-productive, adaptively scalable, and ultra-resilient in the face of unforeseen disruptions.
The COVID-19 pandemic was a wake-up call for industries to digitalize. It brought to the fore the stark difference between industries that had the foresight to invest in digital infrastructure and the ones that rely on conventional methods.

Bell Labs Consulting in its The big inversion predicts that a new ecosystem of 5G and related technologies or "5G+" will equip industries with the necessary tools to kickstart the process of digitalization over the next decade. A tectonic shift in Information and Communication Technologies (ICTs) spending is on the anvil cutting across all sectors, from e-commerce and finance to manufacturing and agriculture. The impact of fusing 5G networks with cutting-edge solutions like augmented intelligence, edge cloud, private networks and as-a-service business models will not only give a fillip to productivity and safety but would also help contribute $8 trillion to global GDP by 2030.

Fuad Siddiqui, Executive Partner and Vice President, Bell Labs Consulting and member of Nokia Bell Labs Senior Leadership explains how a new crop of transformational technologies will pave the way for the industries of the future.

Could you elaborate on the concept of '5G+' technologies?

Industries and enterprises are poised to make investments in a broad ecosystem of technologies that Bell Labs Consulting collectively terms "5G+". It comprises not only the underlying foundational 5G networks but also key technologies that will work hand in hand with 5G to digitalize every aspect of a company's operations. This includes edge cloud infrastructure, augmented intelligence/machine learning (AugI/ML), enterprise private networks, and advanced sensors and robotics. These technologies will act in concert and increasingly be accessible "as a service," allowing instant access to the optimum tools and capabilities, from anywhere, at any time.

We predict that we are approaching a "big inversion" in ICT investment in physical and digital industries, driven by this emerging set of 5G+ technologies. This inversion will be realized in three phases: 'the Fall', 'the Rise' and 'the New Normal'. Industries need a bold investment plan to succeed in their journey to a new normal, and to bring about a level of proportional equity in ICT investment between the amount these industries invest in ICT and their respective contributions to overall global GDP and workforce employment. When this inversion is complete, industries will be equipped to create new economic and societal value.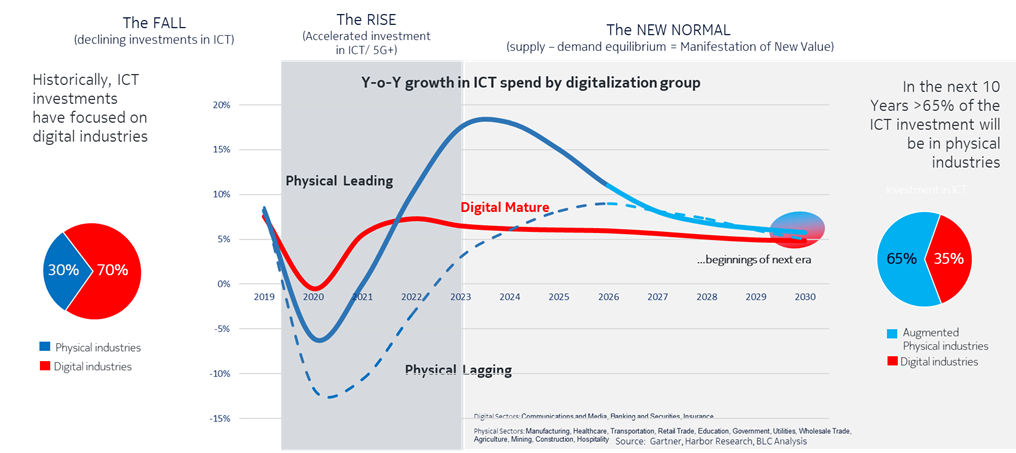 Why have you chosen to call this trend the 'Big Inversion'?

It is an inversion because increased ICT spend driven by 5G+ will flip the current 70:30 spending ratio between digital and physical industries to a 35:65 ratio in line with the relative GDP contribution of these two industries. It is big because this flip doubles the current enterprise ICT spend; more importantly, it is projected to contribute up to $8 trillion to the global economy in 2030.

Given that MEA is currently lagging behind rest of the world in ICT spending, it presents the region with a unique opportunity to achieve new growth. We see the need for two inversions in MEA ICT spend – the first one is, as indicated earlier, to bridge the gap between digitally mature and physical industries. The second one is between MEA and the rest of the world, as it will help bring the ICT spend in line with GDP contributions.

To what extent has COVID-19 highlighted the need for digitalization to benefit industries across the MEA region?

The pandemic has served as an acute reminder that digitalization doesn't merely enhance industrial growth and profitability, it also critically impacts society and the economy. For example, the sharp growth in video conferencing and telemedicine demand is a testament not only to the effectiveness and maturity of digital services in filling gaps in supply at short notice, but also to the sustainability and resilience of these services. Physical industries now must prepare to digitally augment themselves to reap similar benefits.

5G+ will establish the supply-side readiness required by industries in the post-COVID era to realize optimized productivity gains, strategic resilience, and a more inclusive and purposeful future. These benefits to enterprises can translate into more and better jobs, increased enterprise profits and higher government revenues that will enable the MEA economy to not only recover from a 4.4% GDP contraction in 2020 but also to lead to sustained GDP growth through 2030.



What strategies should physical industries adopt to reduce the gap with their digital peers?

Enterprises within physical industries need to identify the areas that are likely to give them safety, productivity, efficiency (SPE) and resilience gains, define the appropriate metrics, determine the target improvements, and then drive the selection and confluence of Operations Technologies (OT) and ICT. Enterprises must ensure that all operational data are made available in digital form in a timely manner at the highest quality levels.

Enterprises in MEA need to adopt 5G+ technologies, deploy digitalization and automation in lockstep with the reskilling of their workforce. They should create a co-development environment with their operations technology supplier, communications providers and other ecosystem partners. As some of the OT and ICT have not fully matured yet, they need to develop a "no-regret" technology deployment roadmap that will help them shorten the time to optimum digitalization without any stranded investments.

Will digitalization compel a revaluation of businesses strategy and productivity paradigms?

Yes, it will. Especially in a post-COVID world seeking the new normal.

Digitalization will increase the scope of strategy and productivity paradigms to be more expansive and will shorten the planning horizon. Business strategies need to evolve in order to maximize the gains realized from demand-side and supply-side opportunities while simultaneously meeting the challenges efficiently. New and faster strategy development will be required in many areas—such as a no-regret approach to roadmap 5G+ investments, workforce reskilling, incorporating green technology, data security and privacy, etc. Operating at higher SPE levels in an automated environment that shortens product/service realization time will require more dynamic strategy formulation and competitive evaluation paradigms. 

COVID-19 has helped establish resilience as an integral part of productivity paradigms. But increased resilience can oftentimes increase costs and reduce enterprise efficiency. Digitalization reduces the negative impact of this trade-off by strongly increasing enterprise flexibility and adaptability. Tracking these metrics needs to be an integral part of any productivity paradigm going forward.