In an exclusive with Telecom Review, a joint discussion between Marc Veelenturf, Chief Executive Officer, Middle East and Turkey and Head of Telecom, Media and Technology for Growing Markets of Atos and Peter Larnholt, Chief Information Officer, du, has brought light the ongoing technology innovation within the Middle East region such as cloud transformation, edge adoption, private 5G networks, network automation, artificial intelligence, cybersecurity, and decarbonization.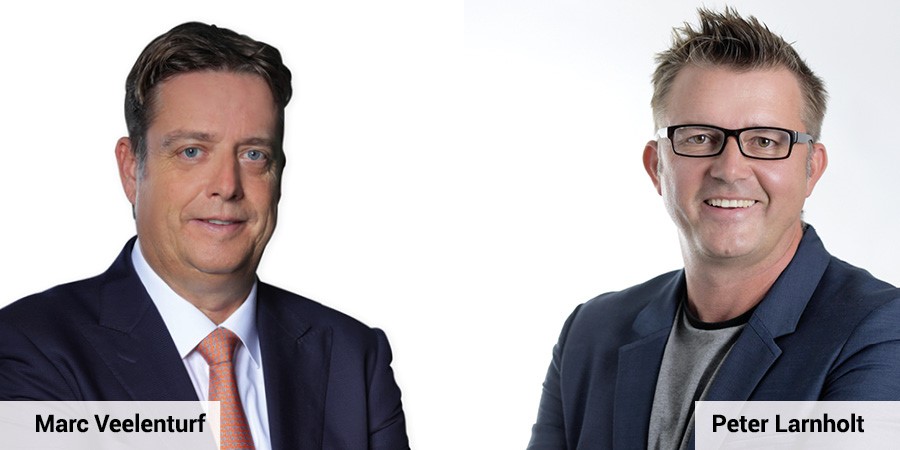 Digital revolution has forced every organization to reinvent itself, or at least rethink how it goes about doing business. It is a journey, and in its true essence, digital transformation combines business and technology to make customers' lives easier. The future of telecommunications is data-centric, and digital-savvy consumers will dominate the next decade of growth. Enterprises in the Middle East need the right strategy, right local knowledge, the right tools and the right partners willing to stride the path of digital transformation together with them.
Cloud transformation
As Middle Eastern markets mature and gain momentum through technology-backed investments, organizations and enterprises face immense challenges as customers' demand competitive agility, increase virtual interactions, and put a social imperative to shrink the carbon footprint. Data monetization, data personalization, emergence of 5G, accelerated digitalization, data volumes, regulations, and privacy all together are and will continue to exponentially demand a linear drive toward the cloud in a collaborated ecosystem.
Atos understood the impact of this paradigm shift and has invested in capabilities that are combined to offer a unique cloud forward program – Atos OneCloud. One year in service on November 2021, this initiative aimed at bringing business outcomes to customers, adapting to their industries, answering their market challenges, and fitting their cloud journey maturity, which can be either foundational, opportunistic, strategic, or transformational.
Atos OneCloud is a unique program delivered in close collaboration with strategic partner ecosystem including Amazon Web Services, Dell Technologies (and VMware), Google Cloud, IBM and Red Hat, Microsoft, Salesforce, SAP and ServiceNow. This allows customers to implement new technologies at speed, reduce implementation risks and costs, and benefit from the close integration of leading cloud capabilities capable of addressing complex business challenges. Designed as a modular approach, this program allows Atos' customers to move their entire landscape to the cloud or by business-by-business building blocks to unleash potential through business processes optimization, applications, and infrastructure modernization, making them more agile, data-driven and customer-centric.
Over the next five years, Atos plans to intensify its investments, totaling €2 billion, in its full stack of cloud capabilities to expand the existing pool of expert certifications, accelerate R&D outcomes, pursue cloud investments for customers and multiply acquisitions delivered through highly secure and decarbonized, public, private or hybrid cloud environments.
"We have been very successful in bringing and offering this global initiative to our customers in the Middle East region by providing the much-needed impetus to our customers, enabling them with a well-articulated drive to their cloud transformation journey to help them stay ahead of the game always and be commercially competitive, and at the same time creating organizational alignments. We have and are in the process of successfully delivering medium to large-scale cloud transformation programs for telcos in the region and across other industries," said Veelenturf.
As telecom operators look to the future, cloud transformation will be key for business continuity and enhanced services. Operators are destined to benefit from a host of significant benefits in light of successful cloud migration, and this is why the wider telecom community is already pursuing action in this direction. Cloud transformation will provide greater resilience, thanks to process automation and high calibre anomaly detection and situation adaptiveness. Cloud-based operator databases will also offer seamless disaster recovery should security breaches or data losses occur, while cloud infrastructure will enhance customer experiences, ensure high scalability, and significantly reduce operating expenses for hardware, software, servers, and energy bills. From a du perspective, the vitality of cloud was identified some time ago, and this year alone has seen remarkable progress where this technology is concerned. "In 2021, du launched an exclusive cloud platform to accelerate digital transformation nationally and regionally, as well as two data centres to provide additional yet essential support," stated Larnholt.
Cloud transformation aside, edge computing and data monetization are other avenues sure to empower operators in the decades ahead. With edge computing capabilities, operators will boast robust data management cycles and empower end-users to utilize uninterrupted connectivity and run low latency applications. Meanwhile, data monetization will help ensure operators maximize profits, optimize opportunities, and convert data into competitive advantages.
Private 5G
5G has already proven to be a compelling proposition for the wider telecom industry since the COVID-19 outbreak. The technology has enabled operators to provide lower latency, higher capacity, and increase bandwidth in terms of customer services, streamlining connectivity and guaranteeing world-class experiences with many businesses and professionals working remotely. "Given the vast capabilities of 5G and continued rollouts across respective geographies, the 5G revolution is by no means the finished article, and further changes will become apparent in due course," said Larnholt.
In a regional perspective, the Middle East is addressing the long-term decline in oil revenue by repositioning the region as a high-tech hub.  The drive to high tech requires high-bandwidth, low-latency networks that is exactly what 5G technology brings. The challenge for telcos is to avoid becoming a commodity by selling value-added services. An example of this is Atos partnering with a telco to sell surveillance for unmanned gasoline stations. The solution uses the 5G network, but the selling point is the service that 5G enables. In line with this, du also noted about the provision and sustained expansion of next-generation digital services such as augmented reality (AR) and virtual reality (VR). "Others pertain to introducing many connected devices, implementing virtual networks, and powering machine-to-machine communication and demand-driven supply chains," Larnholt specified.
One approach to seamlessly integrate 5G is building mobile private 5G networks. Private 5G rarely directly contributes to productivity; it does so indirectly as an enabler of innovation. Once there is a business case to build a private 5G network, a partner ecosystem will be required to blend the necessary capabilities and resources for these newly advancing technologies. Telcos will seek to provide synergies between their public network and the customer's planned mobile private network, rendering easy entry for customers.
"It would be a mistake to assume that an enterprise mobile private 5G network is just a copy of a telco public network. While it might be in some cases an extension of a public network, mobile private 5G networks require specific technologies and technological expertise. What's clear, however, is that demand for them will increase exponentially as appetite from enterprise customers grows," explained Veelenturf.
Hyperscale public cloud providers are also key. Whereas a telco would think twice before outsourcing their 5G core network functions to a cloud provider, for private 5G users the public-cloud benefits of agility, cost-efficiency and flexibility are attractive. That makes private 5G a domain for cloud innovation.
"In all cases of enterprise private 5G, the role of system integrators like Atos is likely to be pivotal," expressed Veelenturf. By understanding customers' requirements and working in collaboration with telcos, hyperscalers, application developers and others, they can blend, integrate and optimize mobile private 5G networks for leading enterprises. Once the network is built, they can offer managed services to efficiently operate a private 5G system throughout its full lifecycle.
Edge computing
More complex data opens the door to a new era: edge computing. That's why enterprises are including edge computing in their ICT strategies. Adopting edge is now on every CXO's strategic board with high priority tag assigned, as telcos embrace 5G and network modernization wave looking for new sources of revenues, operational efficiencies, and data monetization for a better and enriched customer experience.
Within three years, most enterprise-generated data are estimated to be processed outside major data center locations, representing a five-fold increase from current levels. With its ability to support real-time analytics, edge computing will be essential to enterprises looking to tap the data opportunity. For other enterprises, edge computing can ensure continued competitiveness, enabling them to deliver high-performance, low-latency applications.
Broadly, across industry verticals, there are some common challenges of the data wave and there is an immediate need to find an alternative. Unfortunately, installing bigger pipes through the oceans or underground won't enable to handle the internet bandwidth produced and key contributing reasons are latency constraints, GDPR compliance and data privacy, and recurring cost.
Telcos, in particular, are facing challenges that supports their motivation towards modernizing networks and investments in the edge. For this matter, telecom infrastructure vendors offer solutions that are designed to help CSPs take advantage of edge computing architectures and technologies, especially as they transition towards 5G. Many of these solutions aim to help CSPs develop specific edge computing business models. "For example, some CSPs may choose to use edge computing to deliver high performance, low latency services to their customers, while others may also decide to sell edge computing resources and services to enterprise clients," added Veelenturf.
The hyperscale cloud companies have also begun to make their cloud computing resources available more locally, closer to where applications are developed and consumed. These solutions are still at the early stages of development and have very limited geographical availability. However, going forward, they will become an important part of hyperscalers' edge computing strategies with potential to transform the overall market.
In addition to selling directly to enterprise customers, the hyperscalers work closely with CSP partners to take advantage of the additional benefits of 5G network connectivity. Many CSPs are in the process of establishing their own approaches to edge computing and, in recent months, a growing number have come to market with multi-access edge computing (MEC) solutions. Many recognize that edge computing offers them greater opportunities than simply opening up their networks to the hyperscalers. Some CSPs are recognizing the benefits of pooling their resources in ways that advance the availability of edge computing resources for application developers and other stakeholders.
Atos reiterated that there are three major factors should be considered. First, telcos need to find a partner to take end-to-end responsibility for the different hardware and software components needed. Second, once the edge network is established, telcos will need automation and orchestration tools to launch new services. This means rolling out applications consistently to all connected edge devices. Lastly, edge computing means that networks are no longer safely locked away in data centers: they extend in thousands of points in all kinds of locations. Thus, telcos need end-to-end security solutions to make sure that the edges don't become the 'weak leak' to allow exploitation of their network.
"ln the sustainability context, telcos will have to work to reduce their energy footprint. It is an opportunity to develop a sustainable and resilient business while reducing energy expenditure. To address this challenge, the use of edge computing can be effective in reducing the energy footprint of data analysis," Veelenturf pointed out.
As per Larnholt, it is essential for everyone connected with the telecommunications industry to understand why exactly edge computing trends have emerged. "In simple terms, edge computing integration is essential for operators because this is an effective avenue for modernizing networks, availing new revenue sources, and migrating workloads and services from core networks toward the network's edge. Furthermore, edge computing is now established among the most practical components for reducing latency effects on applications. As a result, new network apps and services can thrive performance-wise with the lower latency and high bandwidth connectivity that accompanies edge computing," he expounded.
Network automation
In today's evolving operating climate, network automation is essential for operators because this allows for maximizing network efficiency and functionality. With network automation, manual workloads can be reduced and human error eliminated, various services can be rollout and managed seamlessly, and a large number of network slices can be handled simultaneously while providing enhanced end-user experiences.
"Given the exponential demands for telco service today, improved customer services are essential, and network automation ultimately bolsters the planning, configuring, testing, deployment, and continuity aspects, collectively ensuring services are aligned with the highest possible standards," Larnholt commented.
In Atos' case, as they work with their partner ecosystem, the selection and integration of the technology platform best suited to their customer's needs happen. "This can be an open-source orchestration solution or a vendor-specific orchestration platform, depending on customer's requirements. We then develop, deploy and integrate machine learning, AI and data analytics solutions into intelligent automation and staff decision making to improve performance, productivity, efficiency and customer service," described Veelenturf.
Artificial intelligence
AI is considerably or very important to the future of the business, with the acquisition of Ipsotek, a leading AI enhanced video analytics software provider, Atos has strategically reinforced its leading position in Edge and Computer Vision by adding key software capabilities and IP to its solutions portfolio.
Atos Computer Vision Platform is based on compute intensive servers allowing cloud to edge computer vision models to process data in real time anywhere, whatever business constraints. This Platform brings together a set of pre-trained and customisable AI models, enriched by consultancy expertise with six Atos AI Computer Vision labs worldwide, based on high performance hardware and software. The software layer of the platform is powered by Ipsotek's VI Suite engine and the hardware includes Atos' BullSequana Edge nano and BullSequana Edge servers.
It enables to identify events and behaviours, to reduce error rates, to guarantee people and asset safety, to deliver highest quality, to offer frictionless and personalized customer experiences. Business and organisations keep up the pace of events and demand, by analysing videos in real time at the edge to drive the best decisions.
Cybersecurity
The digital landscape has changed beyond recognition over the last ten years and continues to accelerate. Technological breakthroughs have opened up possibilities in the way enterprises are producing, in the way we work, and in the services offered to customers. However, they have also given rise to new security risks. Businesses are now highly distributed, broadening attack surfaces and giving rise to shadow IT. Data is stored and processed across numerous places – cloud, edge, and even swarms. Digital is moving into things with mass proliferation of IoT and the convergence of IT and OT. With new risks come new regulations with legislative frameworks increasingly shaping the digital world as we know it.
With boundaries increasingly blurred between physical and digital, the impact of digital security is no longer limited to business or legal but extends to environmental and human impacts. It must be seen as the vital ingredient in achieving operational resilience and supporting digital transformation. Within this context, CIOs and CISOs will have to tackle five main challenges in the years to come: a new resource-centric, identity-based paradigm that requires a segregated approach; a transition from a patchwork of IT/OT solutions and cyber solutions to modern architectures; a need to guarantee a level of protection for complex architecture; secure collaborative mechanisms for the new normal; and unprotected accelerated developments caused by faster go-to-market digital services and pressure on cost savings.
"Uniquely positioned on the market as a digital security enabler, solutions provider, E2E integrator and cybersecurity leader, Atos ranks first in Europe and second worldwide in providing managed security services to its customers. We have over 6,000 technology patents, which itself is a testament to culture of innovation and future based outlook towards security," Veelenturf emphasized.
Atos approach to digital security is based on two main recommendations: develop a corporate culture of security across organizations and adopt a zero-trust approach based on protecting your resources instead of your perimeter. Moreover, organizations need to review their strategic business transformation plan, their state of legacy, their risks and transformation constraints to determine the best roadmap to strengthen their cybersecurity and transform their operational capacities. They must also set out an articulated approach and include a secure transition at business level.
"This is possible through our strong foundations for digital transformation through key cybersecurity building blocks supported by Atos' own IP solutions and selected partner offerings that are built with experience and domain specific knowledge from past decades. Trusted digital identities, access management, data protection, and hybrid cloud security are all part of Atos' digital security capabilities," Veelenturf continued.
Cyber threats are rising in both volume and sophistication. Therefore, there is a need to add strong detection and response capabilities to identify threats and respond before they turn into breaches. Traditional security monitoring is built around limited log collection, and rule-based analysis is no longer sufficient. While it is good for compliance use cases and visibility into common attacks, it is ineffective against newer forms of attacks. The next generation of security operations needs other technologies beyond traditional security information and event management (SIEM) and newer skills beyond eye-on-glass monitoring. Building such next-generation capabilities for threat detection and response is not feasible for most organizations. Atos can help bridge this gap by delivering advanced detection and response as a service, thereby removing the complexity and cost of building in-house next-generation security operations.
The Atos Managed Detection and Response (MDR) is built on the power of AI, big data analytics, and edge computing to bring multi-vector threat detection and full-service response at remarkable speeds. MDR is a combination of technology and skills to deliver advanced threat detection, deep threat analytics, global threat intelligence, faster incident analysis, and collaborative incident response on a 24x7 basis. MDR is designed to have six outcomes: threat anticipation, threat hunting, security monitoring, incident analysis, auto containment, and response orchestration.
Collaboration for digital transformation
"At du, we recently renewed our long-standing partnership with Atos, and this is particularly significant where digital transformation is concerned because related activities will support critical objectives for the future, including application modernization and digitalization," Larnholt indicated.
As a strategic partner, Atos is already helping the telco transform its operating model in line with a five-year plan, facilitating the introduction of agile ways of working and creating additional business value. "At the same time, the partnership will boost efficiency, enhance time to market, increase the quality of deliverables, bolster overall service efficiency, transform application development, and elevate operational excellence," elaborated Larnholt.
When these outcomes collectively come to fruition, a groundbreaking step forward in digital transformation will be made. du will then have greater agility, reduced cost of ownership, and enhanced operational efficiency in an increasingly competitive industry.