In an exclusive interview with Telecom Review, Mobily CEO Salman bin Abdulaziz Al Badran shared the company's achievements during 2021, its contribution to supporting UN's sustainable development goals, his outlook on the Kingdom's ICT market, and their long-term plans as a leading telco player. 
How has 2021 been for Mobily?
2021 has witnessed strong achievement in our financial KPIs. With efficiency measures taken and reflected in the healthy EBITDA level, we have proudly achieved the highest quarterly EBITDA level in the last seven years. Moreover, the highest quarterly net income in the last seven years was attained, recording an increase of 27% YoY (9M-2020 vs. 9M-2021) and 15% QoQ (Q2-2021 vs. Q3-2021).
Apart from the above, resilient revenue streams has also driven the 9-month growth of 2021. We exhibited consistent growth in business unit revenues, expansion of FTTH active base, continued growth of subscribers base, and strong operational cash flow (EBITDA - CAPEX), which improved by 46% in 9M 2021.
The aim of everything we do is to enhance the end-to-end customer experience of our customer base. As a testimony to the same, our efforts in 2021 were recognized by The Communications and Information Technology Commission (CITC), which announced Mobily as the winner of the Best User Experience Award for 2021 – in its debut year. Mobily was awarded in recognition of its efforts to improve the user's experience and to provide the best services to the client.
The award will be granted on an annual basis to one of the Kingdom's telecoms operators as a means of encouraging competition and raising levels of customer service. The assessment criteria for the award included a user satisfaction index, the willingness of users to recommend service providers to relatives and friends and an assessment of the processes involved with obtaining services
What have been the key achievements under Mobily's corporate strategy, "GAIN", in 2021?
Mobily has successfully executed the GAIN strategy in 2021, amongst its four core tracks: grow core revenue, accelerate digital revenue streams, implement and optimize efficient delivery, and nature a positive experience.
As a result, out of the top valuable brands in the Kingdom, Mobily ranked 7th on the list. According to a Brand Finance report, Mobily is the fastest-growing telecom company in the Middle East for 2021, with a 17% growth in brand value compared to last year. Additionally, Mobily is also hailed as the 'Saudi Arabia Data Center Service Provider of the Year'.
Receiving numerous accolades for recognition, Mobily has won nine awards for 5G and post-paid campaigns in the VIDDY global competition and another set of nine awards at the 2021 Dubai Lynx and New York Festival Advertising Effies Awards. In addition, Mobily also won the Best Recruitment & Talent Management Strategy from the CIPD – Middle East People Award and was top-ranked for the Best Annual Report – digital and print categories.
Achieving various digital KPIs, Mobily is also progressing in its digital transformation journey. For one, it is known as the first telecom operator to provide the Amazon Prime service as part of its digital services portfolio. Enhancing our digital services portfolio further, we also launched the Mobily TV service, direct carrier billing on Huawei mobile services, and the Mobily gaming portal. Impressively, Anghami, an investee of Mobily Ventures, will become the first Arab technology startup to list on NASDAQ while the Mobily app is a top-rated application (4.8) among competitors in the region with over 3 million active users.
In terms of customer satisfaction, Ookla has awarded Mobily as the top-rated mobile network in Saudi Arabia (based on Q1-Q2 data) and we have maintained our ISO 22301 certification for business continuity management system from the British Standards Institution.
What has been the progress on Mobily's digital transformation journey?
The focus of our digital transformation strategy is to transform Mobily into a digital telco with cutting-edge digital software built on the latest physical and logical IT architecture. We aim to deliver ever-evolving digital opportunities and enable new business channels such as autonomous transport, Internet of Things (IoT), smart cities, and healthcare.
A key component of our GAIN strategy is the transformation of our IT infrastructure to facilitate network expansion and enable a revolution in customer service. Our technological advances, along with company-wide initiatives, are driving this mission. Initiatives include the implementation of a cost-optimization program and our continued pursuit of digital transformation, along with automation of our services and customers' journeys.
We have launched the experience center, an artificial intelligence (AI) driven internal platform that consolidates data to extract insights on customer preferences, ongoing issues, and new opportunities. The platform will enable us to adopt a completely new approach to the development of products and services as well as providing proactive customer care.
We also introduced an innovative chatbot that has human-like features and the ability to have rich conversations with new and existing customers. Our chatbot provides support to any individual with issues they may be facing and resolves them. The chatbot uses AI as part of its neuro-linguistic programming (NLP) and has a self-learning capability, which means that it becomes better equipped to interact with customers with each conversation.
We have also applied a more agile control model that equips us to adapt to market volatility in an efficient and dynamic way. We have engaged our people to encourage the creation of a digital mindset and culture to gain their support in enabling our digital transformation. We are also proud to have completed the process of becoming a paperless company by finalizing end-to-end digital processes for all functions.
What has been growth in Mobily's digital revenues?
The digital revenues from payments and recharges has crossed SAR 1.1 billion during 2021. This has been driven by a year-on-year (Q3-2020 vs. Q3-2021) growth of 47% in recharge transactions, 50% in payment transactions and 127% in eShop revenues. The momentum of growth will be further accelerated through launch of new digital products and services in collaboration with our strategic partners.
How will Mobily benefit from the KSA ICT Strategy for 2023?
Building tomorrow's digital foundations for a connected and innovative Saudi Arabia, the KSA ICT Strategy has three strategic pillars: doubling the technology market, localization of tech and innovation, and telecom sector transformation.
The five main objectives behind this strategy include increasing female participation by 50%; creating more than 25,000 additional jobs in the ICT/telecom sector; increasing ICT/telecom job nationalization to reach 50%; increasing the market size of ICT and emerging tech by 50%; and increasing ICT/telecom sector contribution to GDP by SAR 50 billion.
With a budget requirement of approximately SAR 25 billion (2019-2023), Mobily will get more opportunities to join MCIT's initiatives by enabling its current business services and introducing new innovative services.
Is there a focus on sustainability at Mobily?
We strive to embrace sustainability at the core of our operations. We work to operate responsibly and transparently by 'Unlocking our Digital Future'. We are committed to having a positive impact on our communities. We are embarking on a progressive trajectory to monitor, benchmark and enhance our economic, environmental, and social performance.
Sustainability is incorporated into Mobily's strategy through the consideration of environmental, social, and governance (ESG) key performance indicators (KPIs) for various projects falling under our key strategic initiatives.
We strive to operate responsibly and are committed to having a positive impact on the communities we operate in, while maintaining sustainable success. We recognize our responsibility to address more than the profitability of our company, the importance of identifying and addressing the opinions and concerns of all our stakeholders.
We maintained our responsibilities towards our customers by contributing to the wider efforts of the Saudi telecommunications sector to ensure stable, unhindered digital access for government, businesses, and customers. We were able to do this despite an increase in digital traffic. The continuous flow of communications, crucial during the COVID-19 lockdowns, was guaranteed and supported by our commitment to zero outages, and internet speeds that placed the Kingdom in the top 10 worldwide during the pandemic.
Which sustainable development goals does Mobily contribute to?
We recognize our role to deliver meaningful contributions to the United Nations sustainable development goals (UN SDGs). We have aligned our sustainability plans and efforts to support these ambitious goals to ensure sustainable development of a robust economy and a motivated society. Below are the SDGs we strive to contribute to: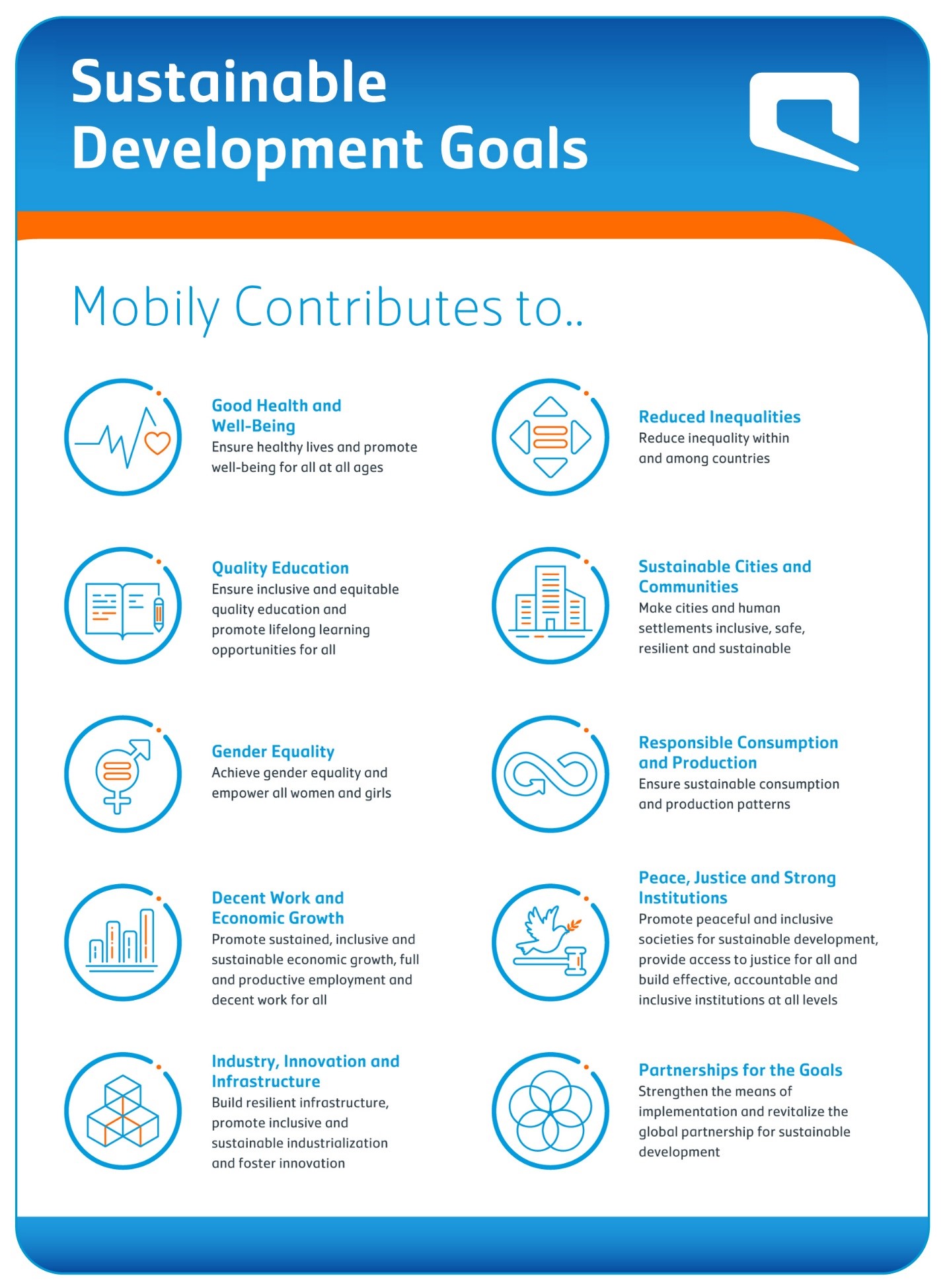 How do you see the macro-economic outlook for KSA? 
Saudi Arabia's economy is forecasted to enjoy stable GDP growth over the next five years following a decline in 2020. The Kingdom plans to diversify its economy away from oil in order to provide stable growth. The government remains fully committed to the Vision 2030 reforms. The benefits of the reforms over the past 5 years were evident in the resilience of the economy to the COVID-19 pandemic.
In the medium term, economic reforms are aimed at accelerating the economic transformation, ensuring fiscal sustainability, and return to pre-pandemic growth levels or higher. Fiscal reforms are helping to diversify revenue streams and improve the efficiency of operational spending.
To encourage investment, the government has announced a national investment strategy (NIS). Over the following ten years (until 2030), the NIS aims to attract SAR 12 trillion in investment through a combination of increasing investments by the PIF, Saudi corporations and FDI.
The population of Saudi Arabia is expected to grow steadily over the next five years with a CAGR of ~2%. The Kingdom is highly urbanized and infrastructure investment is expected to drive urbanization even further in the country. All of the 10 largest cities are expected to experience growth with Riyadh leading others as the capital and the largest city by far.
Overall, international visitor numbers are expected to rise sharply over the next five years. Number of foreign visitors is expected to rebound to pre-pandemic levels by 2023. Vision 2030 targets 100 million domestic and international visitors by 2030 driven by increased government expenditure on the tourism sector (150% increase in total tourist sites over the next two years according to Ministry of Tourism) and increased capacity for Umrah visitors (both domestic and international) from 15 million per year in 2020 to 30 million in 2030.
How optimistic are you about the attractiveness of the ICT market going forward? 
The overall market is expected to grow at 4% CAGR, reaching SAR 84 billion in value by 2025. Population penetration of mobile wireless services is expected to remain broadly stable over the forecast period with growth in SIMs driven by population increase. Recent deployment of FTTH and 5G FWA will drive fixed broadband penetration in the Kingdom as long-term population growth will support growth of mobile revenues.
Digital services present the largest growth opportunity for B2B services while fixed and mobile revenues are also expected to grow supported by deployment of new infrastructure. Fixed business revenues are projected to continue growing due to strong demand for FTTB and leased lines to support an increasingly digital economy. This is further supported by the recent significant deployment of fibre networks with take-up on these networks expected to grow in the coming years. FWA is expected to provide an alternative for rural businesses not covered by fibre networks in the longer term.
A shift towards a digital economy is supporting strong growth in the digital services market with data centre and cloud, systems integration and security services presenting key areas of opportunity. The market for IoT services is expected to grow supported by government initiatives for smart cities (e.g. NEOM, smart utility meters).
On the other hand, growth in the wholesale market will be driven by growth of existing core services (MVNO, data transit) and recently introduced services (national roaming, colocation and FTTH). Growth of BPO services in KSA will also be driven by Saudization and onshoring policies.
With the large influx of visitors expected, there exists an opportunity for large growth in visitor specific SIMs, specifically packages targeting tourists and religious visitors/pilgrims separately. In addition, there would be an opportunity for growth in inbound roaming revenue from international visitors and opportunity to grow ARPU through use of outbound roaming services whilst Saudi residents travel abroad.
What are Mobily's plan for the long-term?
Long-term plans at Mobily are governed by the corporate business plan, with defined KPIs, bi-annual performance assessment and quarterly updates. The corporate business plan considers a range of stakeholder views, a longer time horizon and strategic priorities to ensure effective long-term planning and investment.
Mobily will continue its evolution into becoming a digital telco. The long-term growth will be driven by the organic growth of the KSA ICT market, Mobily's entry into new and adjacent businesses and enhanced efficiencies achieved through digital transformation coupled with an increase in market share.
Overall, network investments will support Mobily to grow its mobile ARPU through targeting high value customers. A part of this is the open-access agreement that present an opportunity for Mobily to grow its FTTH business. The growing digital market truly presents an opportunity for Mobily to address new business areas in line with its strategy to become a digital operator. An indication of this is the growth of data / fixed revenue through investment in international connectivity and commercialization of tower portfolio that present the largest wholesale growth opportunities. Mobily also intends to target growth within the BPO market with increasing focus on external clients, entry into specialized B2B IT services and mobile financial services.