Nokia is always ahead when it comes to improving customers experience and offering best-in-class solutions. In this context, Telecom Review spoke with Aji Ed, CTO at Nokia MEA about Nokia's view on dynamic spectrum sharing (DSS) technology and its role in expediting 5G rollout.
What benefits does dynamic spectrum sharing offer when it comes to 5G deployment?
Dynamic spectrum sharing (DSS) technology allows spectrum resources to be shared dynamically between 4G (Long Term Evolution - LTE) and 5G New Radio (NR) radios. 4G coverage rollout took several years without DSS, since new spectrum; new antennae; and new Radio Frequency (RF) units were required. In contrast, communication service providers (CSPs) can build 5G coverage a lot faster because the spectrum, the antenna, and the RF units can now be shared between existing 4G and emerging 5G deployments using DSS.
DSS is supporting operator strategies built around "Fast 5G Icon" deployment. In contrast, significant performance boost requires dedicated spectrum for 5G.
Deployment on under-utilized LTE or refarmed 3G spectrum e.g. 2100 MHz.
Sub 1GHz deployments for countrywide coverage and fast migration to SA (stand-alone).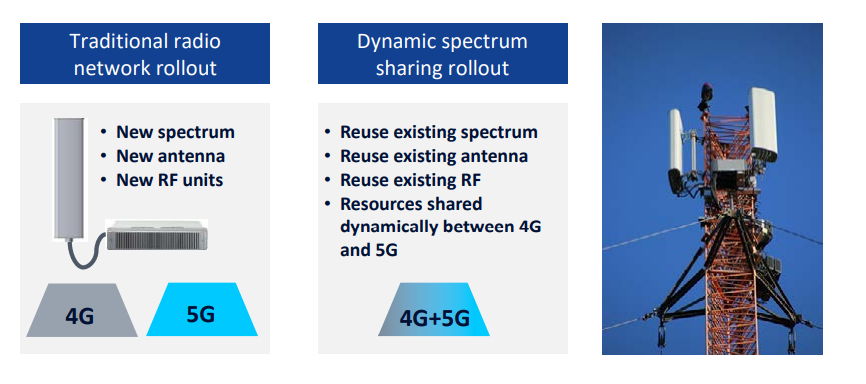 How is Nokia involved in the area of dynamic spectrum sharing?
DSS functionality was defined in 3GPP standardization and Nokia was a major contributor to that process. DSS capability has been built into Nokia's hardware and software, with AirScale baseband and AirScale and Flexi radio hardware platforms ready to support it. Millions of Nokia 4G RF units already in the field can be upgraded to support 5G and this enables fast rollout of 5G coverage and access to 5G services. Nokia's AirScale baseband software provides fast dynamic resource allocation between 4G and 5G to maximize the system efficiency. DSS with 5G carrier aggregation releases the full potential of the technology, especially when combined with standalone architecture. Carrier aggregation provides the highest data rates while standalone maximizes low-band coverage and access to 5G services. DSS is supported by a growing number of 5G devices, with widespread support for devices with DSS, standalone and carrier aggregation available during the course of 2021.
DSS can also be implemented between 2G, 3G, and 4G radios, enabling legacy technologies to support existing devices while maximizing the use of spectrum for 5G. This is important because most CSPs still run these technologies as they deploy 5G.
With much spectrum having previously been refarmed to 4G, it is vital to achieve the highest efficiency when applying spectrum sharing to the relatively small amount of remaining 2G and 3G bandwidth. 4G-5G DSS builds on the common numerology of LTE and New Radio. DSS for 2G and 3G uses different dynamic sharing mechanisms. Applying DSS on 2G-3G, 2G-4G, 3G-4G, and 4G-5G on distinct carriers reduces signaling overheads and maximizes overall efficiency.
DSS aligns with the patterns of subscription and traffic migration from one radio access technology to another, which is typically governed by the affordability of devices. Enabling large numbers of 4G users to dynamically tap into the resource pool previously dedicated to 2G and 3G frees resources for the growing number of 5G users on the 4G-5G DSS carrier. This also protects 2G, 3G, and 4G performance.
Dynamic spectrum sharing (DSS) has been much talked about in the industry in the past year. Is this hype justified? And can you tell us more about Nokia's DSS portfolio?
DSS comes with a fundamental principle of maximizing the re-use of spectrum for 5G without breaking 4G (LTE). DSS was envisioned to allow spectrum resources to be shared dynamically between 4G (LTE) and 5G NR radios. At the same time, DSS needs to be backward compatible to all legacy LTE operations. Hence, when it comes to actual performance, there is "no free lunch." DSS has certain performance overheads since the support of both technologies (5G and LTE) on the same carrier requires a duplication of control channels and reference signals. The high fixed overhead from LTE reference signal is particularly detrimental for 5G NR performance. So, we need to look at DSS in a realistic way beyond the hype. DSS is not going to be implemented universally and it will be only in some specific scenarios for specific purposes.
Nokia has been a pioneer in DSS technology and has been supporting 2G-3G, 2G-LTE, and 3G-LTE DSS solutions for many years. 4G-5G DSS has been also available since 2020 and is aligned with device support. Some operators in Europe implemented nation-wide 5G coverage using DSS on 700MHz which is a coverage layer. Another set of European operators implemented DSS only in urban areas using 2100 MHz spectrum.
In which scenarios is DSS considered as a solution? When should operators opt for it and when shouldn't they?
Despite the overheads with DSS, this can be still considered as a quick way of introducing 5G in the market. For example, if an operator can do DSS (4G/5G) in 700 MHz frequency band and combine with carrier aggregation of other LTE frequency bands, this can provide a reasonable 5G performance with a 5G logo. This is relevant for the operators who do not possess mid-band spectrums (3.5GHz or 2.6GHz). In such cases, DSS can be the first step of 5G introduction, and later, when the operator gets access to mid band spectrums, it will be a smooth transition to high performance 5G network.
On the contrary, if the operator has sufficient amount of spectrum in the mid-band (3.5GHz) then it is not advised to implement DSS on the lower band because of the degradation of performance with DSS. Instead, the operator can use mid-band for 5G and other lower bands for LTE and combine all the carriers with EN-DC (E-UTRA-NR Dual Connectivity) which will provide a very good experience.
In general, we see that some operators are planning to implement DSS in Middle East Africa. The major use case is to enable operator strategies built around winning the "5G icon game" in urban areas where 3.5GHz is not yet available or taking a long time to deploy. DSS will be implemented primarily on underutilized LTE bands - 2100 MHz or 2600 MHz (FDD) in urban areas.