By Charles Yang, President of Huawei Middle East

As more governments and enterprises embrace intelligent infrastructure and go digital, the region's ICT sector has incredible potential for growth. GITEX presents an ideal opportunity to showcase to the region and to the world this potential—whether in the area of telecommunications, enterprise transformation, cloud and AI applications. Open discussions amongst the ICT ecosystem are all the more important during COVID-19 times. Our dialogue is essential to supporting various industries to achieve recovery, stability, and spur overall socio-economic development.
This year has been extraordinary, not only due to the impact of the COVID-19 pandemic, but because of the massive reformation of different industries. The shift to a new paradigm of industrial digital transformation is urgently required to enable the development of our future intelligent society. In particular, we believe the tremendous potential of digital transformation is to be unleashed on the basis of synergy across five tech domains, in which connectivity, cloud, AI, computing, and applications develop in ways never seen before.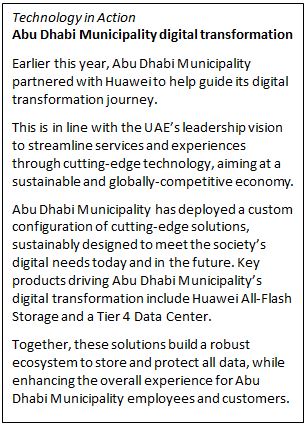 The synergy of these five tech domains will see 5G used to develop scenario-specific solutions in ways that have never been seen before. It is essential to drive industrial digitalization and construct a new paradigm in which greater value can be achieved. We often use the analogy of electricity to describe this model. Connectivity, computing, cloud, and AI are a lot like electricity 100 years ago. They are the "current" that powers industry applications, which are akin to industrial equipment powered by electricity.

Importantly, scenario-specific solutions must be applied in order to drive this paradigm shift across all industry verticals. This will lead to gains for enterprises and economies alike, creating new value, boosting business expansion, and creating more efficiency. Governments will also benefit. Digitally-enabled industries will contribute towards the growth of domestic industrial output, as well as providing benefits to constituents and improving overall governance.

But what specific investments are needed to realize this synergy, and what is happening today to bring that vision to life?

In the network domain, Huawei has proposed the concept of intelligent connectivity, aiming to deliver a hyper-automated network that offers ubiquitous gigabit access and a deterministic experience, and to enable intelligent upgrades of major business systems of governments and enterprises.

In the computing domain, Huawei is committed to providing diverse computing power to customers, decoupling software from hardware to adapt its compute to different processing needs.

In the cloud service domain, Huawei has already established 23 regions worldwide, attracting over 1.5 million developers. We will continue to build on that momentum with our partners.

In the AI domain, we must also strive to better integrate AI into the major business systems of governments and enterprises. This requires using global know-how and shared data to build the core competency of AI systems.


No more zero-sum game

These five tech domains reside, of course, within a digital ecosystem. Creating shared value within this ecosystem is crucial to construct a prosperous future. A new, 'make the cake bigger'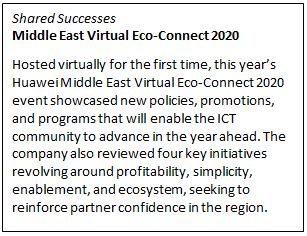 approach, will be adopted. In that approach, we will see attitudes change towards wanting win-win results rather than competing in a zero-sum game.

At Huawei, our vision for this includes building a digital ecosystem which consists of three dimensions. Dimension one targets the future of digitalization, and gains insights from unsatisfied demands from numerous segmented scenarios in various industries – which is essentially the premise of 'the bigger cake'. Dimension two seeks to aggregate different capabilities of various partners with the aim of fully playing to their strengths. This is the basis of 'baking a bigger cake'. Dimension three will develop multiple approaches for collaboration and business models, making a conscious effort to create and share value together. The third dimension is a permanent force that will continually drive the expansion of the market size.

One area we are likely to realize these win-win results is in the planning of smart cities. Today, a smart city is one that senses, processes, and delivers informed decisions that improve the efficiency of businesses and the well-being of those within the community. Smart cities are, essentially, like the human nervous system. They are built using a synergy of different connections, technologies, and pathways to create a whole that is greater than the sum of its parts. Again, platforms like GITEX are ideal for connecting with the various ecosystem players involved in this smart city planning.


Pushing the boundaries of innovation

As our cities become more intelligent and we embrace synergy across the aforementioned five tech domains, the fundamental value of innovation must stay at the helm of our industry. What is most important is to look to the future and predict what society's needs may be tomorrow, next year, or even in the next decade. We must be customer-centric and experience-driven, and seek to stay ahead of the curve by not only improving existing technologies, but making breakthroughs in new areas.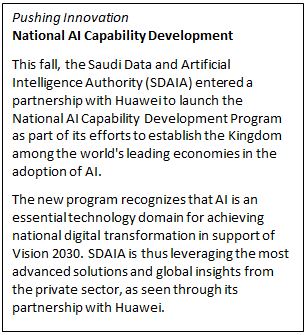 In our case, innovation has been fundamental to Huawei's survival and development over the past three decades. It is with long-term R&D investment that we have been able to lead the pack in multiple technology domains. As we will detail during GITEX 2020, our own innovation roadmap will transition as we move from an Innovation 1.0 era to an Innovation 2.0 era. In Innovation 1.0, we focused on innovations in technology, engineering, products, and solutions to address customer needs. In Innovation 2.0, we will expand our efforts to seek breakthroughs in basic theories and develop new basic technologies.  

Theoretical breakthroughs and inventions involve many uncertainties, meaning innovation should not be a closed-door activity. Together, we must all advocate for openness, collaboration, and shared success. Through joint innovation, we can expand the value of ICT to foster a healthy and symbiotic industry ecosystem. The philosophy of Huawei's Innovation 2.0 agenda will thus bring together universities and research institutes, and connect academia with businesses, to allow all types of global scientific research resources and talent to come together in the pursuit of innovation.

In the end, there are more opportunities than ever before in the ICT sector. We know there is great value to be created through the synergy of connectivity, cloud, AI, computing, and industry applications. This is new value being created, with win-win results possible over a zero-sum game. Together, we can look to a new era of innovation that leads to genuine breakthroughs.

While GITEX will be somewhat different this year, all these opportunities will be laid on the table, enabling us all to reap the most benefits from a stronger ICT value chain.