With 'digital transformation' now woven into the fabric of the Kingdom's national development vision over the next decade, Terry He, CEO of Huawei Tech Investment Saudi Arabia, reflects on the substantial progress made to date, and what priorities are coming up next in creating a more connected and intelligent society.
Amidst the rapid development of the global digital economy, Saudi Arabia's Vision 2030 is now entering into another key development phase in which digitization will play a much more important role. Public and private sector leaders see that the digital economy is the main driver of future economic growth. According to one report from the Oxford Institute of Economic Research, the digital economy is not only limited to the growth of the technology industry itself, but also the development of various industries such as finance, healthcare, manufacturing, and much more. Experts have previously estimated that for every dollar a nation invests in digital infrastructure and technologies, it can bring a three-fold value back to industry growth.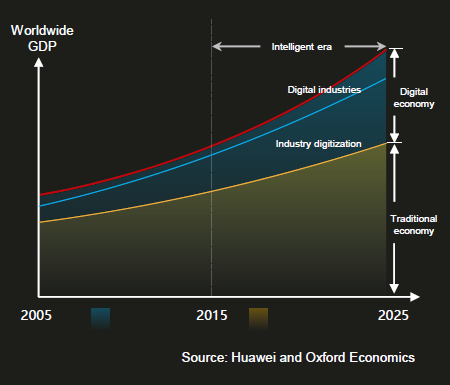 The digital economy is a major growth engine for the global economy


Under the leadership of His Royal Highness Prince Mohammed bin Salman bin Abdulaziz, Crown Prince of Saudi Arabia, the Saudi government has already designed the framework to diversify its economy and lead this digital transformation. With its visionary leadership at the helm, the Saudi economy has witnessed a tremendous boost with the introduction of social reforms, adoption of advanced technologies, and development of the capital markets and banking, among other noteworthy achievements.

In this trying year, the Kingdom proved its pioneering spirit by successfully hosting crucial G20 Summits to bring world leaders together to outline a clear plan for the international community as it faced a global pandemic. Again, the role of connectivity and computing has been critical in facilitating this dialogue.

During such summits, Saudi Arabia once again demonstrated the pivotal role that digital transformation will play in addressing our future challenges, especially as the world gears up for a post-pandemic world. Under the distinguished presidency of Custodian of the Two Holy Mosques King Salman bin Abdulaziz Al Saud, a global discussion has already been initiated on high-priority technologies like artificial intelligence (AI), data security, smart cities, and cybersecurity, underscoring the importance that the country places on the ICT sector for its future growth and development. In addition, the Saudi government is striving towards placing Riyadh, Jeddah, and Dammam in the top 100 cities worldwide by 2030. The Kingdom is also working towards government efficiency that ranks among the top 20 in the world, with an ambitious plan to also build 16 smart cities in the next 10 years.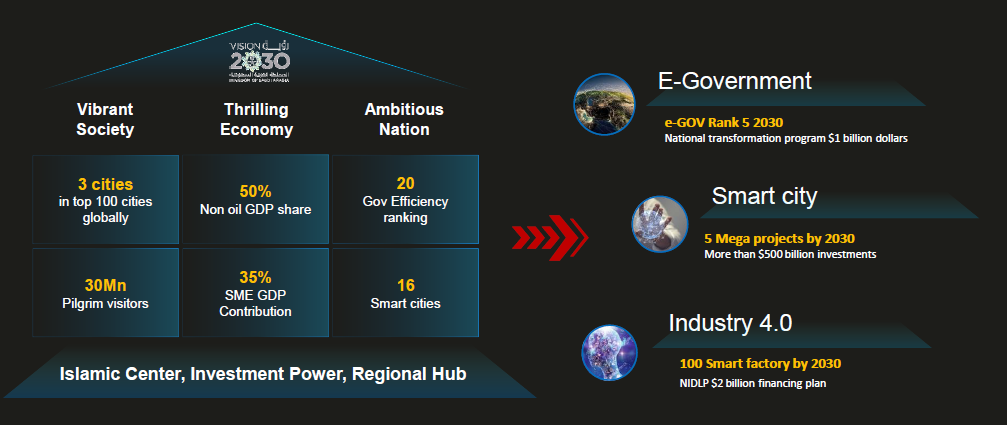 Vision 2030: Opening the age of intelligence for governments and enterprises.

This will all lead to increased investment in digital transformation across the country, with the aim to build a more intelligent and connected society. However, it is imperative that we leverage the synergy and collaborative power of the five tech domains - cloud, computing, AI, connectivity, and industry applications – to unleash the full potential of Saudi's intelligent society.

The social and business value of an intelligent society
The shift to this new paradigm will enable the development of Saudi's future intelligent society. In particular, there are several ways in which this intelligent society can deliver social and business value in the next decade:
Increased efficiency and productivity
Digitization can radically transform the way we work and enable us to not only maximize our talent and resources, but also provide end-customers with a more efficient and effective way to engage with businesses. The introduction and application of new technologies will enable businesses to make their operational processes run much faster, thereby improving efficiency and productivity. The quality of our work and our business performance will ultimately improve.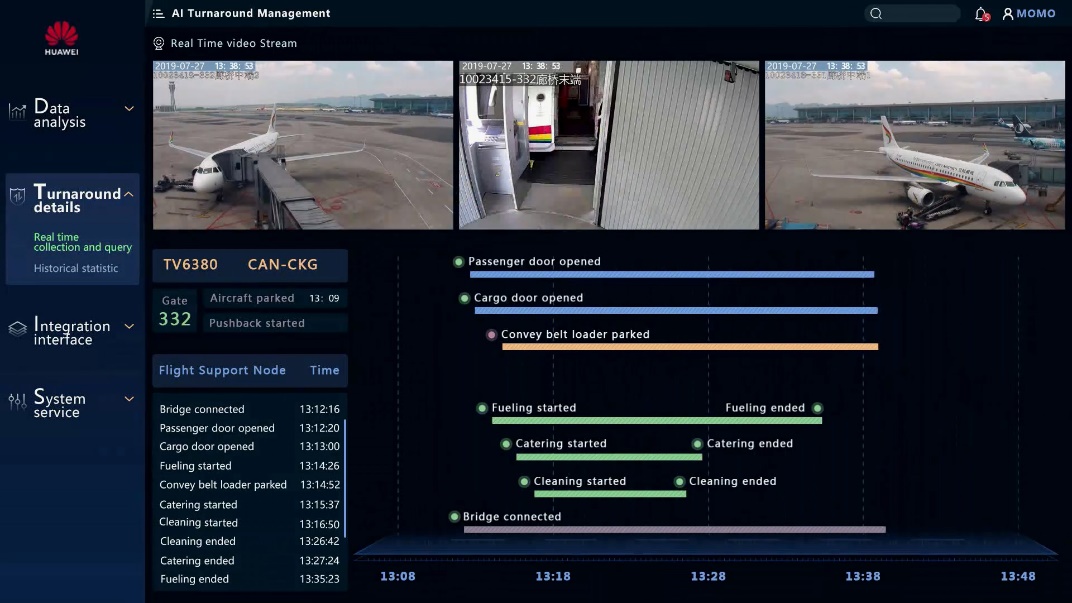 A snapshot of cloud and AI-powered system at China's Shenzhen Airport


For example, Huawei worked with China's Shenzhen Airport in 2019 to introduce a cloud and AI-powered system that could automatically allocate terminal stands within one minute for the 1,000-plus flights arriving and departing from Airport every day. Earlier, this task would take four hours to complete manually. The AI algorithms have further improved contact stand docking rates by 10%, allowing five million more passengers to experience near-boarding gate travel at Shenzhen Airport every year.


2. Empowering innovation across industries
In 2018, Huawei demonstrated the world's first L4 autonomous drive with Audi in Shanghai. The test took place in a real-time road scenario, where the car could sense its surroundings with lower latency, have a real time interaction, and make decision by itself using the data it gathered. Technologies like 5G, Lidar, edge computing, and cloud made this possible. These technologies will lead to more opportunities in Saudi Arabia to stimulate innovation across all industries—from automotive to financial services, agriculture, and manufacturing. Such industries are essential to the Kingdom's long-term economic diversification agenda.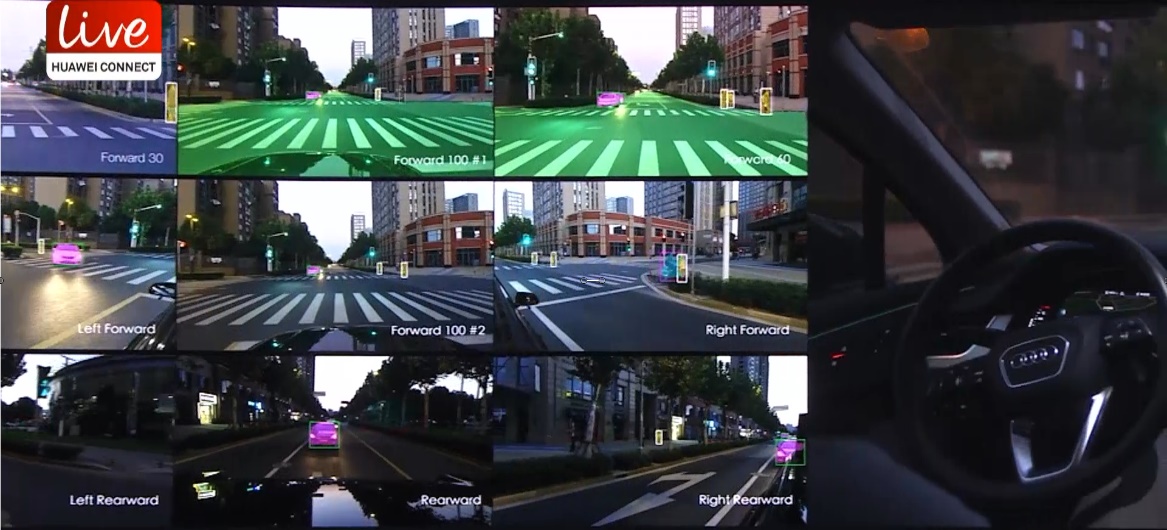 The dashboard view of the world's first L4 autonomous drive with Audi 


3. Improved business competencies
Digital transformation enables all enterprises to develop improved work competencies. Technologies like big data, IoT, robotics, and AI are helping global businesses to operate in a more intuitive, agile, and timely manner. For instance, we worked with the National Grid of China to launch an AI-powered inspection on the grid transmission lines. Using drones, 5G and AI technologies, we were able to improve the inspection efficiency by three times, and cover 14.5 miles/day, saving time and manpower. Huawei worked on a similar project with Saudi's Aramco where we used 5G networks to reduce the video delay to less than one second whereas it was always more than 30 seconds when 4G networks were user. The overall controller latency was reduced to less than 100ms.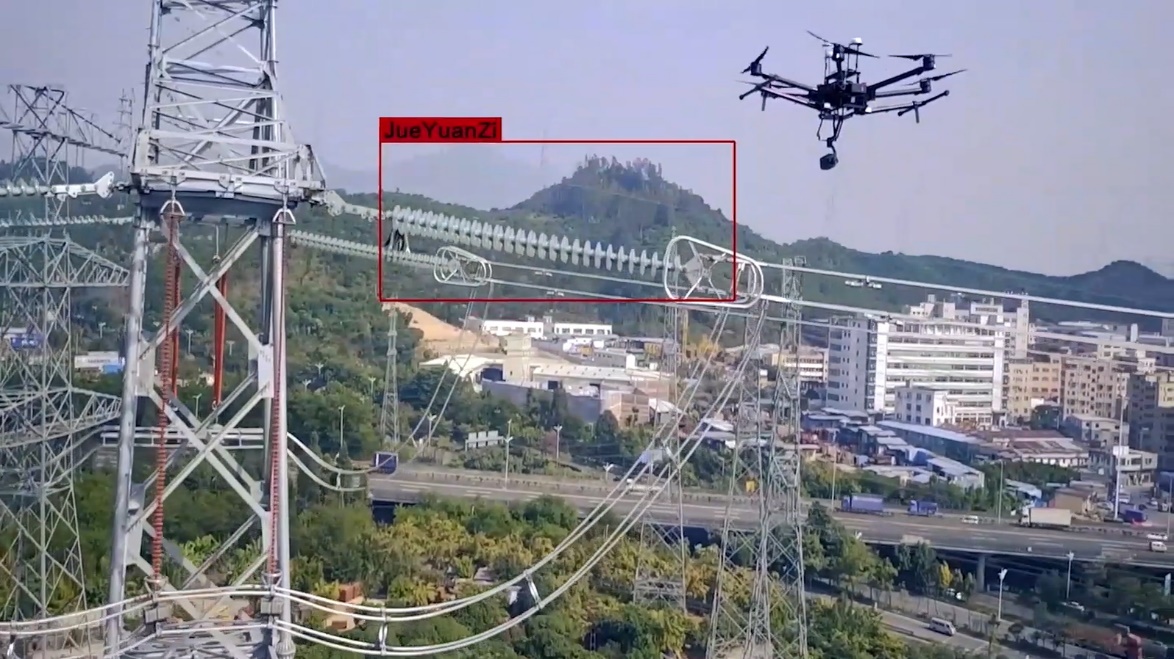 The National Grid of China leveraged drones, 5G and AI technologies to inspect grid transmission lines

These use-cases demonstrate how use of advanced technologies can empower decision makers to lead their business in a more predictable and future-proof way, and how it will ultimately support Saudi companies to better compete with those from other digital-first countries worldwide.


4. Enhanced quality of life
This pandemic forced many countries to lean on ICT infrastructure to effectively manage the health challenges in their respective countries. From telemedicine to medical record analysis, ICT has helped speed up medical responses at a time when everyone has been under pressure. In a breakthrough case-study, a hospital in Beijing completed the world's first 5G remote surgery. A neurosurgical expert in Hainan, which is 3,000km away from Beijing, remotely operated a surgical robot arm to implant a neuro-stimulator into the patient's brain by using a 5G network. The patient recovered well after this ground-breaking surgery.
Even outside of healthcare, stable ICT networks are enabling a better quality of life as more people depend on e-commerce, video conferencing, and content streaming in their everyday lives.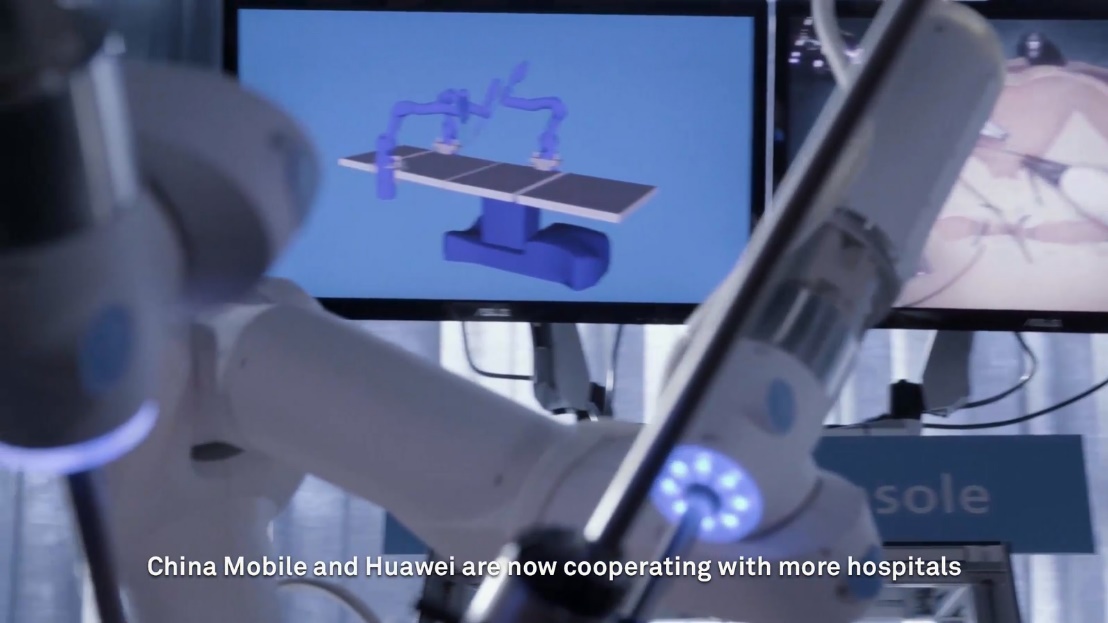 The world's first 5G remote surgery was conducted in Beijing this year.


Ultimately, connectivity and computing are the foundations of any intelligent society. 5G, IoT and Machine-to-Machine (M2M) are connectivity technologies, while Cloud and AI represent computing technologies. When the density of connections is multiplied by the precision of computing, the full strength of a digital economy can be unleashed. The convergence of connectivity and computing technologies will transform industries, like government, energy, healthcare, education, transportation, and finance, in Saudi Arabia and create new values for our intelligent society.


Five tech domains that will lead us into an intelligent and smarter future

The full potential of Saudi Arabia's digital economy is clear. Nevertheless, we can only harness this potential by building a strong synergy between five tech domains - cloud, computing, AI, connectivity, and industry applications. These five domains represent the key opportunities for the entire ICT industry in Saudi Arabia.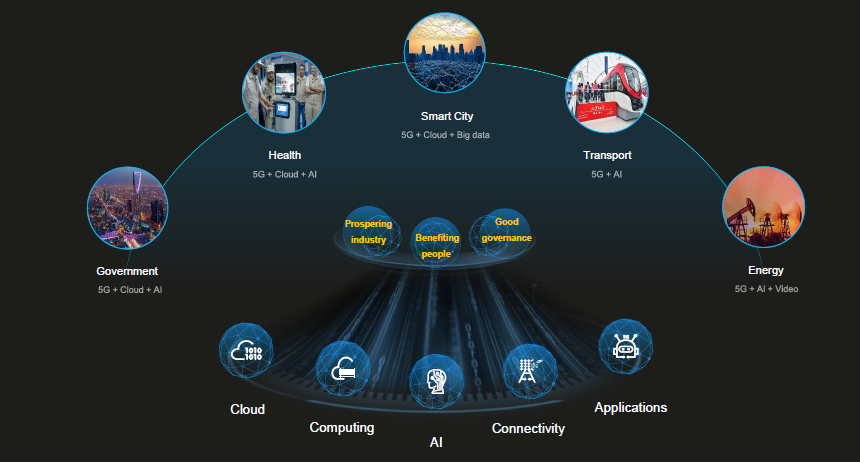 Synergy across five tech domains drives customized innovation and opens a world of possibilities.


Cloud is now the best platform for unleashing computing power. It empowers digital transformation by harnessing the full potential of advanced technologies like big data, IoT, micro-service, container, and AI. As one example, three years ago Huawei proposed to build one of the five clouds in the world, and committed to investing in public clouds as a long-term strategy. Now, Huawei Cloud is deployed in 23 regions worldwide, and more than 1.5 million developers have joined this ecosystem. Huawei Cloud has also officially launched its service in the Middle East to provide cost-effective cloud services for all industries across the region, including those in Saudi Arabia.

The local computing requirements in Saudi Arabia are also on the rise. Today governments and enterprises actually have diversified computing requirements. A single architecture cannot meet all these requirements. We need to use diversified computing power collaboration to meet differentiated needs. At Huawei, we are accelerating the local development of the computing industry by leveraging our unique end-to-end capabilities to enable heterogeneous computing, massive data processing, and the most reliable systems possible to ensure business continuity.
In parallel, AI technologies have developed rapidly over the past few years. It is another great example where we are creating actual value in the production system of various industries. For instance, AI is being utilized during the COVID-19 pandemic to assist clinical CT diagnosis, shortening the CT viewing time from 12 minutes to seconds. AI can also be applied to financial anti-fraud, for example, shortening the risk warning time to mere minutes as people rely more on digital payments instead of cash. As such, Huawei aims to increase its investment in the AI field in Saudi Arabia, and have partners in the public and private sectors making similar commitments.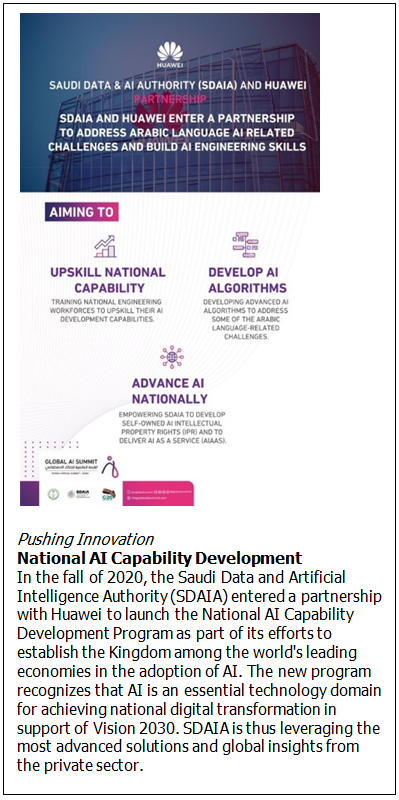 At the heart of all these technologies is connectivity. It is the basis for digitalization and intelligence in all industries. Saudi Arabia already has the largest 5G commercial network and the largest number of 5G users in the Middle East and Africa region. According to OpenSignal, experience tests have been conducted in 12 leading 5G countries, Saudi Arabia ranked number one in terms of average download rate and user experience improvement.
The wide application of 5G technologies will thus further accelerate transformation in the Kingdom. Companies like Huawei are already working with carriers and partners to unleash 5G network capabilities, achieve Gbps wireless network experience, 20ms latency, and sub meter-level positioning. This in turn brings 5G further into areas like oil & gas, government, and healthcare to meet their differentiated requirements for network latency, bandwidth, and reliability.
Last but not least, the coming years will see an explosion of new industry applications. The aforementioned connectivity, cloud, AI, and computing are a lot like electricity 100 years ago. They are a foundation. Meanwhile, industry applications are akin to the home appliances powered by electricity in the last century. By tapping into the collective power of the four other domains, scenario-specific industry applications will help Saudi society to improve national education systems, protect the environment, expand healthcare services, and much more.
 Achieving results, together

In a world that is pivoting so clearly—and quickly—towards digitization, the reality is that no one country or company can make that journey on its own. It takes thousands of people and hundreds of organizations working together to realize plans such as Saudi Arabia's ICT Strategy 2023 and even Vision 2030. We at Huawei have seen this firsthand over the past 20 years in the Kingdom, working closely with the Saudi government, private enterprises, and telecom operators. As Saudi Arabia looks forward to creating an even more sustainable, intelligent, and resilient society, it is essential that we maintain open cooperation across the public and private sectors, enabling everyone to enjoy the benefits of this new digital value chain.