The vast majority of the world's data has been created within the digital era, and the growth of data becomes unstable — showing no sign of slowing down. Believe it or not, IDC forecasts that the world's overall data will grow to 175 zettabytes in 2025.
How big is that data? To illustrate, storing 175 zettabytes on DVDs will create stacks that are long enough to circle Earth 222 times. Attempting to download 175 zettabytes within a standard internet connection speed will take 1.8 billion years to complete.

With this massive amount of data generated, a network architecture that allows real-time, high-bandwidth, and low-latency access to information is needed. In terms of data analysis, processing, and storage, multi-access edge computing (MEC) is one of the most considerable solutions.

What is multi-access edge computing?

Whereas traditional cloud computing occurs on centralized servers that are far from the user and device, multi-access edge computing (MEC) allows processes to take place in base stations, central offices, and other aggregation points near the network.

Therefore, MEC is the evolution in moving computing and data processing to the edge of the network — much closer to the end-user. Formerly known as mobile edge computing, this initiative originally focused on placing nodes on the mobile network. But in September 2017, the European Telecommunications Standards Institute (ETSI) Industry Specification Group (ISG) officially changed 'mobile' to 'multi-access' to cater to the dramatic expansion of connected devices and applications. 

Including but not limited to smartphones, MEC is about the relationship between edge computing and mobility in the broadest sense. This covers video cameras, the Internet of Things (IoT), gaming, augmented reality (AR), virtual reality (VR), and autonomous vehicles, among other technologies.

"MEC is all about the intersection of the wireless edge and the infrastructure edge – essentially where mobile networks and the internet meet and handoff traffic," says Jacob Smith, VP of strategy at Equinix Metal.

By shifting the load of cloud computing to individual local servers, MEC particularly helps in reducing congestion on networks and decrease latency, enhancing the quality of experience (QoE). This infrastructure allows the implementation of Software-as-a-Service (SaaS) applications that operate entirely within a standardized virtualization platform, deployed in or close to the edge.

What are the common use cases of MEC?

Enterprises in various commercial sectors and many industry players leverage MEC in different applications. In today's digital era, here are some of the prevalent scenarios that involve multi-access edge computing:

Augmented and virtual reality: By employing, two of the hottest entertainment trends, AR and VR take e-commerce, medical innovation, and interactive learning to the next level. 

Commercial operations: On a day-to-day basis, MEC can play a role in enhancing and transforming business operations such as data security, seamless distribution, and asset management. 

Industrial IoT: Comprising interconnected machinery and advanced analytics, MEC carries out data within IIoT devices — from tiny environmental sensors to complex industrial robots.

Emergency services: When it comes to public safety and emergency responsiveness, access to real-time data and information through MEC can either save lives or cause more damage.

Autonomous vehicles: Combining MEC with artificial intelligence (AI)/machine learning (ML) will bring awareness to the surroundings, knowing the circumstance as it happens. 

Gaming: Since MEC provides extremely low latency, cloud gaming becomes a viable way of giving the wider audience access to high-end gaming experiences and potentially an additional income stream.

Video analytics: MEC enables local break out of traffic and analysis at the network edge, reducing the cost, volume, and time to transport raw footage to the cloud/central server.

Using MEC: Business models for telcos

As MEC emerges as a practical option for various industries, telecom operators are among those who can maximize this landscape. They can choose from a menu of options that fit their existing capabilities and consider the emerging competition within the edge computing scene.

In detail, STL Partners defined five telco business models applicable for MEC — both as enabler and end-to-end provider.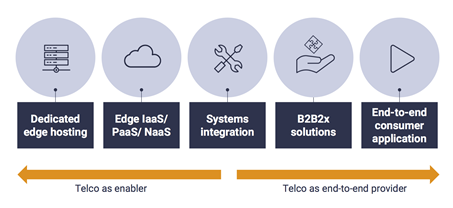 Dedicated edge hosting: The telco delivers and manages edge-located compute/storage resources that are pre-installed and connected to its own network. As a result, a virtual content delivery network (CDN) or a distributed cloud stack can be run on top of the telco's edge-enabled dedicated resource.

Edge IaaS/PaaS/NaaS: The telco can operate similarly as a cloud provider as it provides customers with distributed computing and storage capabilities, a platform for developing apps on the edge infrastructure, as well as APIs and virtual network functions (VNFs).

Systems integration: The telco offers custom turnkey solutions for enterprise customers with specific requirements, which can be met by MEC functionality. In this manner, they can empower interested partners through the edge and advance their network system.

B2B2x solutions: The telco offers edge-enabled solutions to improve existing processes or contribute to an end-customer offering (B2B2X). Many end-user — customers, retailers, suppliers — can integrate telecom and IT services capabilities with their applications. 

End-to-end consumer retail applications: The telco plays high up the value chain by acting as a digital service provider for consumer applications. MEC-enabled services in this category will leverage the benefits of MEC, namely low latency, high throughput, and context awareness.

Without a doubt, the center of computing and telecom networks is moving toward the edge. This makes edge computing one of the most important technology trends of the 21st century. Telecom operators and the next-generation network architecture known as edge computing are redefining data as we know it. 

Years from now, edge is poised to come into its own, and as telcos roll out more commercial fifth-generation (5G) networks and shift to cloud and virtualized architectures, modernization will happen at a fast pace. In the coming decade, 5G's promise of high-speed connectivity and superior performance, as well as the decentralized processing power of edge, could produce a steady stream of business and consumer innovations.