Infinet Wireless, the global leader in fixed wireless broadband connectivity, is set to participate in GITEX Technology Week 2021, one of the industry's key events that will take place on October 17–21, 2021. This year, Infinet Wireless will showcase its unprecedented powerful solutions, already deployed in many parts of the world, including the Middle East.
While 2020 was undoubtedly a pivotal year, 2021 has been more complicated and challenging, confronting businesses with the inevitability of completely transforming their approach if they want to stay in the flow. During GITEX Technology Week 2021, Infinet Wireless will demonstrate its prominent solutions, which have already formed a part of projects connected with smart city applications, educational institutions, banks, and pharmaceutical companies, among other applications.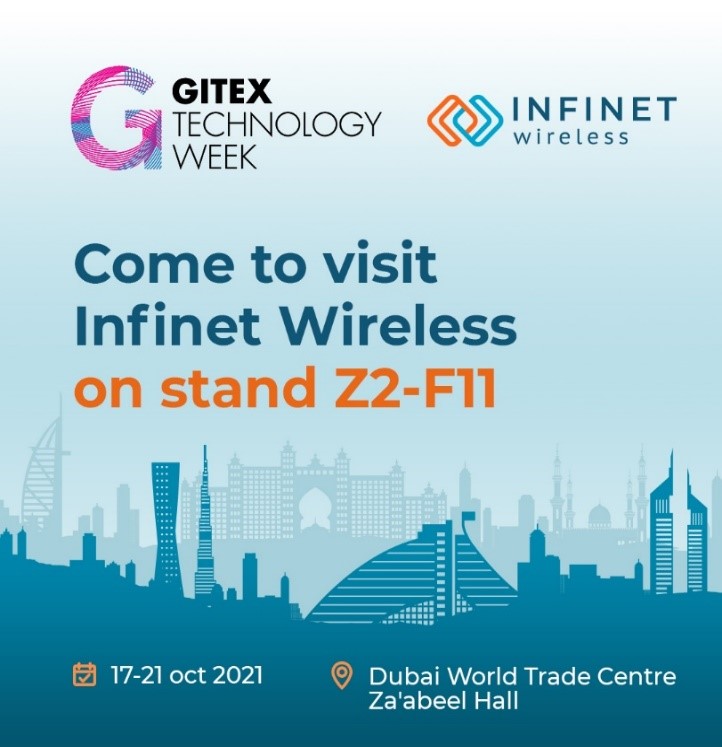 Infinet Wireless will demonstrate the most renowned solutions, which helped the company to earn its reputation as the vendor who launches onto the market reliable and refined products.
First and foremost, Infinet Wireless will display its flagship product InfiMAN Evolution, the preeminent point-to-multipoint solution for all types of professionals in the wireless technologies arena. InfiMAN Evolution guarantees many years of uninterrupted operation, being resistant to moisture and salt damage and equipped with advanced lightning protection. Moreover, subscriber units provided for this product family are dual -band, which means they are able to operate in both the 5 GHz and 6 GHz frequency bands. They can be fitted with a range of integrated and external antennas to cater for both short distances, as well as longer ones of up to 25 km and even more, making InfiMAN Evolution a truly versatile product.
Another bright star in Infinet Wireless' portfolio is InfiLINK Evolution, a point-to-point system for last-mile access, with a built-in firewall, router and security features. It offers a unique combination of high performance, availability, ease of installation, and can be used in a wide range of applications, such as long-range rural connectivity, WISP infrastructure backhauls, Wi-Fi in public parks and so forth. It can be a perfect fit for the smart city infrastructure, being deployed as part of the traffic management platform and safe zone monitoring systems, to name but a few.  
"We're extremely proud to be involved in more and more successful projects in the Middle East, building strong partnerships in the region to continue our expansion," said Kamal Mokrani, global vice president at Infinet Wireless. "Recently we cooperated with National Bank of Oman, the largest one in the whole country, to facilitate the interconnection between two branches and place our solutions to form a network for crucial day-to-day tasks. Also, we equipped the premises of Muscat Overseas Group, which operates in vertical markets such as Mining and Minerals, Oil and Gas, Construction and Landscaping, among others, with our solutions, helping them in backing up their most important data. We consider these projects even more outstanding, taking into account the uncertain times everyone is still going through".   
"Being a part of the Middle East's ever-growing market is one of Infinet Wireless' essential goals. Producing our flexible and exceptional solutions, we at Infinet Wireless are 100% sure they will be in high demand thanks to their durability and impressive performance. We believe that participation in GITEX Technology Week 2021 will make our bond with the Middle East market even stronger," Mokrani concluded. 
Along with the above-mentioned products, Infinet Wireless will showcase its Quanta family of solutions, including Quanta 5, Quanta 6 and Quanta 70, used to establish the point-to-point radio links in the 5 GHz, 6 GHz and 70 GHz frequency bands, respectively. The models ensure stable connectivity over long distances which makes them suitable for use in a diverse range of applications.