Operators must use cutting-edge transformation software to move beyond connectivity and offer new services for greater revenue growth in the 5G era. This software, particularly on the IT side, must be able to intelligently unify edge cloud, monetize different cloud domains, automate virtual RAN and leverage partner-centric revenue streams for multiple verticals. Operators must create multi-partner business models to monetize 5G and match the rapid pace of innovation in the industry. This will require business models with rapid service innovation and dynamic settlements in a B2B2X setting for consumers, businesses, government agencies and other entities.
A growing number of CSPs are also looking for ways to empower customers with digital-first, omnichannel experiences to differentiate themselves and win market share. This will require new levels of automation to dramatically reduce customer service costs as well as artificial intelligence (AI) to drive loyalty by anticipating customer behavior with personalized engagement through their preferred channel. All of this will require the flexibility and scalability of cloud-native BSS systems to rapidly update service offerings and pricing, implement service innovation and decrease TCO.
Netcracker provides a digital portfolio of fully open and standards-compliant products and services for BSS. It is built for the cloud and allows service providers to develop their own enhancements or co-develop functions through a low-code platform and blueprint delivery approach. With continuous short releases using Agile/DevOps processes, service providers gain faster access to innovative features without disrupting business operations. Netcracker Cloud BSS is a SaaS-based, cloud-native solution that runs in the public cloud (AWS, Google Cloud, Microsoft Azure) and helps CSPs create new business cases with their BSS cloud migration strategy. CSPs can become innovative industry disruptors with future-proofed functional capabilities, digital operations and lower TCO to access new markets, guarantee carrier-grade quality and compliance with strict security and privacy requirements.
Netcracker Cloud BSS leverages cloud economics to increase revenue with E2E business processes and open new markets. It includes three cloud-based offerings: Marketing and Commerce Cloud, Sales and Customer Service Cloud and Revenue Management Cloud.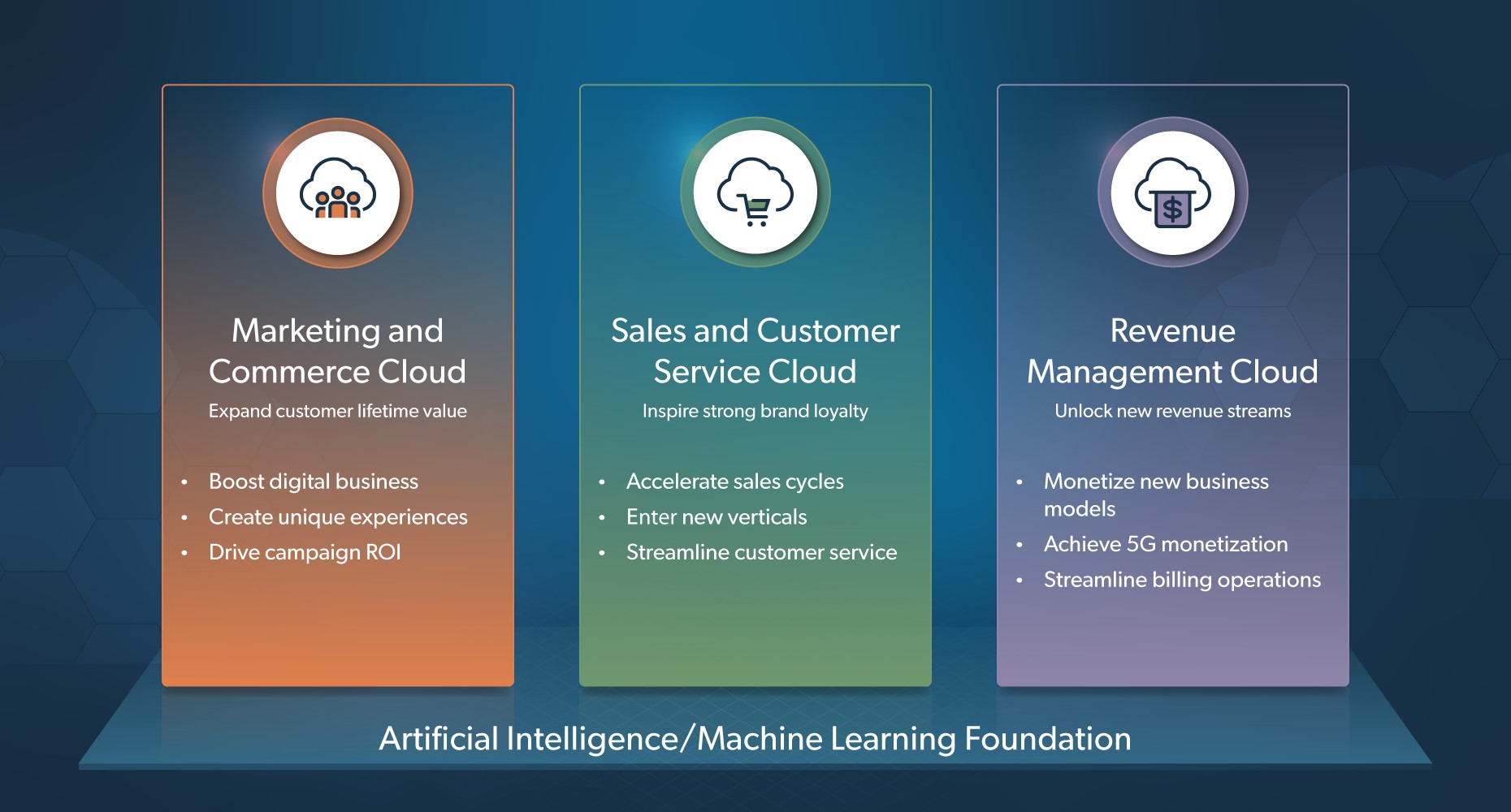 Marketing and Commerce Cloud increases customer lifetime value by providing one-stop shopping for telco, retail and partner products to support customers on their unique digital journey. It offers customers a connected omnichannel experience and uses AI to analyze customer behavior during their digital journey for personalized content and offerings. Marketing and Commerce Cloud implements real-time campaign visualization and ML-driven analysis and to drive ROI and eliminate the uncertainty and frustration of blind marketing campaigns.
Sales and Customer Service Cloud inspires strong brand loyalty with a guided process from lead creation to contract generation and an intuitive quotation interface across every sales channel for rapid B2C rollouts and simplified B2B scenarios. Its streamlines and enhances lead conversion to create an enormous base of paying customers. It enables CSPs to expand into new verticals with rapid time-to-market for traditional, IoT and cloud products, and intelligent customer service builds strong brand loyalty through a customer-centric approach. Sales and Customer Service Cloud increases the level of automation to dramatically reduce operator costs for customer support.
Revenue Management Cloud unlocks new revenue streams with support for multi-partner business models, complex multi-partner B2B2X settlements and cost-effective IoT billing. It provides real-time charging for any service, partner or business model and flexible rating and discounting for B2B and B2C services. It implements dynamic network slicing as a service (SLaaS) to optimize usage of network resources and create new monetization scenarios. Revenue Management Cloud streamlines operations with E2E configurations, automated execution and real-time monitoring and troubleshooting.