As a token of appreciation for hosting the ITU-T high-level industry executives meeting in Dubai, UAE, for the 5th consecutive time since 2017, Toni Eid, Founder and CEO of Trace International Media and Telecom Review Group, was awarded the Certificate of Appreciation by Chasub Lee, director of the ITU Telecommunication Standardization Bureau, during the (ITU) CxO meeting hosted by Telecom Review in collaboration with du on December 7.
Commenting on presenting the token of appreciation to Mr. Eid, Lee said, "Standards are developed by contributions from the industry. Listening to the industry voice is very important, and Toni has been hosting our industry leadership gatherings for over six years here in Dubai. It has become an annual event now, and I cannot forget this great contribution. All the leaders enjoy this meeting so much."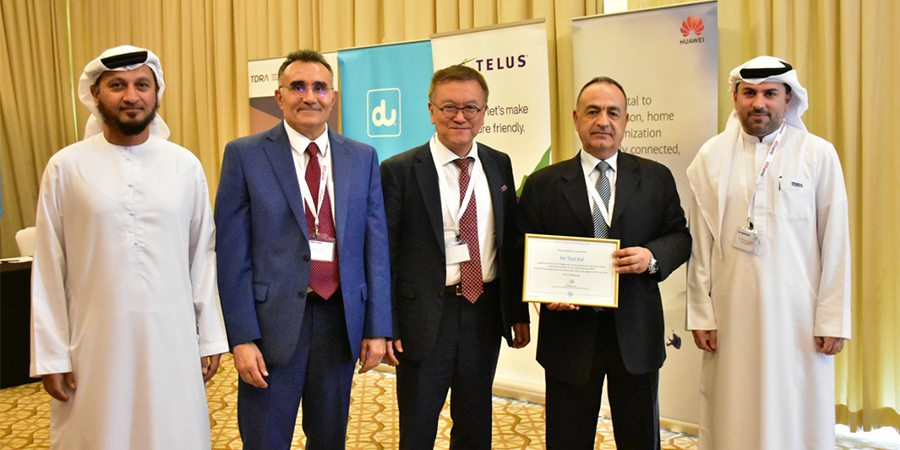 L to R: Saleem Al Blooshi, chief technology officer, du; Bilel Jamoussi, chief study groups department, TSB ITU; Chasub Lee, director of ITU Telecommunication Standardization Bureau; Toni Eid, CEO Telecom Review Group; and H.E. Mohammad Al Ramsi, deputy director general for the Telecommunications sector, TDRA during the awarding ceremony.

Last year, Telecom Review Group became a prestigious ITU-T associate, which has greatly strengthened Trace Media and Telecom Review Group's influence and reputation as the biggest platform for bringing the ICT industry leaders together through its up-to-date printed and digital magazines, monthly virtual webinars, and annual Telecom Review Leaders' Summit.

The 16th Edition of the Telecom Review Summit at the Intercontinental Dubai saw c-level ICT leaders gather for high-level panel discussions and insightful keynote speeches.

Building on its long-standing history of successful editions covering the Middle East, Europe, Africa, Asia Pacific, and North America, the Telecom Review publication has garnered the trust and support of some of the biggest names in the sector, such as e&, du, TDRA, AWS, Huawei, Nokia, Ericsson, Zain KSA and Ooredoo, to name a few. Telecom Review provides its daily e-newsletters and monthly digital flipping magazines and organizes virtual panels and webinars to keep its readers up-to-date on ICT industry developments.