The TM Forum Autonomous Networks Summit 2023 was recently held in Copenhagen, Denmark, where Carsten Rossenhoevel, Co-Founder & CTO of the European Advanced Networking Test Center (EANTC), delivered a keynote speech on EANTC's test strategies for autonomous networks (AN). During the event, Carsten announced the successful completion of the first independent AN test in the IP Domain: The Network Digital Map solution of Huawei iMaster NCE-IP reached an Average Automation Level of 3.8.
Carsten highlighted the important testing goals for AN, which include operational tasks for large-scale networks such as deployment, provisioning, and optimization. The discussions also focused on optimizing the utilization of network resources, minimizing the need for infrastructure expansion, and accelerating issue resolution through AN-driven troubleshooting. Based on international draft standard ETSI GR ENI 0035 v0.0.2, EANTC provided insights into its 2023 evaluation, spotlighting IP Segment Routing Service Automation and Network Automation of Ethernet/IP VPN Services.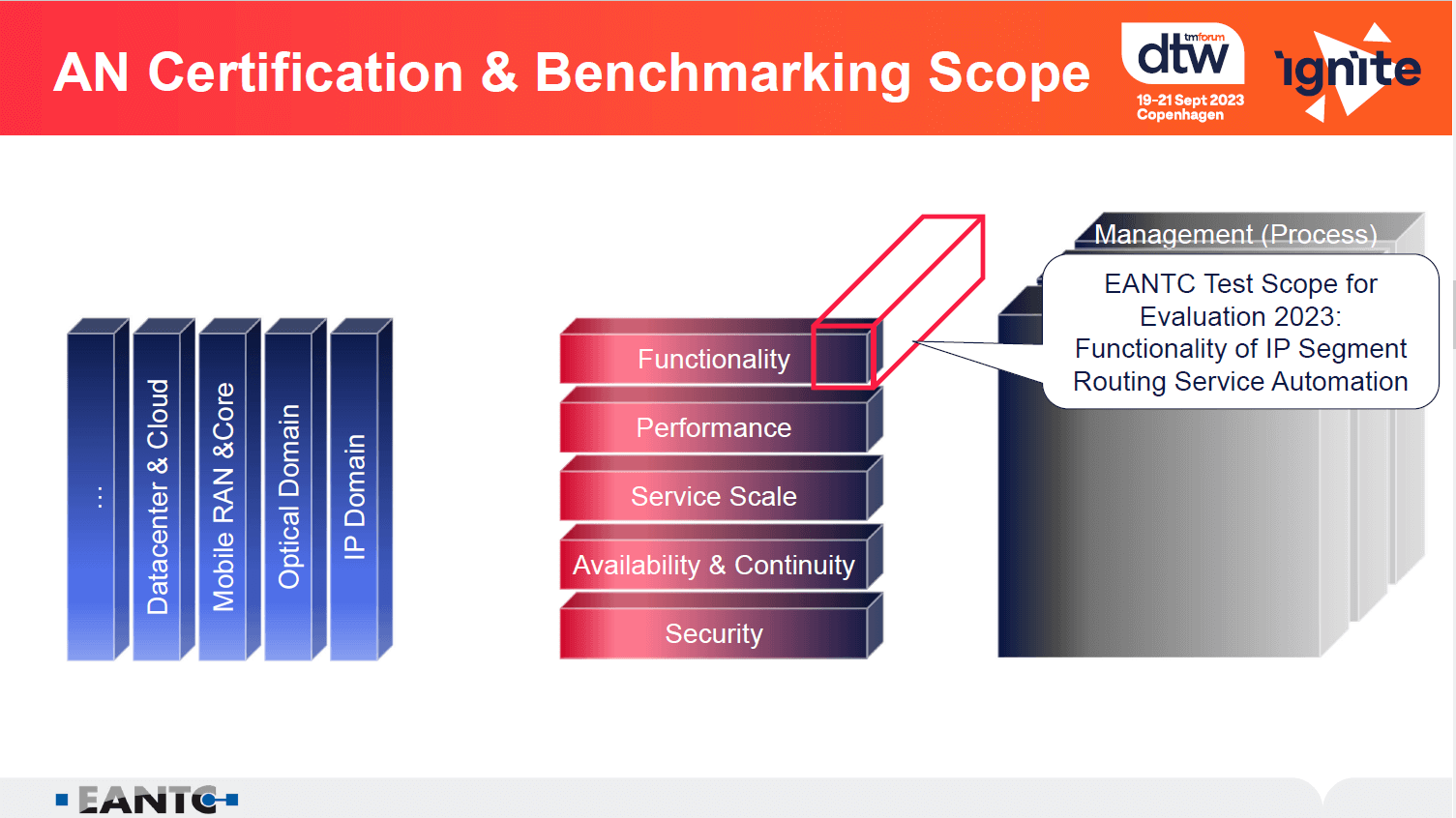 AN Certification & Benchmarking Scope
Carsten presented Huawei Network Digital Map, the first L3.8 solution certified by EANTC, and introduced the User Interface Sample from network analysis and network optimization testing. The certification covers the following aspects (detailed report available at https://eantc.de/test_reports.html):
L4.0 for Provisioning and Configuration: Huawei's Network Digital Map streamlines the deployment of SRv6 Policies, incorporating latency constraints driven by EVPN services.
L3.6 for Fault Management: Leveraging AI, Network Digital Map clusters alarms and identifies root causes efficiently, optimizing paths using Digital Twin data to reduce service disruption.
L3.8 for Network Optimization: Network Digital Map automates path optimization, considering service bandwidth balancing, latency, and packet loss thresholds. Historical path data playback enhances network efficiency.
The Network Digital Map solution of Huawei iMaster NCE-IP continues to see extensive application in a broad range of industries. Its key capabilities—one-map visualization, one-second demarcation, and one-click optimization—help carriers and enterprises enhance intelligent capabilities and take AN to the next level.