Ooredoo won Ookla's Kuwait Speedtest Awards for mobile network speed during the first and second quarter of 2021. As per the conducted tests, Ooredoo achieved a speed score of 79.47, with average download speeds of 108.05 Mbps and average upload speeds of 25.34 Mbps.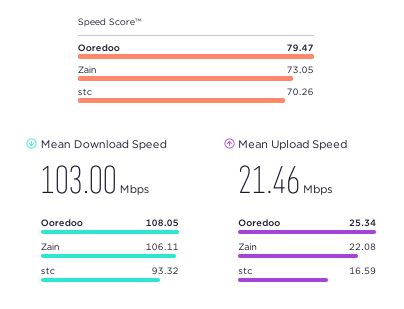 Proudly earning this accomplishment, Ooredoo Kuwait has also taken major steps in the world of telecoms over the past two years and during the pandemic. By strengthening its networks, the company has outperformed its Kuwaiti competitors in providing the best and fastest coverage. The network infrastructure witnessed a significant upgrade with KWD 68 million investment.
Increasing to nearly 2,000, the number of its 5G towers ensures a broader and more comprehensive coverage across all residential areas of Kuwait, including chalets, farms, and islands. Furthermore, 1,000 Long Term Evolution (LTE) expansions and upgrades were deployed enabling faster data speeds, improving performance, and lowering operating costs. 
In a statement on this occasion, Abdulaziz Yaqoub Al-Babtain, CEO of Ooredoo Kuwait, said, "We take pride of this achievement, which reflects our continuous efforts to achieve our vision of enriching people's digital lives, which goes in line with our strategy to empower Kuwait's society by driving digital transformation. This strategy has continually ignited us to efficiently respond to the rapid changes and changing demands of our customers, and proactively provide them with effective digital solutions, products, and services."
"We have been working towards providing the best and fastest coverage at the state level, especially in developing the infrastructure of the Ooredoo network. An amount of KWD 68 million has been invested over the past two years with the aim of developing the network infrastructure and enriching our customers' digital experience. Today, we thank them all for their trust and great loyalty," Al-Babtain concluded.