Ooredoo announced its financial results for the first six-month period of 2023. Among the highlights are figures showing strong year-on-year (YoY) revenue growth of 3%, reaching QAR 11.4 billion; a healthy EBITDA of QAR 4.8 billion with a margin of 42%; exceptional 20% YoY growth in normalized net profit, reaching QAR 1.6 billion; and an expanded customer base (including IOH) to 156.2 million, a solid 3% YoY growth.
Commenting on the results, H.E. Sheikh Faisal Bin Thani Al Thani, chairman of Ooredoo, said: "Ooredoo Group concluded the first half of 2023 with an outstanding performance, recording revenue of QAR 11.4 billion and a remarkable surge in normalized net profit, reaching QAR 1.6 billion. These impressive achievements underscore our steadfast dedication to providing robust connectivity, exceptional customer experiences and maximizing value for our stakeholders.
Looking ahead, we remain committed to exploring strategic avenues that unlock significant capital and maximize value for our stakeholders, further solidifying our position as a leader in the industry," Al Thani concluded.
Also sharing his perspective on the company's positive performance, Aziz Aluthman Fakhroo, managing director and CEO of Ooredoo, said: "This strong set of results validates our strategy, which places operational excellence and customer service at its core. Notably, our normalized net profit increased 26% in Q2 YoY, and we remain on track to achieve our guidance targets for 2023."
Ooredoo Kuwait delivered a solid 4% YoY growth in revenue, reaching almost QAR 1.5 billion, while Asiacell achieved strong revenue growth in H1 2023, with a YoY increase of 16%, reaching more than QAR 2 billion. In addition, Ooredoo Algeria delivered an 8% increase in revenue during H1 2023.
"We are making significant progress on executing our strategy and are well on track to achieve our guidance targets. We continue to strengthen our position as a leading telecommunications company striving to deliver competitive services to our customers and exceptional value to our stakeholders," stated Fakhroo.
Under a value-focused portfolio, Ooredoo, Zain and TASC Towers Holding recently entered exclusive negotiations to create an independent tower company comprising up to 30,000 towers. This transaction will create a potential uplift in both Ooredoo Group's and Zain Group's enterprise value through a more efficient capital structure.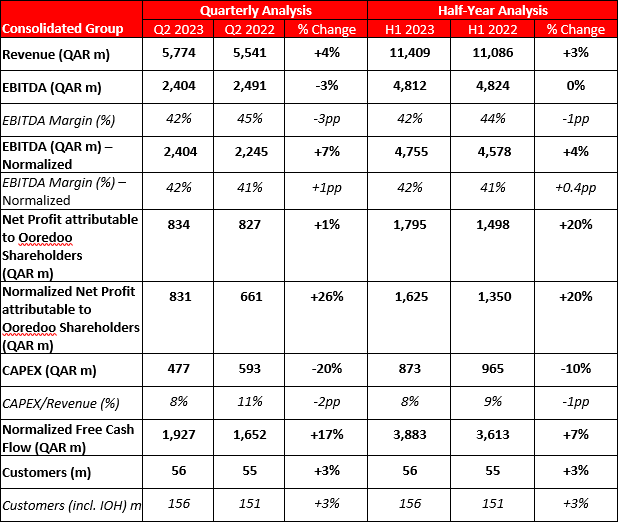 Highlights From Operating Companies
Ooredoo Qatar
The OPCO's revenue has not moved materially, decreasing by 1% YoY, negatively impacted by the discontinuation of the transit business and reporting mobile money as a separate legal entity. Normalizing for these factors, revenue increased by 4% YoY. Moreover, the customer base of Ooredoo Qatar reached 3 million, representing a 7% decrease compared to the previous year due to a change in the definition of the prepaid base to 90-day active from 365-day.
Ooredoo Oman
In a highly competitive backdrop, Ooredoo Oman achieved a revenue of QAR 1.23 billion, up 1% YoY, supported by higher device sales, ICT/IOT revenue and higher postpaid, partially offset by a decline in prepaid and fixed revenue. The customer base also saw a significant expansion, recording a solid 6% YoY growth to reach 3.1 million.
Ooredoo Kuwait
Ooredoo Kuwait delivered a solid performance in H1 2023, with revenue reaching QAR 1.46 billion, marking 4% YoY growth. Furthermore, the company achieved a notable 7% increase in EBITDA YoY, resulting in an EBITDA margin of 31%. The customer base experienced significant growth, expanding by 7% YoY to reach a total of 2.8 million customers. This growth has been benefiting from improved economic conditions. Efforts to drive digital adoption were reinforced through continuous improvement of the eSIM and online exclusive portfolio.
Asiacell – Iraq
Asiacell achieved very solid revenue growth in H1 2023, with a YoY increase of 16%, reaching a total of QAR 2.024 billion. This growth can be attributed to the increase in data revenue. Despite the higher leased line and energy costs, the operation delivered a strong EBITDA margin of 46% for H1. The customer base experienced a notable YoY increase of 5% in H1 2023, reaching a total of 17.1 million customers.
Ooredoo Palestine
In H1 2023, Ooredoo Palestine recorded a total revenue of QAR 203 million, a 3% decrease compared to the previous year. Positively, EBITDA displayed a 5% YoY increase, reaching QAR 82 million. During the same period, the customer base experienced growth, with a 2% YoY increase to reach 1.4 million.
Ooredoo Algeria
The OPCO's revenue increased by 3% in local currency (LC) YoY, caused by the data bundle extension. The strong appreciation of the Algerian Dinar contributed to the 8% YoY increase in reported revenue. Furthermore, Ooredoo Algeria experienced a growth of 1% in its customer base, reaching a total of 13.0 million customers in H1 2023.
Ooredoo Tunisia
In H1 2023, Ooredoo Tunisia reported revenues of QAR 707 million, a 5% decline YoY. The strong fixed revenue performance was offset by softer mobile service revenue performance, in line with the country's mobile market trends. The operation continued to increase its customer base, growing customers by 1% to reach 6.9 million customers.
Indosat Ooredoo Hutchison (IOH)
The merger between Indosat Ooredoo and 3 Indonesia, forming Indosat Ooredoo Hutchison (IOH), has completed a successful year since its official establishment on January 4, 2022. This strategic partnership has surpassed expectations, positioning IOH as a joint venture rather than a subsidiary. Consequently, Ooredoo Group now attributes only a 33% share of IOH's profits to its EBITDA. IOH's exceptional performance has exceeded initial plans, delivering even better results than anticipated.
In the local currency, the operation achieved robust performance YoY, recording a substantial 10% growth in revenue. EBITDA also increased by 24% YoY, resulting in a healthy EBITDA margin of 46% and showcasing strong operating leverage. IOH's customer base for the quarter also reached 100 million, up by 4% YoY.
Ooredoo Maldives
During the first half of 2023, Ooredoo Maldives delivered positive results, with a YoY revenue increase of 7% to QAR 240 million. This performance was driven by growth in mobile and fixed segments. The Maldives customer base reached almost 400k, expanding by 6% YoY.
Ooredoo Myanmar
Ooredoo Myanmar showed a resilient performance by achieving 4% YoY revenue growth in local currency during H1 2023. Despite facing a challenging business environment, this growth can be attributed to the strong performance of the mobile revenue segment. The customer base increased by 2% YoY to 8.5 million due to ongoing initiatives to engage with the customers.