According to published Q2 2021 results of Nokia, top-line strength continued in the second quarter, with constant currency net sales up 9% year-on-year, driven by growth across all business groups. Moreover, important progress was seen in line with the company's three-phased strategy where Mobile Networks strengthened its competitiveness with AirScale radio and baseband launch and Network Infrastructure continued to gain share in the first half with +20% sales growth in constant currency.
The company generated positive free cash flow for the fifth quarter in a row as well making its liquidity position solid with EUR 3.7 bln net cash. Considering its strong start to 2021, they revised the full-year 2021 outlook, including an increased net sales expectation of EUR 21.7 bln to 22.7 bln with a comparable operating margin in the range of 10-12%.
"I am delighted that our strong start to 2021 continued in the second quarter. Our constant currency sales growth of 9%, combined with good cost control, enabled us to deliver a comparable operating margin of 12.8%. We are already seeing the benefits of our new operating model which helped us to deliver such a strong financial performance," said Pekka Lundmark, Nokia's president and CEO, on Q2 2021 results.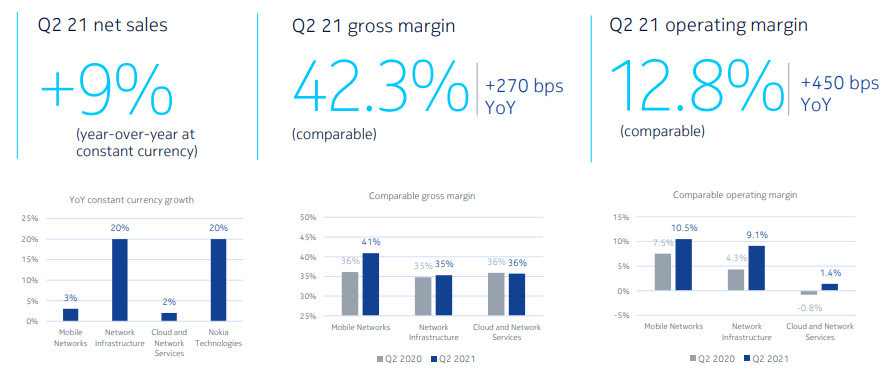 In Q2 2021, the reported net sales of EUR5.3 bln show a 9% increase on a constant currency basis. The Q2 2021 comparable gross margin was 42.3%, compared to 39.6% in Q2 2020. The improvement was positively impacted by the EUR 80 mln one-time software deal that was completed in Q2 2021, in addition to 5G growth, progress in cost competitiveness, and favorable product mix.
The Q2 2021 comparable operating profit was EUR 682 mln, or 12.8% of net sales, compared to EUR 423 mln, or 8.3% of net sales in Q2 2020. The improvement was primarily driven by higher gross profit and a net positive fluctuation in other income and expenses.
During Q2 2021, the end-of-quarter total cash balance is approximately EUR 8.8 bln, reflecting strong operating profit. "The highlight of the second quarter was the Mobile Networks launch of our new AirScale baseband and radio products with up to 75% better power efficiency helping to reduce our environmental footprint and the lightest 32TRX massive MIMO active antenna in the market. In Network Infrastructure, we sustained double-digit growth and have a series of product launches ahead in the second half to further strengthen our differentiation. Cloud and Network Services is making good progress on its portfolio rebalancing and Nokia Technologies continues to scale with two licensing agreements with automotive manufacturers including Daimler," added Lundmark.
Mobile Networks
Mobile Networks net sales of EUR2.4 bln grew by 3% on a constant currency basis. This is primarily driven by strong growth in 5G, reportedly on track with key performance indicators (KPIs) such as ~70% ReefShark share by end of 2021, 4G/5G conversion rate at 90%, and 4G/5G market share of ~25-27% in full-year 2021.
Network Infrastructure
Network Infrastructure net sales of EUR1.7 bln grew by 20% on a constant currency basis. This segment has grown across all four of its businesses (fixed, IP, optical, and submarine), with emphasis on the strong growth trend in Fixed Networks following the increased demand for fiber access technologies and broadband devices and the growth momentum in Submarine Networks as a result of continuous development of large submarine telecommunications projects.
Nokia Technologies
Nokia Technologies net sales of EUR401 mln grew by 20% on a constant currency basis. This segment has shown strong growth, driven by higher patent licensing net sales related to both new and renewed patent license agreements signed this year and in Q4 2020.
Cloud and Network Services
Cloud and Network Services net sales of EUR703 mln grew by 2% on a constant currency basis, primarily driven by Core Networks and Enterprise Solutions.  In Q2 2021, Nokia gained 63 new Enterprise customers and continued to have strong momentum in private wireless, now with more than 340 customers.

"Considering our robust start to 2021, we are revising upwards our full-year Outlook. We now expect a comparable operating margin between 10-12% for full-year 2021, compared to our previous range of 7-10%. We have executed faster than planned on our strategy in the first half which provides us with a good foundation for the full year," explained Lundmark.
Cash flow and return on invested capital (ROIC) have been positively adjusted as well, affirming Nokia's positive stance for this year until 2023. This is regardless of the business being exposed to a number of risks and uncertainties such as competitive intensity, customers' vendor reassessment in light of security concerns, and the scope and duration of the COVID-19 impact.