Nokia's financial report for Q3 was published showing strong profitability and cash generation.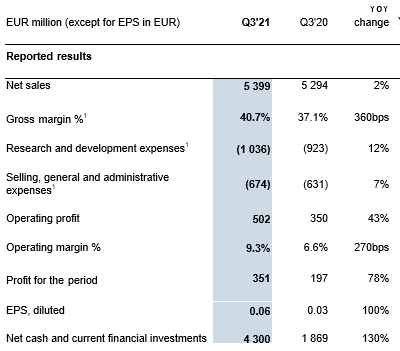 With the reported results, an impressive 130% y-o-y change on net cash and current financial investments, from €1,869 mln to €4,300 mln, is noticeable. This is followed by 100% EPS diluted from €0.06 to €0.03, 78% profit for the period surging to €351 mln from last year's €197 mln, and 43% increase on operating profit from Q3 2020's €350 mln to Q3 2021's €502 mln.  
Commenting on Nokia's Q3 financial results, Pekka Lundmark, president & CEO, said, "We delivered another great quarter driven by our increased investments in technology leadership and strong market demand. The highlight of the quarter was the launch of our next generation FP5 IP routing silicon – delivering up to three times more capacity while reducing power consumption by up to 75% per bit compared to the previous generation. This will help reduce the carbon footprint of both Nokia and our customers, while also helping customers to manage their operating expenses."
"We now have over 380 private wireless customers and the business continues to grow strongly. We are further increasing our investment to ensure we maintain the lead we have built with the industry's most complete offering," added Lundmark.
The financial metrics declared also include strong sales growth in Network Infrastructure (+6% y-o-y constant currency) and Cloud & Network Services (+12%); comparable gross margin of 40.8%, reflecting continued strong execution across the business; Mobile Networks comparable gross margin of 37.8% (+220 bps y-o-y), displaying better cost competitiveness; comparable operating margin of 11.7%, proving strong financial accountability of new operating model; and strong free cash flow generation of €0.7bn.
In terms of the FY 2021 outlook, net sales are expected to be between €21.7 bln to €22.7 bln while the comparable operating margin will be between 10-12%. Free cash flow is showing clearly positive, with the comparable ROIC to be between 17-21%.
"Overall, I am pleased with our strong financial performance in 2021 so far. We continue to expect seasonality to be less pronounced this year than previously and are reiterating our full-year 2021 outlook. Considering our continued strength, we now expect to be towards the upper-end of our comparable operating margin range. As we look ahead, we believe we are well-positioned to capitalize on strong demand in our end markets through strengthened technology leadership and improved cost competitiveness," concluded Lundmark.