Nokia has been selected by Ooredoo Group to bring multiple technologies and services, including 5G, as part of a multi-country, five-year deal. The deal, which builds on Nokia's global partnership with Ooredoo, is already underway and is expected to be completed by 2026.
The partnership aims to enable the exploration of future areas of collaboration and strengthen the business engagement that will support Ooredoo's strategy. Boosting the experience Ooredoo can deliver to its customers would include access to the latest technology solutions and innovative digital product offerings such as smart home services and the Internet of Things (IoT). In addition, customers will be able to access the latest device portfolios and superior connectivity and network speeds.
Pekka Lundmark, president and chief executive officer at Nokia, said, "We are excited to continue delivering robust networks to Ooredoo's customers. We want to accelerate the benefits of Nokia's technology – including 5G – for consumers in the Middle East, North Africa, and Southeast Asia, and enable businesses to digitalize and innovate with new services. The move to 5G will drive digital transformation and innovation across industries, communities, and public services, and we are proud to continue supporting Ooredoo Group on this journey."
The new Group Framework Supply Agreement (GFSA) will cover several categories in networks for the supply of RAN, core and transport products and services, as well as Nokia's latest radio technology, the AirScale radio portfolio, that Ooredoo already deploys in some markets. The new GFSA will be rolled out to all of Ooredoo Group's operating companies and will be valid for five years.
On the other hand, the amendment to the GFSA for devices will cover customer premise equipment for 4G, 5G, and fixed. The potential length of this agreement will be three years and initially include Ooredoo operating companies in Qatar, Kuwait, Oman, Tunisia, Maldives, and Iraq.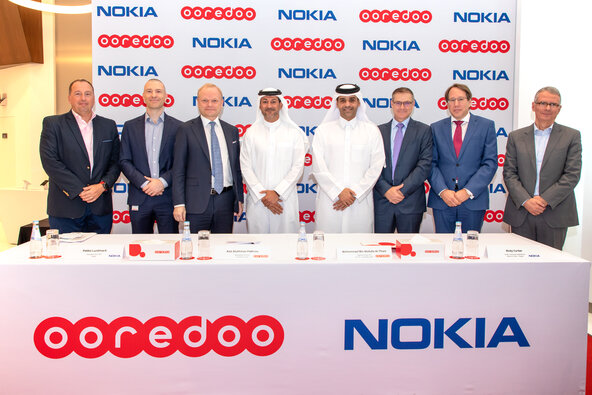 Aziz Aluthman Fakhroo, managing director, Ooredoo Group, said, "We were delighted to welcome the Nokia team to our Headquarters in Doha. Ooredoo launched the world's first commercial 5G network in 2018 and this partnership with Nokia is allowing us to keep ahead. Nokia's FastMile 5G devices will allow us to extend the reach of our 5G wireless network into the home environment to enable Smart Home and IoT connectivity for customers. We believe this solution will greatly enhance our customers' internet experience across our global footprint."
Under the GFSAs, Ooredoo's operating companies will be able to access the latest technology developments and will benefit from Nokia's position as a global technology innovator. From a 5G perspective, the GFSAs will enable access to Nokia's vast global experience and research and development power, driving the development of new use cases to monetize investments. Furthermore, operating companies will also be able to access Nokia's latest CPE devices portfolio.