During Ultra-Broadband Forum (UBBF) 2023, Wang Hui, President of Huawei NCE Data Communication Domain, delivered a keynote speech titled "Huawei Network Digital Map Builds a Highly Stable Network and Accelerates Carriers' Move to AN L4." In his speech, he highlighted that Autonomous Network (AN) has become an industry-wide consensus with joint efforts from all parties. However, native networks still face three challenges. To address these challenges, Huawei iMaster NCE developed the Network Digital Map with three key capabilities: one-map visualization, one-second demarcation, and one-click optimization. Network Digital Map has helped nearly 100 global customers accelerate their move to intelligent networks. Notably, Network Digital Map has undergone an independent evaluation by EANTC and achieved an AN Level of 3.8, the highest in the industry. It is oriented to the AI era and equipped with the industry's first large network model to accelerate carriers' evolution toward AN L4.
The three challenges facing native networks are:
Visibility of the whole network: Many carriers use devices from various vendors, resulting in the adoption of different technologies. This creates numerous isolated systems on the network, making it challenging to identify the location of a network fault. On average, fault locating can take several hours.
Severe consequences of incorrect configurations: One device typically has thousands, or even tens of thousands, of configurations. Statistics indicate that over 70% of network issues are a result of incorrect network configurations. For instance, a North American communications company encountered a route surge on their backbone network due to an improperly configured BGP filter. As a consequence, their Internet traffic decreased by 25%.
Difficult service experience assurance: In the era of 5G and 5.5G, the importance of service experience has reached new heights. With dynamic IP networks supporting a multitude of services, the issue of network traffic congestion becomes even more critical. Failure to promptly address congestion can have a devastating impact on the overall network experience. Once service experience begins to deteriorate, it becomes increasingly challenging to restore it to its previous state.
Given these challenges, Huawei took the lead in launching the industry's first Network Digital Map.
Navigation maps have become an essential part of our daily lives. They provide real-time route navigation, allowing us to search for restaurants and hotels and even hail a taxi.
Huawei Network Digital Map provides a way to map the physical network to a logical world. This allows carriers to view the entire network, including devices, links, applications, and users. It provides carriers with a comprehensive understanding of their network, enabling them to build a digital space of the network. Huawei Network Digital Map has three key capabilities:
One-map visualization: In addition to the physical network topology, devices, tunnels, services, and applications on the entire network are displayed on Network Digital Map.
One-second demarcation: If network issues occur, carriers can directly view and locate them on Network Digital Map.
One-click optimization: In scenarios involving suboptimal service experience, Network Digital Map automatically starts optimization.
What specific benefits can Network Digital Map bring?
In Europe, Huawei Network Digital Map enables a carrier to view the entire network on a single map. This way, the carrier can discover network topology and link status changes within 1 minute, detect latency deterioration, and initiate automatic network optimization. Consequently, the carrier is now ranked No. 1 in P3 and reduced TCO by 30%.
In Asia Pacific, Huawei Network Digital Map helps a carrier achieve "service latency estimation during pre-sales, what-you-plan-is-what-you-deploy during in-sales, and real-time awareness and automatic network optimization during after-sales", encouraging their customers to upgrade private line packages from common packages that provide only bandwidth assurance to premium packages that provide both latency and bandwidth assurance. This results in enhanced revenue growth for the carrier.
In September this year, Huawei Network Digital Map in iMaster NCE-IP participated in EANTC's independent AN level test and achieved an average score of L3.8, representing the highest AN level achieved in the industry thus far.
Oriented to the AI era, the latest Huawei Network Digital Map achieves the following:
The industry's first built-in large network model, which makes the map as competent as a Huawei Certified ICT Expert (HCIE) and creates a revolutionary experience of "intelligent Q&A + assisted decision-making."
Intelligent simulation and verification through the configuration plane verification (CPV) algorithm to identify configuration change risks in advance. If the simulation results meet intents and there are no service risks, the configurations are automatically delivered at a single click, and network changes are 100% correct.
Proactive optimization of application networks. Thanks to innovative AI algorithms, the network identifies over 200 top applications, and service paths are automatically recovered hop by hop. With IFIT detecting service flows, the map locates root causes in milliseconds and performs automatic optimization. This significantly improves customer satisfaction and makes it possible to build a best-experience IP network.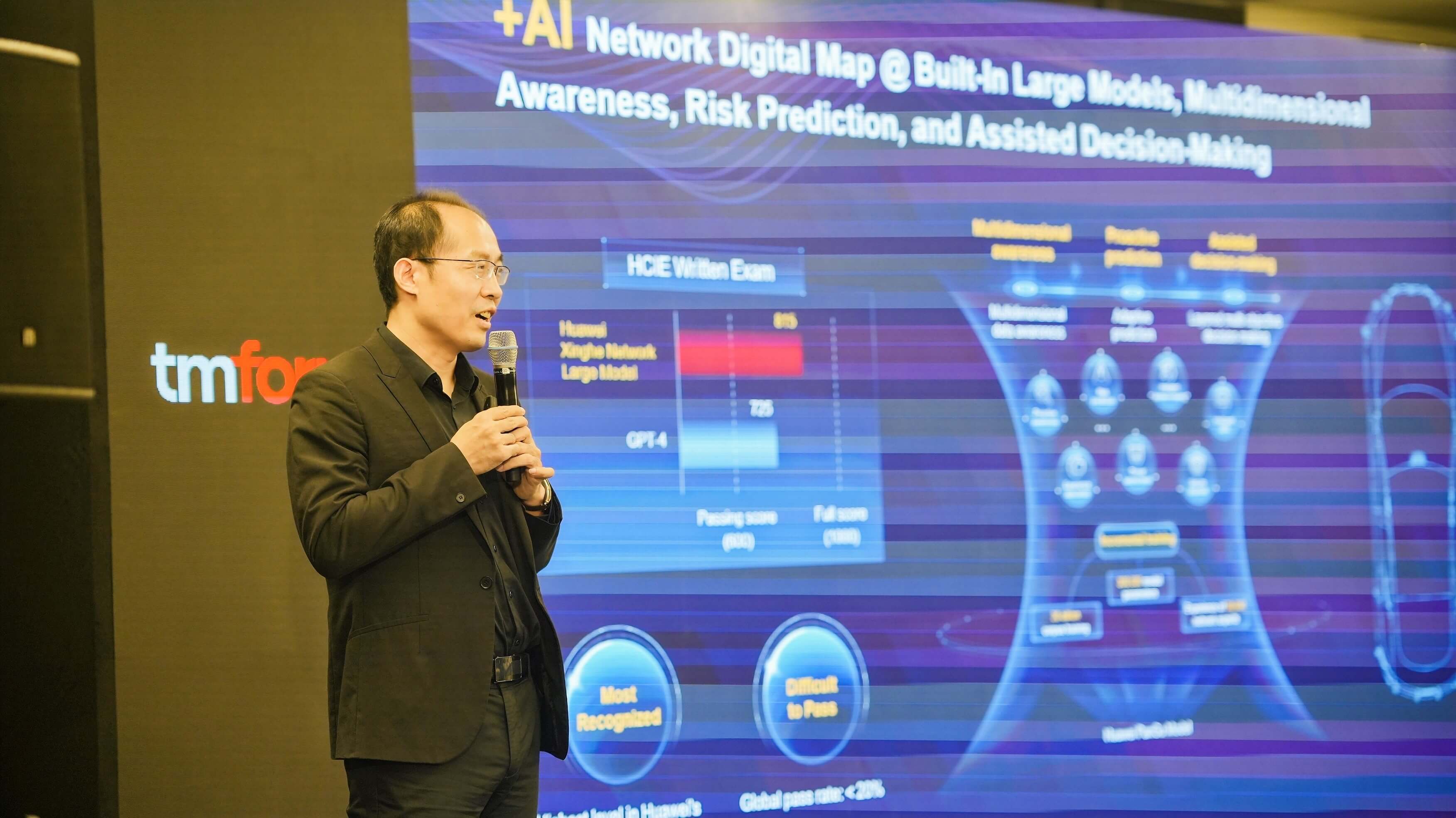 Network Digital Map incorporating the industry's first built-in large network model
Wang Hui stated that Huawei Network Digital Map has significantly expedited the transition toward intelligent networks for 100 global customers. Huawei is fully prepared to collaborate with global customers, partners, and analysts to propel the AN industry forward. We always believe that with cooperation and fearlessness, humanity can achieve greater heights.