The global telecommunications industry is a unique and vibrant industry that is constantly evolving due to the new technologies and infrastructure which continue to filter into the market. Now more than ever, telcos depend on the adaptation to a digitized environment, the efficiency and optimization of business processes, as well as monitoring and reporting capabilities.  
New 5G rollouts, more diverse network technologies, and the emergence of new business models—among other trends—mean that telcos and towercos need to be more agile, more data driven, and more focused on pursuing new revenue streams. 

Atrebo is a telecommunications infrastructure management platform that specializes in consulting, engineering, and asset management in order to extract business opportunities and strengthen the profitability of its clients' assets. The European multinational, headquartered in Spain, operates in over 18 countries with more than 200,000 platform sites and €20 billion in managed assets.

The company created its TREE.platform in 2013, a collaborative hub where MNOs, towercos, vendors and contractors can carry out their transactions. The platform stands out for its flexibility, scalability and integration capabilities – both in terms of volume and geographical dispersion – and is deployed by leading telecom operators worldwide, such as Telefonica and Vodafone.

Telecom Review had the opportunity to sit down with Luis del Valle Alemán, Chief Revenue Officer at Atrebo, to discuss the company's innovative strategy for telcos based on years of experience and understanding of the industry.

"The secret sauce of our solution is mainly based on our experience in the market. The founders and the executive team have a long track record in the telco arena, which started with the bloom of the MNOs in Europe in the mid-90s," Luis del Valle said. 

"We detected an opportunity in the need for a well-organised, more efficient and cost-saving system for the passive infrastructure of telcos we were working with. They were investing heavily in network and service operations but did not have a single tool to manage their entire infrastructure."

"We help our customers collect qualified data, implement efficient processes, run infrastructure and asset operations, analyze relevant reports, and identify areas of improvement."

"The tool works as an orchestrator that centralizes and runs all processes related to the passive infrastructure and assets, created to unify inputs and data from different sources – internally and externally – while implementing intra and cross-department processes along the organisation," he said.

Global expansion

Atrebo is preparing for a speedy global expansion in the coming year as part of their "Grow with Partners" programme, further enlarging their value proposition and staying ahead of the competition in a concentrated market.

"We will open our second office in Americas – after settling well in Brazil 3 years ago – and another office in Northern Europe to support the Nordics, and probably one more in APAC, still to be determined where; all of them in the first half of the year."

As one of the executives responsible for the future growth of the company, del Valle also sees huge potential in the Middle East and hopes to open an office in Dubai in the near future.

"My personal dream is to open an office in Dubai in 2021. I have been representing Deutsche Telecom in the Middle East for 3 years and I believe that the region has a lot of potential, both because of its very advanced infrastructure and its constant commitment to innovation."

TREE.olivo

The company is also launching the arrival of an advanced and dynamic version of the platform, TREE.olivo, which offers a whole new UX/UI and new functionalities, such as improvements in the optimization of the processes, easier data management and full customization of the user desk and dashboard.

"We invest most of our efforts in analyzing, researching, proposing, and validating new functionalities and use cases together with our customers.  We have reshaped our project management and support departments into a "Customer Success" service. The aim is to establish a consistent dialogue with the user in a constant exploration for solutions together."

According to del Valle, Atrebo's business approach revolves around three essential principles:
Develop new solutions to increase the ROI of all the areas involved in the asset and infrastructure lifecycle;
Work closely with customers to streamline and optimize the processes that enable productivity improvement; and
Help collect and analyze the huge amount of data available and turn it into valuable information and knowledge.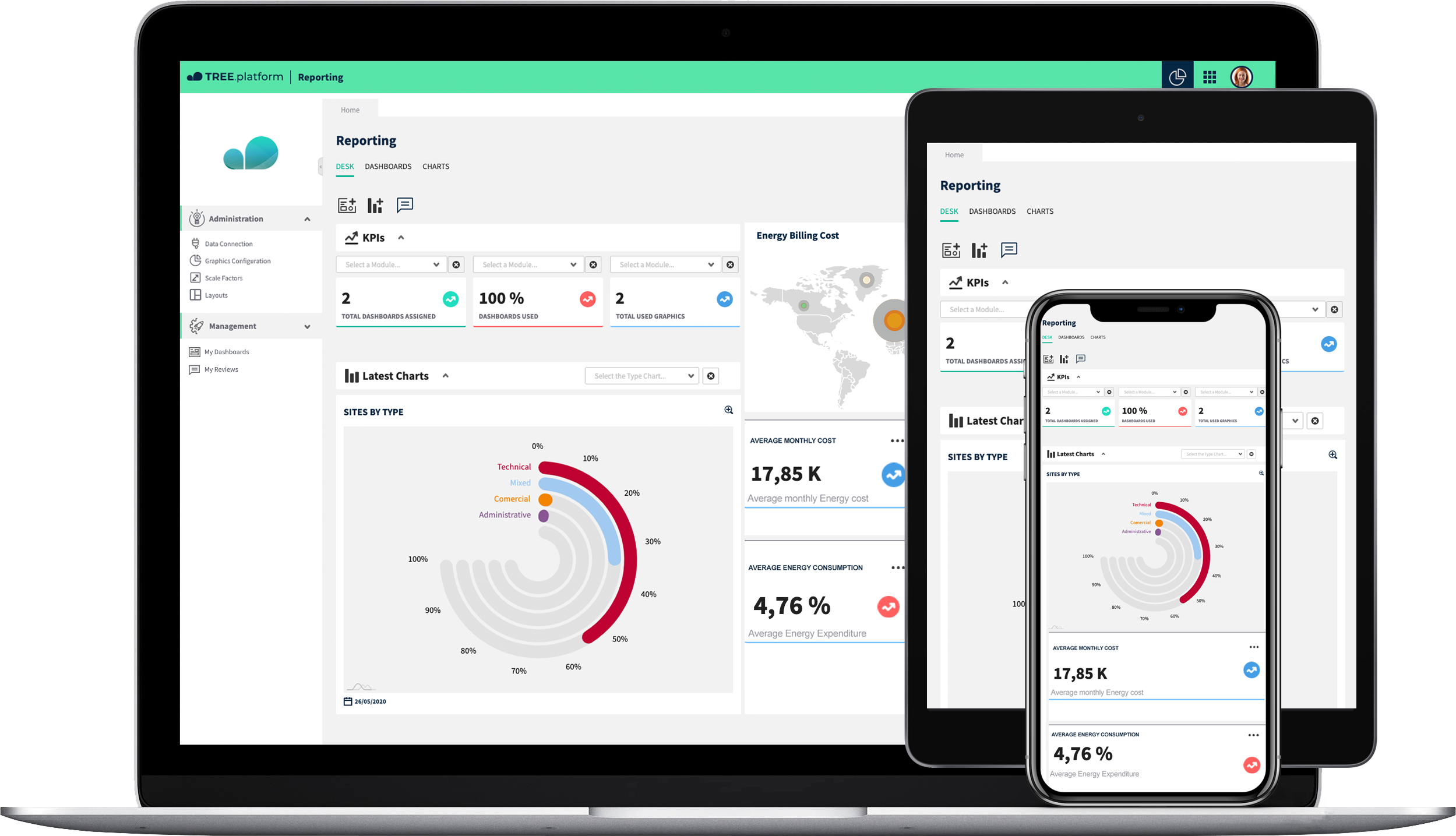 5G

Atrebo has been putting in the ground work for two years to help telcos prepare for the coming generational shift. As network architectures have evolved, equipment upgrades have become increasingly frequent. And the pace of these upgrades is likely to accelerate as carriers roll out 5G. In order to stay on top of these changes, telcos need reliable real-­time visibility into what's installed on their structures and what capacity for installing additional equipment remains.

"MNOs are used to dealing with exponential growth – in the number of users, mobile devices, bandwidth, and coverage. Now it's time for 5G network deployment that brings along new challenges, higher frequencies, smaller cells and a higher density of towers. All of this means a larger number of infrastructure and assets to keep track of."

Energy consumption is also set to increase dramatically along with the deployment of 5G. The progress made by mobile networks over the years must also take into account environmental issues, particularly those related to energy consumption. 

More than 2% of global carbon emissions are produced by this industry. According to market data, towers account for 24% of that 2%, which are predicted to grow at a rate of 4.6% annually. Atrebo recognizes this and believes the industry needs to respond and bend the curve to minimize emissions.

"One of our most remarkable initiatives is the "Greening the Network" challenge we share with our partners to figure out use cases and solutions that can improve energy efficiency and reduce overall pollution."

Platforms such as TREE help to measure and identify inefficiencies and reduce this problem significantly by digitizing the processes. It's not only about saving energy but also about reducing unnecessary cost overruns.

"It is vital that MNOs focus all their efforts on reducing these unnecessary expenses – generated by lack of efficiency and control – by implementing monitoring tools and by optimizing their equipment," he said.

"In terms of energy-saving, Atrebo proposes a solution tailored for towercos, MNOs, and contractors, by compiling massive data collection in real-time through energy meters that dump data directly onto the platform."

Atrebo is also an advocate of the Tower Automation Alliance – "open to any MNO, towerco, or service provider that wants to participate in the discussion about the needs and requirements to take the telco towers to the next level – something similar to the Industry 4.0 concept."

"The purpose is to enable towers with efficient automations. There are different working groups around topics like security and access control, digital twin, energy efficiency and IoT sensing capabilities, with the overall aim of creating and testing new innovations."