Nokia has been striving to pursue the goal of becoming a leader in cloud-based network software. To explain more about the company's cloud and networks services (CNS) strategy, Telecom Review spoke to Henrique Vale, Head of Cloud and Network Services, Nokia MEA.
Please tell us a bit about Nokia CNS business. How is it making a difference in the cloud and network services?
The cloud and network services business group is the growth engine for Nokia. Our focus is to create value for both service providers and enterprise customers by leading the transition to cloud-native software and as-a-service delivery models as demand for critical networks accelerates. The growth engine is underpinned by our commitment to take technology leadership in six domains. We have already witnessed initial success in 2021 with reset of our strategy and will see it accelerated further in this year.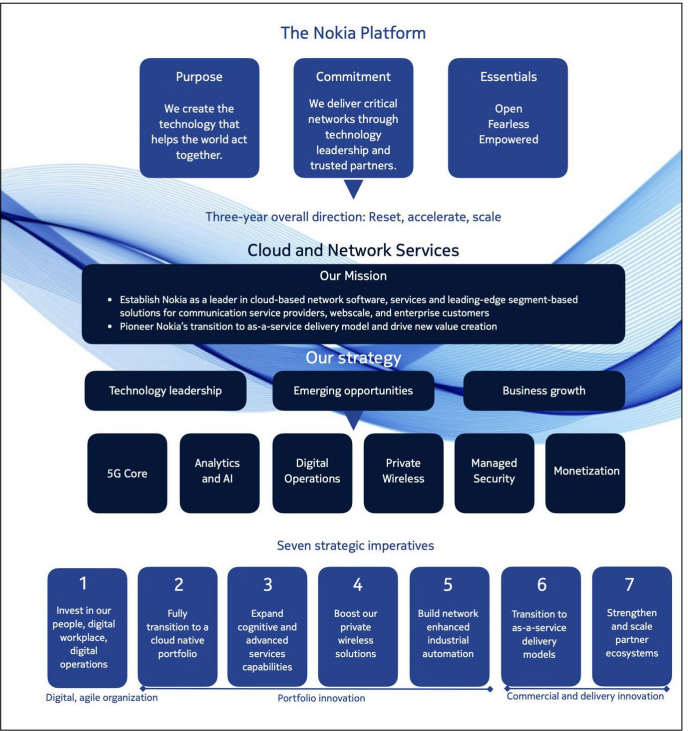 As more countries roll out 5G networks, how is CNS helping customers in the MEA region transform their 5G core infrastructure in terms of flexibility, scalability and security?
5G is much more than just a technology. It is poised to empower new industry models and change how value is delivered through telco networks. These new business models come with their own challenges with architecture design, scale and operational complexity that has never been seen by traditional telco software. Openness of the network to support new busines models brings security challenges.
Nokia CNS' 'any cloud' strategy provides CSPs with flexibility to choose core deployment on any cloud (private cloud, public cloud or hybrid cloud). Our cloud native approach is validated by Dish in North America markets where CNS core deployment on public cloud helps with the scale of geographical as well as time to value.
CNS' deep telco knowledge helps customer in MEA address network security challenges that are very unique to 5G networks. In the coming years, we foresee security adoption accelerating in MEA and SaaS based XDR product will help in minimizing deployment time and scalability.
5G and automation are complementary to each other. What are the challenges in implementing automation and AI in 5G networks and what are the solutions to fix them?
Nokia and STL surveyed 100 CSPs globally in 2021. Seventy one percent of respondents said they aspire to move "beyond connectivity" aiming to offer services build on value-add platforms and applications that inherently require business, network and service automation.
Solving automation challenge in existing deployment is like a giant puzzle with thousands of pieces. Key to success lies in making right choices on where to start, which areas to prioritize for incremental benefits, and most importantly, how do we address people and cultural challenge as getting automation benefits is much more than just addressing technology component.
At Nokia, we follow four principles.
Principle 1: Know your 'why'
One of the most important items to get clear on is the business purpose of automation. It's not about what you can automate. It's about why you should automate it. It's about the benefits it will bring. To yield the most meaningful benefits, choice of use cases should be value-driven.
Principle 2: Work incrementally
We should not try to solve automation as a 1,000-piece puzzle. We should first try to solve it as a 10-piece puzzle, then a 20-piece puzzle and then a 30-piece puzzle, and start to build organizational maturity to handle automation, and scale it. If you start with a 1,000-piece puzzle, you're bound for failure compared to starting with a smaller problem set."
Automation to be addressed in different layers of the network as per diagram below. The top of the pyramid is all about business requirements fulfilled by service automation while layer below need to automate to support and drive that outcome. This requires high degree of sophistication and efficiency which is enhanced by use of artificial intelligence.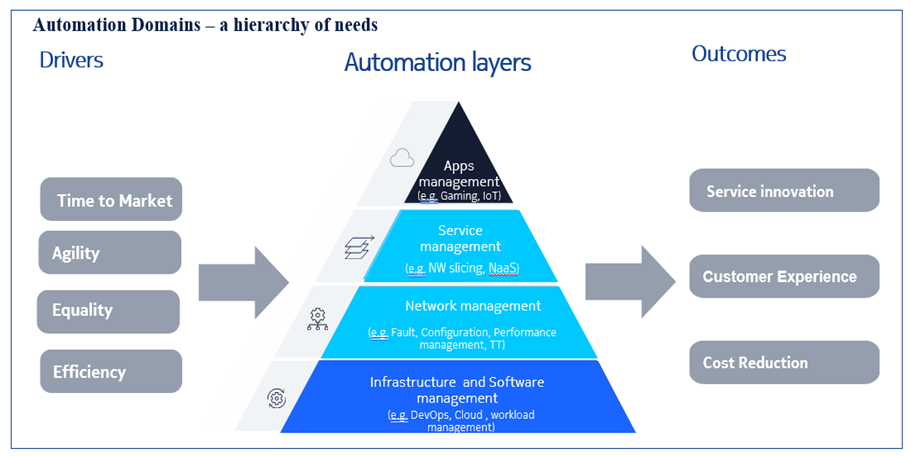 Principle 3: Use open APIs everywhere
Embracing openness - specifically open interfaces - is key to linking up the pieces of the automation puzzle. Open APIs make it easier to connect bits of data, functions and business processes together in a frictionless manner. In order to automate a set of components, the components need to be standardized first.
Principle 4: Change your mindset
Automation is not a technology problem but a deep cultural and skill issue with people who are involved or impacted in automation. Because in the process, people are moved into other people's territory, disrupting the status quo of people in terms of their thinking and comfort zone. In this kind of transformation, technology role is only 10 percent, but people's role is 90 percent. Therefore, changing the mindset is they prerequisite.
How can CSPs and enterprise businesses benefit from Software as a Service model? How can CNS help?
According to Bell Labs Consulting, 5G technology will generate $2 trillion of additional value for the telecoms industry by 2028. CSPs could potentially quadruple their revenues from largely untapped vertical markets such as factory automation, smart cities, AR education, cloud gaming and more. 
To capitalize on this opportunity, CSPs first need to become more customer-centric in everything they do, redefining their business models to drive top-line growth, foster innovation and streamline operations. 
At the heart of this change is a shift to a cloud-based software-as-a-service (SaaS) business model providing flexibility, scale and openness. The SaaS model gives CSPs higher levels of business agility and faster time to market for new digital services. SaaS provides the right combination of rapid time-to-value with on-demand access to mature SaaS applications and lower TCO. CSPs can achieve this with pay-as-you-go / pay-as-you-grow commercial models.   
To drive that shift, Nokia's approach to telco SaaS for CSPs is about providing software that is always the latest version and hosted in any cloud environment. As we introduce SaaS services in a simplified delivery model, Nokia expects to combine these independent services into three high-value SaaS "suites" focused on digital engagement, marketplaces and networking.