In an exclusive interview with Telecom Review, Aji Ed, CTO, Nokia MEA talks about 5G-Advanced technology and its wide array of uses cases that are bound to transform business operating models.
Though 5G has been picking strong momentum across the globe, it is still at the beginning of the maturity cycle of this standard. Meanwhile, there has been talk about 5G-Advanced in the industry. What's 5G-Advanced and what's Nokia's involvement in this?
5G-Advanced will bring out the richest capabilities of 5G over the coming decade, breaking down boundaries and expanding connectivity. From immersive extended reality (XR) experiences to high-precision location, presence and timing technologies, 5G-Advanced will profoundly transform what you can achieve with your network. AI/ML data collection and analytics coupled with introducing AI/ML technologies in CORE, RAN and network management is expected to bring many benefits, vital new levels of energy efficiency among them.
Through the 3GPP standards body, Nokia is in the process of making 5G-Advanced happen. The first release of the 5G-Advanced era, Release 18, is due in 2024.
How do you think 5G-Advanced will transform the industry compared to 5G?
5G-Advanced is much more than a list of enhancements and features over 5G; this will be a means for service providers to transform their networks in profound, yet clearly defined ways. Specifically, 5G-Advanced will enhance network capabilities in four dimensions: experience, expansion, extension and operational excellence. We call these dimensions "the four E's."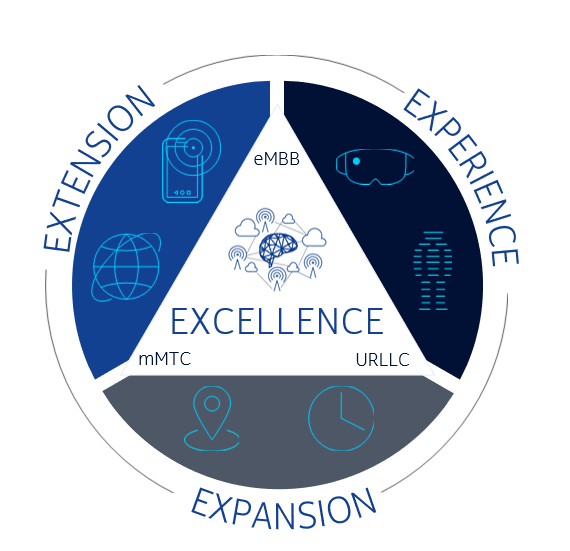 Experience
5G-Advanced will make digital experiences truly immersive, empowering us to engage with distant physical environments and other people in new, exhilarating ways. These new extended reality (XR) technologies will make it possible to make oneself digitally present in a board room while physically located on a moving train. Prospective tourists could walk the beachfront and inspect their rooms at a destination resort before making final bookings. The distinction between in-person and virtual conferences will disappear as every event becomes a mixture of physically and digitally present attendees.
To create this new XR experience, 5G-Advanced will support features like: radio resource-allocation optimization to match XR service requirements such as latency, periodicity, jitter and reliability; mobility and beam-management add-ons and device power savings enhancements; and quality-of-experience enhancements through edge cloud capabilities and application awareness.
Expansion
5G networks today excel at providing the "what" to any query we may have, bringing the world's vast repository of information to our screens. But 5G-Advanced will be particularly adept at answering the questions of "where" and "when." High-precision location, presence and timing technologies are key innovations planned in 5G-Advanced, which will expand the role of the network beyond communications. Not only will they make navigation and logistics systems more efficient, but they will be critical to the operation of driverless cars, autonomous robots and industrial automation systems in the future. Enhanced timing will be boon to multiple economic sectors like finance and energy that demand a high degree of precision in transactions. 5G advanced will offer features like carrier-phase positioning using signals from the NR base stations to give sub-10cm accuracy. Other positioning enhancements in Rel-18 include: Sidelink positioning / ranging: especially targeting automotive; Integrity for RAT-based positioning (only GNSS integrity was handled in Rel-17); and RedCap positioning: evaluate accuracy achievable with reduced bandwidth, and consider enhancements where possible.
Extension
Broadband has become essential to our social lives and the world's economies but there are still many "white spots" where no coverage exists. 5G-Advanced will help bridge, thanks to NTN (Non-Terrestrial Networks) improvements, that digital divide in order to give more people and more industries access to the economic opportunities and benefits mobile connectivity provides. 5G-Advanced, however, will do more than extend broadband connectivity into rural and underserved geographies. It will provide lifelines to critical industrial networks like smart grids. Farmers could take advantage of 5G-Advanced's extension capabilities to monitor irrigation systems and optimize crop yields. New categories of consumer wearable devices would link to the mobile network, benefiting from the IoT enhancements planned in Release 18 with RedCap (Reduced Capability) which will help to provide extremely low-cost, low-data-rate connections and longer battery life. Using new beamforming techniques, 5G-Advanced will even look to the skies, bringing fleets of drones into the network fold, while sidelink technologies will enable the networking of interlinked devices.
Operational excellence
5G-Advanced will continue the evolution of many 5G and mobile features such as network slicing and wireline-wireless convergence, while boosting mobility and introducing new features that will hone operational performance to unprecedented levels. Energy efficiency will be a major priority in the 5G-Advanced era, and thanks to AI/ML we will achieve far greater levels of energy savings across the RAN and core. Energy efficiency and sustainability is a key topic all around the world including Middle East and Africa. Service providers will also gain the ability to manage devices in new ways. They will be able to identify groups of users engaged in communal or collaborative activities on their networks in real time. Then they could assign that group the exact right mix of resources necessary to ensure each user has the most optimal experience.
5G is still at nascent stage. Monetization is very important for wider adoption of this technology by all operators. What difference 5G-Advanced will make for improving monetization?
5G-Advanced is set to enable and expand many exciting new consumer and industrial use cases in 2025, and beyond.
Mobile XR and cloud gaming which both need short set-up times and power efficiency, making them available anywhere, anytime on compact devices with small batteries.
Industrial process monitoring and quality control demanding the frequent transaction of small data packets transmitted efficiently to support network performance.
5G connected tags for asset tracking requiring very low energy consumption – one day, these tags may even be able to harvest energy from their environment.
Autonomous vehicles, robots, drones and drone-mounted devices which will thrive with 5G-Advanced networks tailored to ensure reliable communications with base stations
Indoor and outdoor positioning accuracy technologies using advanced new capabilities such as carrier phased positioning applied to signals emitted by 5G base-stations to locate connected devices, with centimeter-level accuracy.
Resilient timing services supporting everything from industrial automation to real-time financial transactions.
Smart wearable electronics with small form factor, long lasting batteries that demand efficiency.
Specialist industry applications across sectors from railways and utilities to public safety for example delivering next-generation signaling and communications for railways by adapting 5G to their allocated spectrum bandwidth, connecting next generation smart grids and powering ultra-connected and responsive blue-light services.
What will the journey towards 5G-Advanced look like and when will the industry require it?
3GPP has approved the final RAN feature set for the 5G-Advanced in Release 18. Though there are still a few details to be ironed out in the coming weeks, it is fairly clear what 5G-Advanced will look like when it is commercially deployed. This means the standards bodies can begin doing the detailed work on the specifications that will go into the final Release 18 standard in 2024, and we can expect the first commercial deployments of 5G advanced to start from 2025.