A new corridor between Asia, the Middle East, and Europe, the Aqaba Digital Hub has made significant progress in addressing the growing demand for the modern digital transformation of businesses, carriers, and technology providers at the regional and international levels.
The construction of the newly expanded project has already started, which includes the new carrier-neutral 5MW data center that will host the forthcoming submarine cable system connecting Europe and Asia. The new mega data center will commission in 2023 and will be ready for service to connect any customer with a full range of data center services that include secure hosting, international colocation, disaster recovery, and infrastructure-as-a-service (IaaS) at the highest international standards.
This landmark project utilized Aqaba's exquisite landscape to provide sufficient services through a fully equipped business center, hyper-scale Tier-3 certified data center, neutral internet exchange point, state-of-the-art fiber-optic internet network, teleport station for VSAT services, and world-class cloud platform, among others to serve the growing demand and enlist Aqaba Digital Hub to drive the digital transformation of businesses to the region.
Previously, Aqaba Digital Hub has made considerable milestones in enabling accessibility and connectivity. It has successfully hosted the first IP point of presence (POP) in Aqaba for two international telecom operators along with building and operating Aqaba's first tier-3 Uptime-certified carrier-neutral data center.
Situated by the Red Sea, Aqaba is bound to be the place of Jordan's premier ecosystem that can put forth crucial services to match any organization or institution's digital requirements. Serving as MENA's digital transformation hub, Aqaba Digital Hub is eco-friendly, network-dense, supplies direct connections from a single location, and operates at the lowest latency values.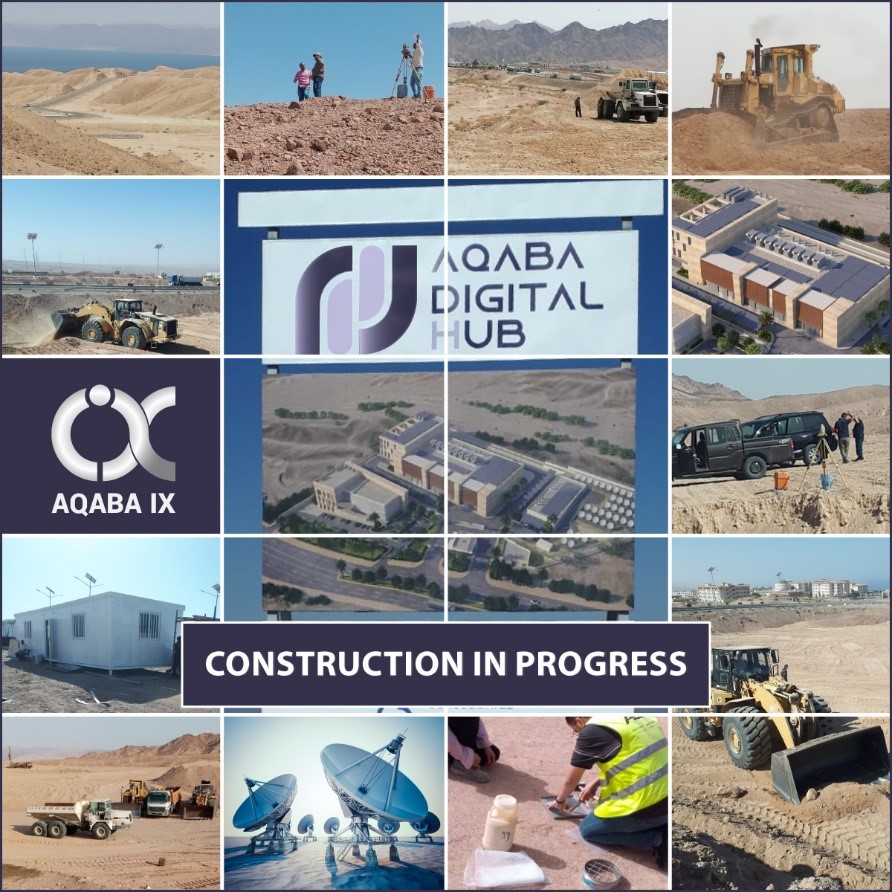 AqabaIX: 13 Networks, Over 100 Gbps Traffic in First Year
AqabaIX, the first and only internet exchange (IX) in Jordan, with open access and neutral policies, has successfully connected 13 networks in its first year of operation — including a number of internet service providers (ISPs) and content delivery networks (CDNs) such as Google, Packet Clearing House, and Subspace — and achieved over 100 Gbps of peak traffic.
Moreover, Aqaba Digital Hub will soon implement a strategic partnership with one of the major international carrier and data center neutral internet exchange point networks.
While, as part of the collaboration described hereunder with Console Connect, AqabaIX will offer internet exchange services on its partner's MeetingPlace platform, enabling Console Connect users to peer at AqabaIX remotely.
Extended Cloud Services
The Middle East region is seeing the benefits of moving to an automated network environment, and Aqaba Digital Hub's strategic location, coupled with Console Connect's internet on-demand service, will likely enhance internet access by being delivered via one of the world's largest and fastest IP networks.
Aqaba Digital Hub has already enabled on-demand global connectivity access in the Middle East via the Console Connect network-as-a-service (NaaS) digital platform. Reportedly, Aqaba Digital Hub's customers can seamlessly extend their global reach to more than 50 countries worldwide and directly access the world's major cloud platforms, including AWS, Google Cloud, IBM Cloud, Microsoft Azure, and more.
FTTH: Full Coverage in Aqaba
Aqaba Digital Hub operates the first fiber-optic network in Aqaba, providing state-of-the-art retail and wholesale fiber services addressed to local telecom operators, internet services providers, and international companies with reliable, resilient, and uninterrupted connection and unlimited usage.
Aqaba Digital Hub's fiber-to-the-home (FTTH) network has adequately covered over 40% of Jordan's only coastal city with plans to cover the entire city in 2023. Moreover, and as part of Aqaba Digital Hub's neutrality, the FTTH network is made available for other operators.
At the Forefront of Digital Transformation
Aqaba Digital Hub appears to be on a fast track to becoming the gateway for the Middle East, embodying the essence of having advanced and secure technologies via its telecom and technology arms. By offering interconnection and peering; subsea and fiber connectivity; cloud services; enhanced operations and networking; and satellite communications, Aqaba Digital Hub is the ideal go-to partner for digital transformation in the MENA region.
Moving forward, the Aqaba Digital Hub targets different sectors like education, telecommunications, gaming, OTTs, SMEs, governments, fintech, and CDNs to leap ahead and optimize its systems. The future is bright for the project that brings diversified connectivity pillars into one single source.
More information can be found at www.Aqabadh.com