By Frank Dai, President of HUAWEI CLOUD Middle East and Central Asia
Saudi Arabia, an Arab cultural and religious nexus for centuries, has now emerged as a hub for innovation and transformation in the Middle East, ushering in a new digital and intelligent era driven by its ambitious Vision 2030.
Being on the ground in Saudi Arabia, you're immediately inspired and filled with immense hope for the future. The whole country is in a period of digital and intelligent acceleration, backed by ambitious and visionary government leaders.
The Kingdom has made incredible achievements in realizing its national vision, and from this, we can already start seeing a new era of Saudi Arabia on the global map. The country has prioritized innovative technologies such as cloud and AI to drive this evolution. This approach opens up opportunities for public-private partnerships, combining the capabilities of ICT leaders with the Kingdom's immense resources.
Also read:  Huawei: Stimulating Innovation and Growth in the Digital Economy
Huawei, as a global tech giant and a key player in Saudi Arabia for over two decades, leads this transformation. Our journey in Saudi Arabia shows the enduring partnership between Huawei and the nation. Huawei has provided cutting-edge technology and solutions that have powered Saudi Arabia's digital transformation for the past 20 years. And as a committed ICT partner for the Kingdom, we strongly believe that investing in robust cloud infrastructure and services is one of the best ways to accelerate digitalization in Saudi Arabia. At Huawei, our responsibility is to help enterprises migrate to the cloud and learn to use and manage it better while considering aspects like data security, ROI optimization and new technology applications.
We recently launched the HUAWEI CLOUD Saudi Arabia Region in Riyadh, ushering in a new era of technological progress and economic growth for the region. This is a significant milestone in our contribution in line with Saudi Arabia's Vision 2030. However, this state-of-the-art cloud infrastructure benefits Saudi Arabia and the Middle East, Central Asia and Northern Africa as the core region for Huawei Cloud. Huawei will invest heavily in Saudi Arabia over the next five years, deepening its roots in the country and fostering a thriving ecosystem for digital transformation.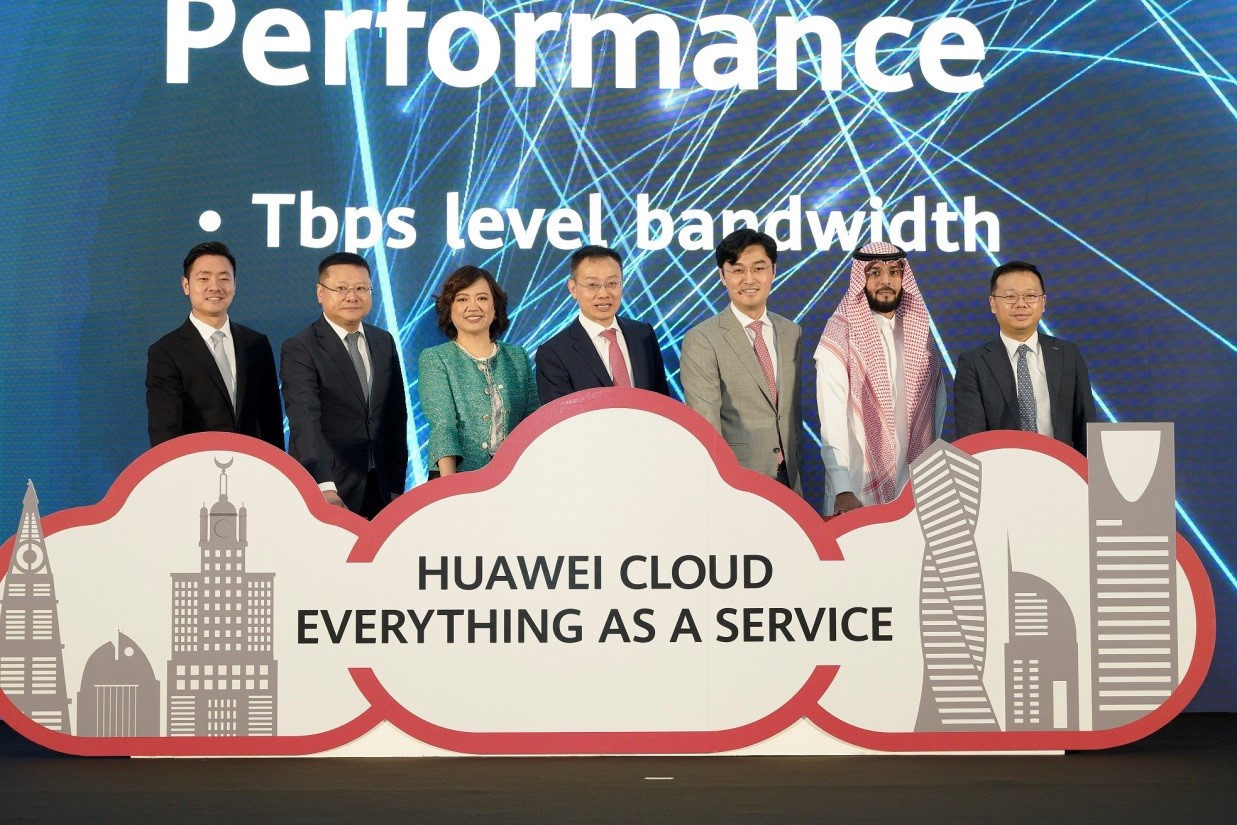 Huawei executives during the launch of the HUAWEI CLOUD Saudi Arabia Region in Riyadh.
Huawei's primary objective in Saudi Arabia is to empower the nation's digital future. Towards that end, Huawei has several key initiatives to accelerate innovation, create jobs and drive economic growth.
First, Huawei will empower 200,000 new developers in Saudi Arabia over the next five years. We will provide them with the necessary tools, knowledge and support, laying the foundation for a new generation of tech-savvy individuals who can contribute to the country's technological advancement. Second, Huawei will partner with 1,000 local companies to develop joint solutions that address the unique challenges and opportunities in the Saudi market. This collaborative approach will foster innovation and strengthen the local economy.
Moreover, we will support 2,000 startups, helping them navigate the complexities of the business world and providing them with the resources to thrive. By nurturing these startups, Huawei will sow the seeds of entrepreneurship and foster a culture of innovation in Saudi Arabia.
A Bridge to a Digital Future
As China and the Middle East strengthen their ties, Huawei wants to play its part as a bridge, facilitating the exchange of insights and cooperation between these two regions. The Middle East and Africa (MEA) region's public cloud services market is expected to reach $4.5 billion in 2023, growing at a CAGR of 20.7% between 2018 and 2023. The report says growth is driven by the region's digital transformation initiatives, leading to increased adoption of cloud technologies.
But cloud computing is not just a technological advancement; it's a catalyst for unlocking economic potential through digitalization. I believe that in order to achieve our ultimate goal of a real intelligent world, we need to build future-proof digital infrastructure leveraging the cloud. Huawei's commitment to building a stable and secure cloud infrastructure aligns with the country's and the region's cloud-first aspirations for digital progress.
Also read: stc Collaborates with Huawei to Deploy Agile and Automated Network for Cloudification Drive
Today, HUAWEI CLOUD maintains 83 Availability Zones in 29 regions worldwide, providing reliable cloud services. The Riyadh region is the 30th addition to this global network, enhancing Saudi Arabia's global connectivity.
Huawei shares its global experience in digital transformation openly with Saudi Arabia. Its international experts provide insights, best practices and proven strategies that enable Saudi businesses to enhance user experiences, optimize processes and unlock new growth opportunities.
The launch of HUAWEI CLOUD in the Kingdom is just our latest commitment to Saudi Arabia. Over the last two decades, we have significantly contributed to Saudi Arabia's economy, creating over 20,000 local jobs, injecting $3 billion into local procurement and contributing $1 billion in taxes. We have also collaborated with over 20 ICT academies to train more than 7,900 learners, ensuring that Saudi Arabia has the skilled workforce necessary to drive its digital future.
In addition to infrastructure and job creation, Huawei is bringing advanced technologies, including AI, to the forefront of Saudi Arabia's digital transformation. I strongly believe that the use of AI in various industries will be the next big tipping point for mankind, ushering in a new era of ubiquitous connectivity and intelligence. With the introduction of Pangu Models 3.0, Huawei is enabling Saudi Arabia to harness the power of AI. These models, trained with hundreds of billions of parameters, outperform their peers in understanding and generation. Huawei Cloud Pangu models help enable industrial-scale AI development so that the power of AI can truly be unleashed in industries. They can be deployed on both the public cloud and on-premises, offering flexibility and customization to meet Saudi Arabia's unique needs.
Huawei recently demonstrated the power of AI to make an impactful contribution to humanity. In a HUAWEI CLOUD whitepaper published in Nature magazine, one of the world's top scientific journals, Huawei researchers showcased Pangu-Weather AI that harnesses the power of the cloud to process vast amounts of environmental data worldwide. By utilizing AI algorithms, Pangu can analyze intricate patterns and dynamics within our climate system that were previously inconceivable. With unmatched accuracy, it can identify and predict climate patterns, such as the intensity of storms, sea-level rise and regional temperature changes. The model enables a 10,000x improvement in prediction speed, reducing global weather prediction from 7 days to 1 hour. This innovation is critical as the world reels from climate change-related extreme weather.
HUAWEI CLOUD is also at the forefront of cloud-native technologies, contributing significantly to open-source projects like Kubernetes and Istio. This commitment to openness ensures that Saudi Arabia can access a wide range of cloud solutions and services, avoiding vendor lock-in and promoting choice.
Also read: 'Huawei's cloud native 2.0 architectures answer to enterprise cloud strategy'
Enhanced Ecosystem Support
Collaborating with ecosystem partners, HUAWEI CLOUD is developing tailored solutions for various industries, including manufacturing, automotive, e-commerce/retail, digital government, electric power, finance and media/entertainment. These solutions leverage Huawei's industry expertise to accelerate digital transformation and innovation in Saudi Arabia.
For example, HUAWEI CLOUD is helping automotive companies understand local compliance requirements and expand their operations in Saudi Arabia and the Middle East. In the finance sector, the company offers tailor-made solutions to drive digital transformation and enhance customer experiences. In media and entertainment, HUAWEI CLOUD's multimedia services offer ultra-high definition, low latency and powerful interaction, enabling companies like EYON to improve user experiences and expand their user base significantly.
I believe that ecosystem enhancement will accelerate innovation and application. Huawei recognizes the importance of a robust ecosystem to drive digital transformation and innovation. Through its "Go Cloud, Go Global" program, the company is actively collaborating with partners and customers in Saudi Arabia, including industry leaders like Alnafitha IT, to share expertise and insights into global and regional industries. This collaborative approach aims to help Saudi enterprises go global and Chinese enterprises go local, fostering economic growth and technological progress in the region.
In conclusion, Huawei's unwavering commitment to Saudi Arabia is a testament to the nation's potential as a digital and intelligent powerhouse in the Middle East. With a wealth of experience, cutting-edge technologies and a dedication to fostering economic growth and innovation, Huawei is poised to play a pivotal role in Saudi Arabia's journey toward a digital oasis in the heart of the Middle East. As Saudi Arabia and Huawei become aligned and global, the future is bright, innovative, inclusive and open.