Emirates Integrated Telecommunications Company (EITC) published its financial results for 2018 and proposed a total annual dividend of 35 fils per share amounting to AED 1,586 million, of which 22 fils per share is the final dividend payment for the year, subject to approval at the Annual General Meeting. 13 fils per share was awarded as an interim dividend in October 2018.
In 2018, EITC changed its revenue classification to provide a more accurate view of the revenue segments. Handsets and various others were moved to the "Other" revenue category. Previous period revenue numbers were also adjusted to provide a "like for like" comparison.
In Q1 2018, EITC recorded a one-off reversal related to regulatory costs, which positively impacted company profitability for the full year. Excluding the impact of the cost reversal, FY 2018 EBITDA increased by 2.3% and net profit after royalty decreased by 4.5%, when compared to 2017.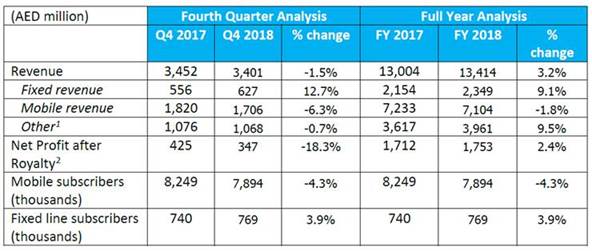 Commenting on the results, Mohamed Al Hussaini, Chairman of EITC, said, "In the UAE, the telecom sector is fortunate to be a key enabler in the ambitious agenda set out by the nation's leadership, mandating digital transformation as a tool to develop and sustain a knowledge-based economy.
"To support our country's digital transformation and indeed, that of our own company, in 2018 we continued to invest in ensuring we maintained our best-in-class network, while re-engineering our IT capabilities and the support structures around it. Our ability to extract revenue from new streams residing in offering end-to-end solutions to our large enterprise and government customers will add substantial value for our shareholders, while also bolstering EITC's reputation as the innovative and customer-centric telecom, ICT leader in the UAE.
A CEO Succession plan was put in place in EITC in 2017 and was activated this year, which means a new CEO will succeed the outgoing CEO Osman Sultan who has lead the operator through its success stories.
On the CEO succession plan, Chairman of EITC commented, "In accordance with best governance practices, a CEO Succession plan was put in place in EITC in 2017. This plan has reached now the active phase of looking for a successor. The Board have asked the CEO for his support in the selection process. Osman Sultan, EITC's founding CEO, is committed to the delivery of the company's ambitions in 2019 and to ensuring a smooth transition once the successor is appointed."
Commenting on the results, Osman Sultan, EITC's Chief Executive Officer, said, "During 2018, we delivered good results under our strategy to drive more efficiency in our core business, while capturing new areas of growth through ICT.
"Revenues reached an all-time high of AED 13.41 billion in 2018, up by 3.2% from AED 13.0 billion in 2017. Growth was driven primarily by a strong performance in fixed revenues, up by 9.1% in 2018 over the previous year; as well as an increase in other revenues and the benefits derived from our strategy to capture more of the high-value segment of mobile post-paid subscribers, now up by 15.9%.
  
"We maintained a good subscriber base in 2018, proudly serving almost 9 million customers across our fixed line and mobile networks. Fixed line subscribers increased by 3.9% to 769 thousand while mobile subscribers decreased by 4.3% to 7.89 million in 2018. The decline in our mobile base is a result of a clean-up of our prepaid base in line with the "My Number My Identity" Campaign and our strategy to focus more on the higher value post-paid segment.
"Our business results for 2018 are proof of our resilience and agility in a mature market. We have the right structure, people and focus for the long term, reflecting our equally dynamic connectivity and non-connectivity businesses," he concluded.
Osman Sultan, expressed his willingness to support EITC Board in the succession plan in order to appoint the new CEO.
"In 2017, I have expressed to the Board my intention to pass on my role to the next executive leadership. This process in now actively engaged by the Board. I am committed to supporting the Board in the selection process and to steering the organization on the delivery of 2019 plans and ambition."