stc, the leading digital enabler in the region, announced the successful validation of AWS Snowball Edge in stc Lab, a device with onboard storage and compute power for select AWS capabilities. Snowball Edge can do local processing and edge-computing workloads to help stc deploy Mobile Private Networks (MPN) and MEC offerings at the edge in a fully disconnected and transportable fashion.
stc worked in collaboration with solutions by stc to validate the solution powered by AWS to provide MPN and cloud computing services at the edge of stc's 5G network. By locating AWS compute and other select services at the edge of the communications service provider network, operators can bring their enterprise solutions offerings closer to enterprise customers. Private edge computing provides an integrated platform that enables connected-world applications and services to be deployed across private wireless networks.
A private 5G network is a service that enables telecom operators to help enterprises set up and scale private mobile networks in their facilities to augment or as an alternative to existing solutions such as WiFi and wired networks. stc, in partnership with solutions by stc, and AWS deliver a private 5G network spanning the small cell radio units, compute functions delivered on AWS Snowball Edge, 5G core and radio access network (Nokia 5G RAN) software and subscriber identity modules (SIM cards) required to set up a private 5G network and connect devices. AWS, together with ISV Partner Network members, provides a verified and tested blueprint for the setup and deployment of MPN to support enterprise digitization needs and their increased network traffic needs.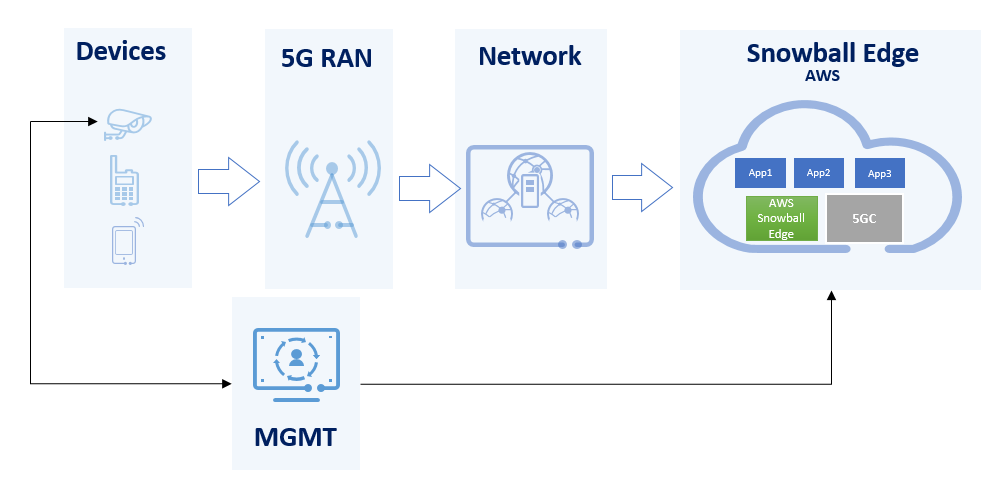 stc can now deploy and scale its own 5G mobile network in a matter of days instead of months.