e& has announced its consolidated financial results for H1 2023.
e&'s consolidated revenues during H1 2023 reached AED 26.6 billion, a YoY increase of 1.1%. Consolidated net profit recorded AED 4.7 billion, while consolidated EBITDA reached AED 12.8 billion, resulting in an EBITDA margin of 48%. The Board has approved an interim dividend of 40 fils per share for H1 2023.
In the UAE, etisalat by e& recorded 13.9 million subscribers, an increase of 5.1% compared to the same period last year. The Group's aggregate subscribers reached 165 million, a YoY increase of 3.1%.
Also read: e& H1 2022 Performance Reinforces Success, Strong Standing
H.E. Jassem Mohamed Obaid Bu Ataba Alzaabi, chairman, e&, said, "e&'s performance during the first half of the year reinforces the resilience of our business model despite the challenging global macroeconomic environment. This was also the result of our team's relentless efforts to remain committed to our vision and drive sustainable growth, making a positive change in the societies we serve while adding value to our shareholders.
Meanwhile, Hatem Dowidar, Group CEO, e&, added, "Over the past six months, we have demonstrated a strong sense of resilience and adaptability. Our relentless focus on excellence and innovation has allowed us to thrive in the dynamic landscape of the telecommunications and technology sectors, maintaining our growth momentum.
"Our success has been driven by the combination of our innovative, customer-centric strategies and the unwavering dedication of our teams, along with our investment in world-leading infrastructure and cutting-edge technologies that consistently serve as the foundation of our achievements.
"I would like to express my gratitude to our dedicated employees, whose relentless efforts and innovative spirit remain the driving force behind our progression. Similarly, we thank our loyal customers and stakeholders for their continued faith in our vision. Looking ahead, I remain confident that our commitment to connecting people, businesses and communities through technology will enable us to provide continuous growth and value for our customers and stakeholders in the years to come."
Key Highlights and Developments for H1 2023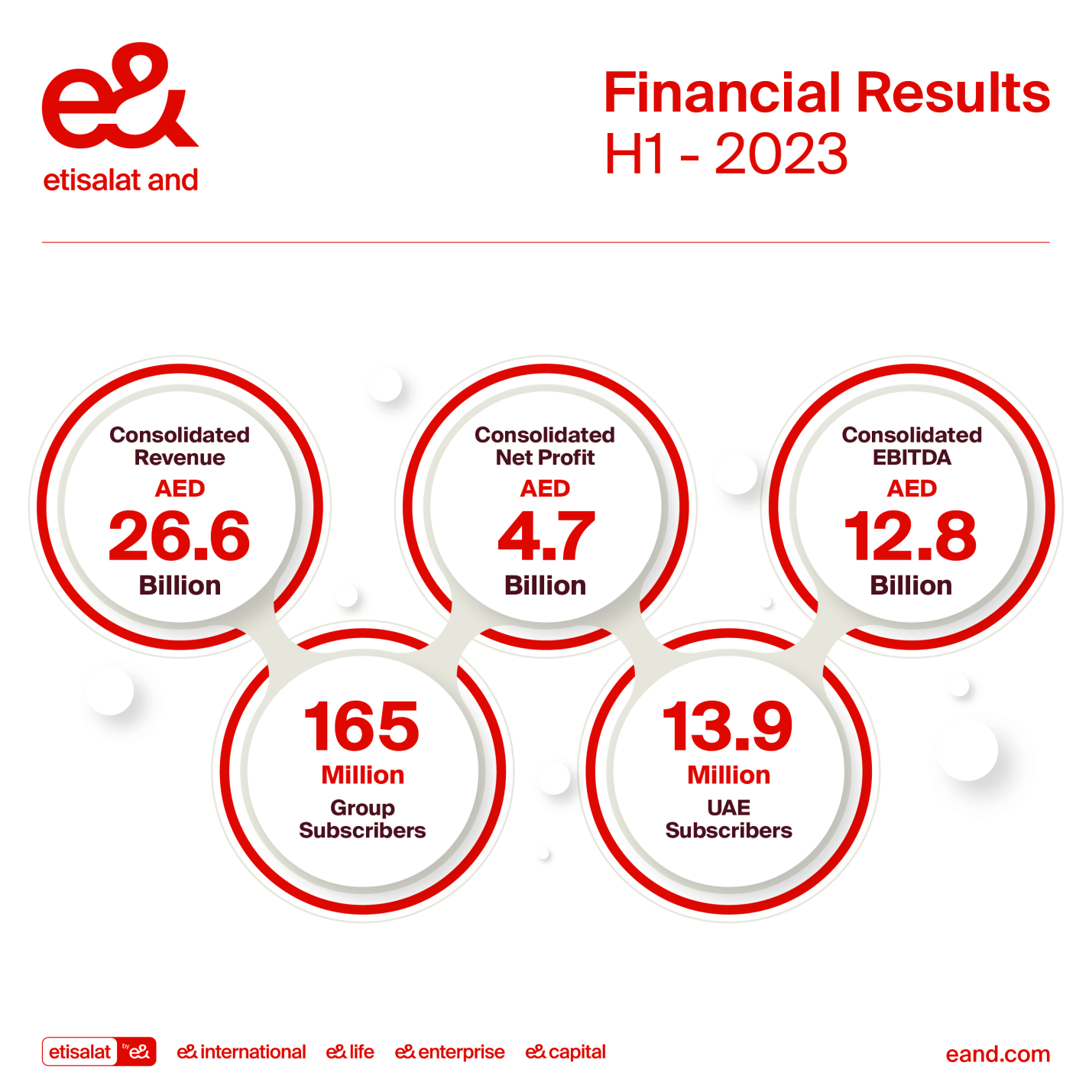 e& seeks to expand into Central and Eastern Europe through investment in a majority stake in PPF Telecom.
The perimeter will comprise the Yettel Bulgaria, Yettel Hungary, Yettel Serbia and O2 Slovakia operations, with more than 10 million subscribers and leading positions in their respective markets, as well as the CETIN and O2 Networks infrastructure businesses in these countries.
Also read: Major Global Telcos Forge Alliance for AI
Also read: etisalat by e&'s GoChat GPT Redefines Future Communications
Also read: etisalat by e& Launches Exclusive Initiative to Support Emirati Entrepreneurs
Also read: etisalat by e& Introduces SAT-Based ICT Solution for Maritime
Also read: etisalat by e& Deploys First 5G SatComs in UAE
Also read: etisalat by e& UAE Upgrades IP Core Network to Support 800 GE With Nokia