To summarize Nokia Corporation's financial report for Q3 2022, the company's net sales grew by 6% in constant currency, hitting €6.2 billion compared to the previous year's quarter of €5.4 billion. Profit for the period is reported at €428 million, increasing by 22% YoY compared to Q3 2021's €351 million.
As supply constraints also started to ease, Nokia maintained good profitability with a comparable operating margin of 10.5%. As for the company's business groups, Mobile Networks and Network Infrastructure made strong contributions to Nokia's Q3 2022 growth.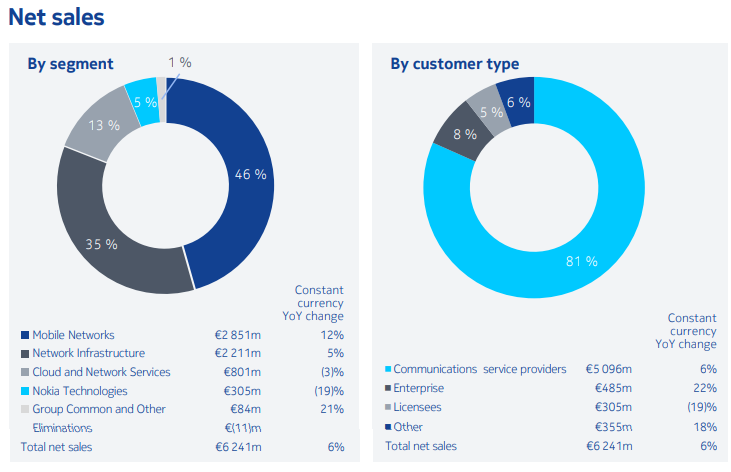 Source: Nokia Q3 2022 Factsheet
Mobile Networks sales were reported at €2.9 billion during Q3 2022, a 12% YoY change in constant currency compared to the previous year's quarter of €2.3 billion. On the other hand, Network Infrastructure sales are reported at €2.2 billion, a 5% YoY change in constant currency compared to Q3 2021's €1.9 billion.
Cloud and Networks Services (CNS) sales declined by 3% as the company worked to rebalance the portfolio but showed improving gross margin while Nokia Technologies sales declined by 19%, but continued to deliver good progress in its patent licensing growth areas such as automotive and consumer electronics.
It is worth noting that CNS helps in unlocking network value for communication service providers (CSPs) and enterprises by navigating through the major industry transition towards 5G networks and cloud-native software.
Another huge contributor to the spotlight is the Enterprise net sales growth, which accelerated to 22% in constant currency. "With this momentum, we expect Enterprise to remain our fastest growing customer segment," stated Pekka Lundmark, president and CEO.
In Q3 alone, Nokia added 73 Enterprise customers to its growing customer base. Demonstrating  a stronger sales growth in this customer segment is a testimony to what Chris Johnson, Nokia's SVP of global enterprise business, previously expressed to Telecom Review: "Nokia Enterprise is a very strategic part of Nokia's growth story.",
CSPs, covering 81% of Nokia's customers, remain the biggest served market of the leading telecom vendor. As of October 2022, Nokia supports 83 live 5G networks.
In line with this, Nokia's 5G microwave transport portfolio is leading across CSPs and enterprise domains, according to May El-Rafie, microwave lead, Nokia MEA. "Enterprise is a growing market for Nokia, and we see that the entire Wavence portfolio, including the E-band, is an extremely viable solution." She also shared that Nokia's E-band portfolio helps CSPs to provide energy efficiency, carbon reduction and cost efficiency in their customers' operations.
As final thoughts during the Nokia Q3 2022 investor presentation, Lundmark concluded: "I'm happy to say [that] we are on track with the second phase of our strategy. Our improved competitiveness and focus on technology leadership are paying off, and we remain committed to delivering on our long-term targets."
You might be interested: Nokia Q2 2022: Continued Strong Business Profitability