Nokia has reported that net sales increased by 10% in Q1 2023, benefiting slightly from foreign exchange rate fluctuations along with the following drivers.
On a constant currency basis, Nokia's net sales increased 9%, with growth across all business groups except Nokia Technologies. Network Infrastructure and Mobile Networks both grew at double-digit rates, with Network Infrastructure increasing 13%, led by Optical Networks and IP Networks, and Mobile Networks increasing 13%, reflecting the continued ramp of 5G in India. Cloud and Network Services increased 3%, while Nokia Technologies declined 22%, due in part to the option exercised in Q4 2022 by a long-term licensee.
Also Read: Nokia Unveils Refreshed Brand and Updates Company, Tech Strategy at MWC 2023
The company reported that gross margin decreased 310 basis points to 37.5% in Q1 2023, and comparable gross margin decreased 300 basis points to 37.7%. Gross margin performance reflected the negative impact of regional mix in Mobile Networks, as well as lower net sales in Nokia Technologies and lower gross margin in Cloud and Network Services. Network Infrastructure gross margin increased strongly, in part due to a positive mix shift within businesses.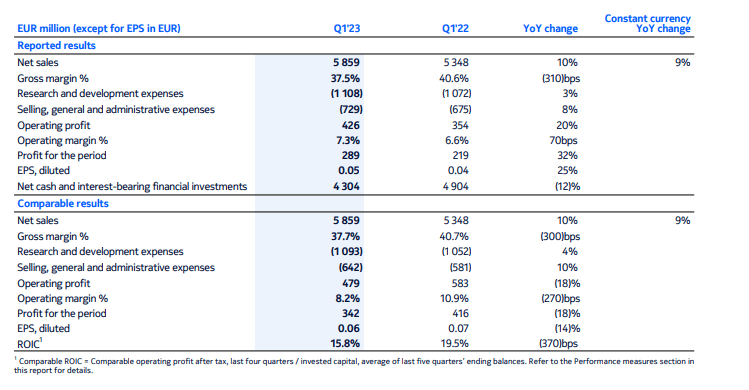 Nokia reported operating profit in Q1 2023 of EUR 426 million, or 7.3% of net sales, up from 6.6% in the year-ago quarter. Comparable operating profit decreased to EUR 479 million, while comparable operating margin was 8.2%, down from 10.9% in the year-ago quarter.
Net profit in Q1 2023 was EUR 289 million, compared to EUR 219 million in Q1 2022. Comparable net profit in Q1 2023 was EUR 342 million, compared to EUR 416 million in Q1 2022. The decline in comparable net profit reflects the lower comparable operating profit and higher income tax expenses related to unrecognized deferred tax assets in Finland in Q1 2022.
Commenting on the report, Pekka Lundmark, president and CEO, said, "We started this year with the unveiling of a renewed corporate strategy and refreshed brand. This reflects who we are today: a B2B technology innovation leader unleashing the exponential potential of networks. Q1 also saw the launch of our new industry-leading optical networking platform PSE-6s and AirScale Habrok, our latest 5G massive MIMO radios powered by a new generation of ReefShark chipsets. Both products are designed to help our customers achieve more with lower power consumption, supporting our intent to develop ESG into a competitive advantage."
In terms of earnings per share, diluted EPS was EUR 0.05 in Q1 2023, compared to EUR 0.04 in Q1 2022. Comparable diluted EPS was EUR 0.06 in Q1 2023, compared to EUR 0.07 in Q1 2022.
Nokia said its outlook for 2023 remained unchanged in constant currency. The full-year net sales outlook, applying March 31, 2023 exchange rates, is EUR 24.6 billion to 26.2 billion. Comparable operating margin guidance remains at 11.5% to 14.0%.